Dear Artist,
In a public gallery the other day I came upon a tailored young woman and her equally tailored mother. They were admiring a painting by an artist I happen to know. As I lingered to see what they were seeing, the daughter turned to me and said, "It's the only good one in here." While I was mulling her dangerous pronouncement, the word "authentic," slipped from her lip gloss. She invited my agreement with her considerable eyes, and I gave back.
She had been struck with that indescribable something that says "quality." Beyond quality — more like "presence." The real goods as opposed to the ersatz. It happens. Suddenly you see and you trust. If you have an open mind, any type of art can do the trick — realistic, abstract, a lofty installation or a practical craft. And as creative people, wherever we're coming from, we intuitively know authenticity is something worth having.
I've always thought that authenticity wasn't an add-on, but the best effort of an authentic person. This person may have powers of observation or an eye beyond the ordinary. You can sometimes tell the authentic by seeing something else nearby that isn't. In a way it's sad that people will actually pay for this vacuum. Intuitively or unconsciously, finer eyes see virtue beside subject and rendering. As I said, it's indescribable. "Casual, confident, understated, refined," may be words the finer eyes use. Some simply feel an underlying ego force or the power of intended design.
Folks with finer eyes are not always authorities or critics. They may be quiet ones who think and feel for themselves. Neither schooled nor influenced, they may have deep pockets or shallow. Maybe they're just adept at spotting phonies, or have a distaste for the artificial. What's left is what we sometimes call "taste."
A good looking fellow came by — blue suit, striped shirt, shiny green tie. Perhaps the boyfriend — he brought the ladies' coats. After some encouragement, he too looked long and hard at the painting — up close, like a lawyer examining evidence. "There's less to this than meets the eye," he said. Perhaps unknowingly, he was quoting Tallulah Bankhead.
"I get it," I said to myself as I left the gallery, "No matter what anyone thinks or says, 'authentic' is still a matter of opinion."
Best regards,
Robert
PS: "He is only an eye, but my God what an eye." (Paul Cezanne was speaking about Claude Monet)
Esoterica: Think of what authenticity isn't: Poor conception, faulty rendition, bluff technique, crudity, lack of feeling, failure of understanding, overworking, grandiosity. Yep, one small passage may have more authenticity than one great thundering opus. Furthermore, what about the joy of just doing it? Writers to the twice-weekly letter often tell us how important it is to simply enjoy the work. But what about that good looking guy in the blue suit, or the canny Tallulahs of this world? Does authenticity exist?

Cheesy authenticity
by Laurel Weathersbee, Las Cruces, NM, USA

Some years ago I worked for a time in a large co-op gallery in a large city. The gallery was managed by two MFA's. Their own work was not in evidence, but they liked to remind anyone who would listen of their lofty art degrees (I was a lowly B.A. in art) One day, working on a big project, we had ordered in pizza. The pizza delivery boy walked around the gallery, giving his opinion about many of the works hanging there. The MFA's were incensed: what did he know? He had no art education! His opinions were "wrong!" I felt he was entitled to his opinions, even though they may have smelled of Parmesan cheese. So much for authenticity.

One hundred and ten percent
by Mary DuVal, TX, USA

Growing up, many were the times I heard William Shakespeare's, "To thine ownself be true," from my Mother. In my twenties and working in the advertising world, my emotions would swing wildly depending on whether people liked or disliked my ad layouts. Eventually, I was able to not take the criticisms so personally provided with one caveat which I told myself I would have to consider: "Did I do my best work?" If the answer was affirmative, I determined to not let the criticism bother me (yes, easier said than done!) This still applies for my artwork. As long as I can walk away from a painting knowing I gave it my best, I'm okay with whatever criticisms may come. I may not be a Monet or a Cassatt or any other truly great painter, but I can strive for that authenticity that shows I'm trying to be the best Mary I can be.

Authentic movement
by Ariane Goodwin, Millers Falls , MA, USA

In Authentic Movement, which I've practiced for 27 years, we allow our  bodies to move with eyes closed (reduced external stimulation), no music, and no direction (other than relaxing mind chatter, so the body has a chance to do what it chooses — either stillness or movement). Authenticity was the response of a body freed of mind duties (open the car door, put the spoon in your mouth, get out of bed, etc.). The freedom to respond authentically to an impulse or moment, from a whole body experience, fueled creative sparks that blew out of one studio and into another. Artists, especially, found the practice enlivening, engaging their creative receptors with fresh juice. So it is with great sadness that I've watched "authenticity" slide into the slush pile of popularity. Like other words of great worth – empowered, reality, cutting edge, etc. – authenticity is the current language hula hoop. Overuse, miss-use, unintended use, stupid use. Sad, because authenticity implies that which is true to its essence, and what could be more beautiful than that?

Monetary valuation of authenticity
by Mark D. Gottsegen, Greensboro, NC, USA

There is much more to "authenticity," which includes the assignment of "value" to the work of art. How, exactly, is a work of art assigned a monetary value? I know you are speaking philosophically here, but the market reality is about the money. In my opinion, the work of art is assigned a value based on an assessment of what the market for that kind of art will bear. I was recently in New York City and went to a pre-auction exhibition of Contemporary and Modern Art at Christie's. There, I saw a tourist-type photograph of a "Western Cowboy" scene by a well-known photographer that had a pre-auction estimate of $400,000 — $700,000USD, and a painting by a well-known early American painter with a pre-auction estimate of $23,000,000 — $30,000,000USD. Does this valuation bear any relationship to "authenticity" or even "reality"? No.

Better not to know the subject
by Rick Rotante, Tujunga, CA, USA

When I finish a painting I look for this authenticity. It's a very hard thing to define for me. If your style and technique come into play does authenticity go out the window? Must you be completely true to the subject to acquire authenticity? This quality doesn't come from an "authentic person" so to speak. If you study a subject for years you gain knowledge and insight about it but don't automatically gain this authentic quality in your work. Yet on the other hand complete ignorance of a subject can lead to an authentic look. The painter John Singer Sargent felt it best not to know his subject (from what I've read) and still create an interesting (authentic?) painting. For him it seemed to work.

No cheating for authenticity
by Tony Reynolds

Your "authenticity" letter reminded me of something Jerry Seinfeld said recently when asked why, after doing a very successful TV show, he decided to go back to doing standup comedy. It is obvious he doesn't need the money or the adulation. Why apply his craft in the toughest venue? "You can't cheat," he responded. "You have to be on top of your performance 100% of the time." That resonated with me as an artist. And if Art is really a verb (the act is the art, not the residual product) then the artist should not cheat him/herself.

When all is well
by Adan Lerma, New York, NY, USA

From what I understand as a layman, Einstein's theory of relativity is grounded in a constant non-relative speed of light. All is relative to the speed of the fastest all encompassing medium we can't see without the aid of form. Light reveals form, but form equally reveals the light. Where does this leave us regarding authenticity in visual art? I've tried to describe it, during the painting process, as when I touch a deep core soft spot that tells me the work and my deepest inner self are communicating. In one of my writings, which I've updated a few times on my website, I describe the outer visual effect as that sudden involuntary taking in of breath, much as a child or infant does when it is with its mother, and knows all is well.

Rolling with the punches
by Elsha Leventis, Toronto, ON, Canada

Sitting a show can wrench the gut or lift the heart, and everywhere in between. I've sat several group and solo shows, and visitors range from those who wander in and right back out while muttering disdainfully but quite audibly, "I could do that," to those who dash exuberantly from painting to painting, wanting exquisite details of every "amazing" work. Artists can be authentic, but that doesn't mean every work is equally good or appeals to everyone. Martha Graham suggested that it wasn't up to us to judge whether our work is good or bad, but that we need to put unique voices out there because if we don't, the world would never know and would be a poorer place. What I know for sure is that I've learned to take all comments in stride, most of the time.

Apprentice with many masters
by Janet Vanderhoof, Morgan Hill, CA, USA

My first response to seeing "Authenticity" is it is very Zen. It is about space and the human race. The other day I decided to go through my art magazines and tear out pictures of paintings that I responded to. Every time I pulled one out it strictly was based on my gut feeling. Sometimes, I could not verbalize why I loved the work of these artists in particular. Later, I went through them again to understand my subjective preference: Artist Micelle Torrez, full of vibrant color, wonderful strokes with such power, each painting looked as if the wind was blowing, Ming Jing Wang, his figures so sublime and full of soul, Betty Anglin Smith a plethora of vibrating color, Lesley Rich, spontaneous bold strokes, composition, design and negative space, Zygmund Jankowski, again wonderful space, composition, simplicity and color, Danny McCaw, great neutrals and a sense of mystery, Lynda Christensen , understated, texture, powerful, expressive, dramatic, Mark Nelson, exquisite use of value tone and space, Randall Sexton, wonderful color, stroke, edges are profound. I realized these artists are my sensibilities. They speak my language. They are master painters. I want to have their consciousness and ability.

Authenticity of a Rembrandt
by Sandy Davison, Lansing, Michigan, USA

This letter is especially interesting because I've just begun reading Rembrandt's Enterprise — The studio and the market by Svetlana Alpers. In it the discussions begin with all the issues of "authentic" surrounding work attributed to Rembrandt. The pronouncement that one of his works has scientifically, aesthetically, technically, or otherwise, been determined to have come from another's hand raises immediate and global cries. Some cries are about pride of ownership, greed, and all manner of "not true." So authentic, here, means, a known produce brand in many cases, especially since Rembrandt was used as a model aesthetically and psychologically for the artists themselves. The painting Man in a Golden Helmet was "deauthenticated," "disattributed."
It remains an extraordinary and amazing piece of execution in paint, mood, mystery. I wonder if it would have remained authentic if we culturally were not so wrapped up in one-up, one-down markets that borrow and dismiss, elevate and smash to form hierarchies of meaning and value. If Man with a Golden Helmet still carries all the conversations of quality including meaning, why does it slip so down from position of reverence? Why call in the insurance appraisers and reallocate the financial instruments? Methinks, authentic remains firmly embedded in the current culture's beliefs more than most would desire. If it remains an extraordinary work but only when lineage, paternity and possession are known and acknowledged, it puts all the admirers into a spin when we are on our own to determine its merit, value and expense. I'm happy to master skills, present impact and ride on the shoulders of all the giants preceding me. Mastering whatever qualities held out for high attention and honor. It's bound to make me a better painter too.

Beat the block to see the soul
by Carole Ann Borges, Knoxville, TN, USA

I think what you're talking about is what musicians call "soul." As you said, it has little to do with technique. That's because it is not a quality of technique, but rather some kind of ineffable resource developed by the artist–an openness of expression, a willingness, as my friend the poet Mark Doty says, "to see and be seen." There is always "the thing" and "the essence of the thing." Paintings are made of paint. Pots are made of clay. Poems are composed of words, and music requires notes. But none of these things by themselves has the ability to become alive, to become vital art, without the soul of the artist orchestrating a million choices. Technique can be learned, but soul must be earned. If an artist paints a "soul full" painting, something travels from the spirit of the artist directly into the spirit of the person viewing it. The problem is some people are not very good receivers. They can't see beyond the splash of color, the curve of a handle, the type of subject chosen. I think this is why two people viewing a painting can have totally different impressions. If this is true, then one should approach a work of art with openness, not looking for the textbook affirmations of "good or bad," but with the hope of receiving a message, some kind of unspoken communion with the artist, a feeling of closeness and understanding of the artist's deepest desires and needs rather than a thought. This transference is probably the only thing that really matters — one soul reaching out to touch another. It seems so simple, but isn't that what all art is about?

The world of digital painting
by Gabe Shaughnessy

I'm a pretty young painter, and I was fortunate enough to be raised by an artist. At an early age, she introduced me to Adobe Photoshop and Illustrator and I began using the computer about the same time I began holding a brush. In recent years, I've been taking my painting a lot more seriously, including doing performance, or 'live' paintings at concerts and events. While I've pushed my craft and really gotten the hang of working with acrylics on wood, the digital world has steadily knocked at the door, reminding me to keep in touch with technology. Now I find myself amazed, having tried a wacom tablet with Photoshop for the first time just last week. Already I can see countless doors opening: The digital painting programs allow me to apply logical rules to my brush strokes, manipulating the four principle variables of my movements on the wacom pad (direction, speed, pressure and tilt) and transforming them into digital representations that effect hue, saturation, size, spread, transparency and orientation, among countless other properties. There is no limit to the number of paintings I can work on at once, as studio space is only limited by hard drive space. There are no mistakes and no worries about preciousness because I can always undo my work. Working in layers allows me to add paint 'beneath' my later strokes. The Wacom and my laptop are extremely light and portable, allowing me to travel and sketch with the full flexibility of an art studio. This is a huge switch for me. The last three years of my life I've spent traveling, making hand-made books, and filling them with pen-and ink illustrations. I'm a little nervous about the power of this new technology, not for what it can do, but for what it can't. I'm leery that I may just quit doing the things that the digital doesn't allow, like painting on found objects, or drawing quietly and unnoticed in the corner of a coffee shop (the wacom and laptop are pretty conspicuous), or whipping out the sketchbook in the five minutes while I wait for the bus. On the other hand, I'd be crazy not to try it. The laptop and wacom tablet, when hooked up to a projector, can take the place of the canvas, easel, brushes, paints, drop-cloth and lights that I currently set up for performance paintings. Instead of committing to a six hour ordeal involving transporting heavy and large materials (I go everywhere by bicycle and when I do 'live' paintings, I work large), now all I have to do is show up and plug in. I was inspired by the artist Andrew Jones to try the wacom tablet.
Archived Comments
Enjoy the past comments below for Authenticity…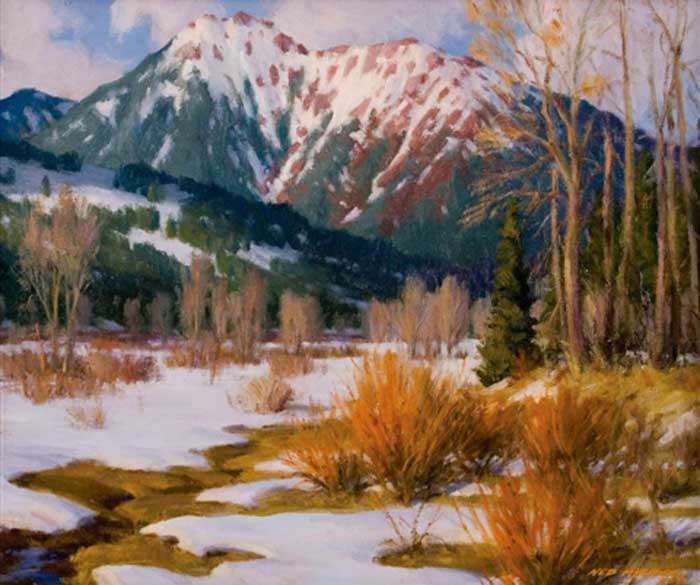 Spring in Montana
oil on board
by Ned Mueller, Renton, WA, USA
You may be interested to know that artists from every state in the USA, every province in Canada, and at least 115 countries worldwide have visited these pages since January 1, 2013.
That includes Helena Tiainen of Berkeley, CA, USA who wrote, "Authenticity, just like beauty, is in the eye and mind of the beholder."
And also Karen Edelmann of Tarrytown, NY, USA who wrote, "I am wondering what the tailoring, lip gloss, suit, tie etc. has to do with the opinions expressed? If they were dressed like artists, would the comments have been interpreted differently?"
And also Jennifer Weber of Courtenay, BC, Canada who wrote, "I struggle with this concept of authenticity… some moments thinking I'm a 'phony without credentials' while other moments reminding myself of the following quote: 'Good art is not what it looks like, but what it does to us.' (Roy Adzak) By reminding myself of this quote I remind myself of why I am doing art."
And also Henry Bateman of Makati, Philippines who wrote, "When the elements of line, colour and form come together harmoniously, then a work of art is born. Be it representational or not, it is the abstract arrangement of these elements that gives a work its authenticity, its presence."
And also Anne Hightower-Patterson of Charleston, SC, USA who wrote, "As a member of Lowcountry Artists Gallery in Charleston, SC, I along with my fellow artist/owners, decided to leave the 'dogs' at home. Perhaps that really has meant to leave the pieces that lack authenticity outside the gallery."
And also Stephanie Quinn who wrote, "I am currently taking Anthropology as part of getting my degree in art. I am an older student and have been doing art for a very long time. In the field of Anthropology there is a school of thought that art is just seen as a luxury and for personal enjoyment. This is evident whenever budgets are cut for school funding. The arts are first to go."
And also Jamie McGill of Canada who wrote, "Ian Roberts has walked this ground before us. His wonderful book Creative Authenticity should be a must-read for all kindred spirits in pursuit of beauty."
And also Susan Burns of Douglasville, GA, USA who wrote, "Our ego is what makes us think we are separate, and our hearts keep struggling to keep connected through an authentic life. It's a great feeling to experience the authentic. Reality is authentic."
And also Pepper Hume of Spring, TX, USA who wrote, "Authenticity is the perfect word in this context. It contains, but is not limited to, honesty, skill, talent, message, and all good things in a work of art. In our endless quest for the definition of art, I believe authenticity is the one constant… and every bit as indefinable as art itself! But ain't it fun to talk about it?!"
And also Gwen Purdy of Seattle, WA, USA who wrote, "Takao Tanabe's painting left me cold and uninterested. Okay, so it looks like a photo of the place, but I'd rather have an artistic photo of the place. I'm still in the dark by what is meant when an artist says, 'I am trying to get authenticity into my art.' Even a close artist friend in Mexico hasn't been able to define what she means when she uses this phrase."
And also Lynne Elkins of Cape Coral, FL, USA who wrote, "My feeling about the Tanabe painting is 'no feeling.' There is no life in it."
And also Sally Pearson of Port St. Lucie, FL, USA who wrote, "I think Low Tide by Takao Tanabe is a beautiful, calm and inspiring painting. It makes me want to take my shoes off and leave footprints."
And also Danny Byrne of the UK who wrote, "Painting is easy, getting it right is the hard bit."
No Featured Workshop
No Featured Workshop