Dear Artist, Yesterday, Robert Isler Wanka of Waterloo, Ontario, Canada wrote, "I'd like to see my work move toward saying something about this century and our civilization. In other words, deeper considerations rather than just pretty pictures. With the sundering of science and religion I suppose it was only natural that art would remove itself from these as well. Is it possible that art may once again be employed to look at the bigger questions?" Thanks, Robert. For everyone's interest, we've put some examples of your art at the bottom of this letter. Robert, while there are a million directions you can take your art, there's the old tug between relatively neutral subject matter and the possibility of meaningful social comment. The international contemporary conceptual art world is currently dedicated to the latter proposition. Slicing up a cow, uterus and all, and putting her in formaldehyde and on display in the Tate Britain, talks to people about life, death, mistreatment of animals, public cruelty, vegetarianism, food sustainability and other of the "bigger questions." This type of art is the legitimate end-result of the longing you mention. On the other hand, there will always be believers in the difficult business of painting well and delivering life-enhancing objects of beauty and personal passion. Further, popular collectorship will continue to find a need for landscapes, figures, florals and portraits. And while there are plenty of seriously dark concerns out and about these days, there is not much wrong with the sunny side. My own feeling, and it probably coincides with yours, is that works of art can be made in a respectful, craftsmanlike way, and still subtly tell a modern story that's not too sentimental, commonplace or banal. Art can indeed say something, and when you combine your craft with your better mind, great and lasting images are likely to arise. This, in a way, is our job description, and it's a tough one, especially these days when the visual arts are in competition with newer creative technologies like film and video. For those who take the challenge, there's a tangible reward that's right up there with science and religion. Best regards, Robert PS: "A painting doesn't have to have a profound meaning. It doesn't have to 'say' a word. We fall in love for simpler reasons." (
Harley Brown
) "A painting without a message is wallpaper." (
Sam Adoquei
) Esoterica: The often unrequited longing for meaning is part of our territory. I encourage artists to give in to the impulse. Once, at a beach workshop where people were madly painting the scenery, a disgruntled fellow decided to dig some clams, shuck them and lay their nude bodies on a full sheet of weathered plywood in the design of the American Confederate flag. In the bright sun the art soon became offensive, and the local gulls had a feeding frenzy just like a major art gallery opening. "That felt good," said the ungruntled artist, who returned to his scenery painting with a new dedication.
Robert Wanka
Shock for media consumption
by Robert Erskine, Harrow, Middlesex, UK In regards to the reference made to Sliced Cows in formaldehyde, I have to disagree with the explanation. It has nothing to do with talking to people about life and death. As Damien Hirst has recently stated, it has more to do with shock and placement in the eyes of the media. This week a UK publication has highlighted the fact that we have reached a state in both science and art where innovation has ceased and that there is nothing left to discover or say. Perhaps a lot of individuals have forgotten how to open their eyes and also the importance of the word 'play.'
There are 3 comments for
Shock for media consumption
by Robert Erskine
Meaningful social commentary?
by Carol Campbell, Kingston, Jamaica Every painting student should read this! Personally, I'm quite tired of the dark, morose, depressing work that's being churned out by too many art students in our well recognized institutions, under the guise of meaningful social commentary. What on earth could be wrong with bringing a little light to a world already mired in social ills?
There is 1 comment for
Meaningful social commentary?
by Carol Campbell
Pretty pictures with bigger questions
by Carmen Gardner, Haiku, HI, USA Artist Mary Whyte from Charleston, SC just completed 50 paintings for a museum tour titled "Working South." What I find most amazing is how she paints "pretty pictures" that are 'employed to look at the bigger questions." Her work is the result of her ability to see "deep considerations" in things most of us wouldn't even notice. Her work is a spiritual quest. Painting from the heart, she sees in a way very few ever do. Folks often ask how she does what she does. It is because her art is life and she breathes a part of herself into each and every stroke she places in a piece. CBS Sunday Morning just aired a segment on her recent work.
There are 5 comments for
Pretty pictures with bigger questions
by Carmen Gardner
Artworks restore suffering psyche
by John F. Burk, Timonium, MD, USA Far more than a pretty picture, the right piece of art in the mind of the right collector, can convey a deep emotional response capable of restoring a suffering psyche momentarily from its current state of affairs. It can restore faith in beauty, in the planet and life upon it. It can remind the viewer of pleasant places and good emotions felt there, and a desire to return. At least, I am banking my work on the possibility this is true.
Topics limit lifespan of contemporary art
by Scott Kahn, NY, USA The art which speaks to a universal audience concerns itself with the "big" questions of life and death, and delivers its message with unrelenting and powerful emotion. The conceptual and politically driven art so popular and considered to be the forefront of contemporary art today is limited by its topicality and will lose its "punch" when topical concerns move on to other interests.
There are 2 comments for
Topics limit lifespan of contemporary art
by Scott Kahn
Mission accomplished by beauty
by David R Thompson, Cambridge, UK Cutting up a cow might make us think about vegetarianism but what kind of person needs to go to a gallery to be made to think about such an issue? Aren't we just as likely to think about it, if we think at all, when seeing a live cow in a field, or walking past a butchers shop or a restaurant or at a thousand other moments in our life? Surely the most worthwhile art is that which gives what only art can give us, a perfect arrangement of beautiful forms, which may if we are so inclined be a sublime intimation of a platonic(or religious) world of beautiful forms but at the very least gives a unique joy. There is no deeper or more important mission an artist can accomplish than bringing beauty into a world which lacks it more than ever before. Personally, when painting, I always call to mind Swinburne's words about the painting of Albert Moore, "One more beautiful thing is born and its meaning is beauty and its reason for being is to be."
Powerful images
by Margaret Mair, Toronto, ON, Canada This is a conundrum that faces many artists. Commenting on life has been a part of my art almost from the beginning, mostly because commenting on life has always been a part of my life. If there is something I feel powerfully about, I want to create images that people react to powerfully. It is the way I speak best, and reach the most people. After a cross burning in Nova Scotia, I created
Love/Hate
; after the Gulf gusher, I created
The Real Price of Oil
. I cannot create these kinds of images all the time, but sometimes I feel I must. Those who can create powerful images should, and that thoughtful comment is part of the work of an artist.
Protest pictures tanked
by Bill McEnroe, Tumwater, WA, USA I understand Robert Wanka's frustration at only being assigned to the "pretty picture" department, feeling that railing at life's injustices needs an audience. As a young man I learned that people don't like being hit over the head over and over and that the easel is a lousy bully pulpit. The year — 1956 — Russia had invaded Czechoslovakia, and the world was aghast at the wanton violence. I painted a series of protest pictures, using black, white and red oils, which I titled,
Women Against Tanks
— women, wearing shawls, throwing rocks at tanks. It made me feel good and noble, but as the saying goes — it "tanked."
There are 2 comments for
Protest pictures tanked
by Bill McEnroe
Use pigments, not body parts
by Nader Khaghani, Gilroy, CA, USA Painting needs to tackle the big questions, beyond the floral, landscape, figure, etc. If film and video take up the big questions and we keep up with the old traditional subject matter, we painters are losing ground and getting pushed to the sidelines. We need to use the good old pigments not body parts to say something. Generally, if we have something to say we find a way. Franz Marc is more expressive in color and than for the shock value of cut out cow organs.
There are 3 comments for
Use pigments, not body parts
by Nader Khaghani
Avoid lecturing in paint
by Paul deMarrais, TN, USA Art always speaks about bigger questions, if the artist is sincere in painting what appeals to him. Leave the loud modern voice of shock theatre to the evening news, the politicians, filmmakers and writers. Literary needs to stay out of the visual. Any forced lecturing in paint should be avoided. Mr. Wanka's underlying question in writing to you is one that most artists will have flash through their mind at regular intervals. That question is, "Is my painting relevant in any way?" Maybe it isn't. We all feel at various times that our trade is silly and indulgent. Why should we spend our life making pictures when we could be campaigning for safer drinking water in Calcutta? Wouldn't that safe drinking water have much more benefit? Shouldn't we sell all our paintings and give the money for a well in Kenya? In the end, these are spiritual questions that each of us must wrestle with. What is wrong with taking on the challenge of making a beautiful painting? It has occupied some truly great human beings like Leonardo, Michelangelo, and Winston Churchill and countless other truly special people.
There is 1 comment for
Avoid lecturing in paint
by Paul deMarrais
Enduring art
by Sharon Knettell, Woonsocket, RI, USA Art that has lasted has both power and beauty. Rarely does it address the problems of the era they were created in. The Italian Renaissance, the Baroque, Rococo and Impressionism produced breathtaking work, though many people lived in heart wrenching poverty and despair. There were constant wars and misery. Very few artists have addressed this successfully — only Goya and Kathe Kollwitz come to mind. There are others — but they have not reached the collective consciousness like those two. It is unwise to use your art as a pulpit. That is best left to preachers, politicians and journalists. I can remember the scores of paintings done in the 1970's excoriating the Vietnam War and Richard M. Nixon. Ugly paintings sprouted like cancerous mushrooms after 9/11. Where are they? Are any still memorable? Do other generations weep over these or do they have other sufferings to engage them? It is easy to criticize an age or time — so easy — that is why there is a glut of pious rants on canvas, walls, overpasses, heaps, museums and galleries. Do you feel as an artist you have the understanding, power, compassion and wisdom to do this. Harder is still the effort to make something so beautiful that it brings tears to the eyes and stops your heart.
There are 3 comments for
Enduring art
by Sharon Knettell
Archived Comments
Enjoy the past comments below for The bigger questions…
Featured Workshop: Painting in the Bugaboos with Robert Genn
Painting in the Bugaboos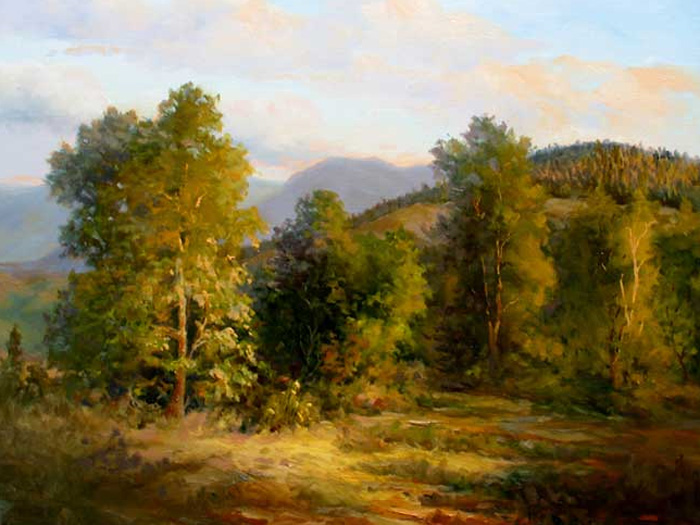 Warm Summers Eve
oil painting by Grace Schlesier, CA, USA
You may be interested to know that artists from every state in the USA, every province in Canada, and at least 115 countries worldwide have visited these pages since January 1, 2013. That includes Louise Francke of NC, USA, who wrote, "I have always believed that art should have a social conscience and reflect the times in which we live. Consequently, my art has most often been issue oriented. I try to speak to the subconscious through the surreal juxtaposition of different elements. It takes a special person to buy this type of art and want to have the constant reminder of our own inadequacies, no matter how surreal, on our wall." And also Rodrica Tilley of Montrose, PA, USA, who wrote, "There is a great deal that is unattractive in our modern world, not to mention downright harmful. I think we have never needed beautiful art that celebrates nature and our blue planet more than we need it now. When asked what she was trying to do with her painting, Georgia O'Keeffe replied, "Fill a space in a beautiful way." Why isn't that enough?"