Dear Artist, I'm crouched on a stack of easels with eleven other painters on the top of a snow-clad mountain waiting for a thumping Bell 212 helicopter to rise away in a swirl of whiteout. At times like this, thoughts run through one's head.
Marcus Aurelius
) Esoterica: The rules apply. Find a good place to sit or stand (look for shelter, sunshine, more than one visual opportunity). Rotate through the compass and look well at this and that. Anticipate changes of light. Check out possible foregrounds and possible design potentials. Lay up an imaginary frame here and there. Half close your eyes and make value judgments — foreground, background, light and shade. Know that paintings need not be what is seen, but what will be seen. Squeeze out. Praise it with paint. Love it.
Heliwork in the Bugaboos
The Bugaboo Ten
Up in the air about it
by Laurel McBrine, Toronto, ON, Canada I always approach every painting with the hope of capturing that elusive special something that makes a work irresistible. That is what makes me want to continue plein air painting, despite the occasional discomforts — enjoying the pleasure of color, the beauty of nature and the tactile painting process, while wishing for a masterpiece. It is a good thing this is pretty much impossible to achieve, so we never lose interest in trying to get there and boredom is never an issue for a painter who always wants to improve their work. I am so happy I decided to go on our helipainting trip to the Bugaboos. It was fun, exciting, inspiring, frustrating, joyous and humbling — truly an amazing experience I will never forget.
How dare you talk about helicopters
by Peter Brown, Oakland, CA, USA We are mere mortals that walk and drive on this earth. We struggle while you flit around. Spit that silver spoon out of your mouth. Spit it out! We live in the real world. We humans have been making art for 35,000 years. How dare you to talk about helicopters. My son and I hiked up to a glacier when he was nine. I walked up there last year and I am 60 years old. I can paint anything. I do not need a helicopter.
There are 3 comments for
How dare you talk about helicopters
by Peter Brown
Finding her own way
by Kelly Walker, Vancouver, BC, Canada I was so glad to see the photos of all those happy faces. I looked and was thankful, those seemingly normal people, those whom I love in my heart. I know only one of these faces, and yet I imagine them standing around me with love — sending me magic as they push their way through their own mountainous struggles and pains. I am reminded of Franklin Carmichael while he was in the bush painting with the Group of Seven. He was the "train runner," the one who went for the supplies that were tossed off at a certain spot. He was the first of the last. I am happy at weddings, sad at funerals, glad to hear a baby cry and yes, I truly enjoy those friends of yours — those imaginative, wayfaring painters who help create a stronger vision, allowing me to find my way home.
There are 3 comments for
Finding her own way
by Kelly Walker
Basis for studio work
by Don Hodgins, Salt Spring Island, BC, Canada I got a lot out of that Bugaboo trip. The experience was worth every penny, and helped convince me of the value and pleasure of plein air work. We'll see what evolves by way of paintings — I'm not much impressed with what was done in the field, but they will serve as the basis for some studio work. I am also looking forward to the arrangement we have set up for the exhibition of the "Bugaboo Ten" work at Canada House in Banff next May.
There are 3 comments for
Basis for studio work
by Don Hodgins
Life changing event
by Hormoz Poorooshasb, Surrey, BC, Canada The Bugaboos was truly a life changing event. I think it is appropriate to make some observations and give advice to my fellow artists who may be going on a workshop for the first time: 1. Do not try to compare your work with the others. For if you think you are inferior to them you will go into a deep depression. 2. Be aware of the workshop rules: It is not a painting class. It is an environment for you to enhance your ways. Paint the way you usually do and the Master Painter will give advice on how to improve your art. Your way of painting will get new dimensions even if overall it remains the same: yours. 3. Go prepared. Although we had been advised to bring warm clothing, I had not brought enough and I experienced cold as I had never done before (except perhaps in the Iran-Afghanistan border where I was on a geotechnical consulting job.) So I told myself as soon as get back I'm going to paint me a warm Bugaboo. And I did.
There are 2 comments for
Life changing event
by Hormoz Poorooshasb
Bonded Bugaboo Buddies
by Louise Swan, Langley, BC, Canada No one really wants the helicopter to show up at the end of the day, but we are plein-aired-out and hungry. The Lodge will look after those needs with their gourmet meals and toasty warm facilities and appointments. I don't want to leave here and I can feel I am descending into serious Bugaboo withdrawal. One cannot have experienced this incredible place without gaining an emotional attachment that is hard to overcome. We artists went there not knowing each other, but at the end of our adventure we are a group of
Bonded Bugaboo Buddies
forever with an unbeatable shared experience. It is often said that the mind once expanded never regains its original shape. Well, that just fits!
There is 1 comment for
Bonded Bugaboo Buddies
by Louise Swan
Frozen yogurt
by Susan Delaney, AB, Canada The mountaintop experience sounds fantastic. I'm curious as to how you deal with the freezing of water, paint and brushes in sub-zero plein air situations.
(RG note) Thanks, Susan. On this trip the air hovered around zero in only a few places higher up. In others it was warmer. In super cold, acrylic paint tends to granulate — ice crystals I guess — so the solution is to keep moving it around. Hot water from a thermos stays unfrozen for some time in a yogurt cup. If ice forms on your paint water, break it. I keep my brushes in water while I paint so the constant in and out keeps things happy. Our oil painters had no problems. Hypothermia can catch up on any static artist. Good to get up and move around, drink tea, etc. Bears prefer warm people.
Terrific trip!
by Sharon Stone, Victoria, BC, Canada The trip was terrific! I learned a lot — not just about painting either. Every difficult but rewarding trip you take gives you insight into yourself. Probably the last time I felt that way about a trip was a camping expedition throughout the continent of Africa.
Got an idea for a project
by Alana Cullen, Halifax, NS, Canada If I could afford it, I would get permission from the Nova Scotia Government to paint and photograph the Sable Island horses on Sable Island. Only a few are allowed to go there and we buy up their photographs. To my knowledge, no one has actually painted there en plein air.
There are 2 comments for
Got an idea for a project
by Alana Cullen
Head-wise and game-wise
by Faith Puleston, Herdecke, Germany I came across this in Andrew Agassi's autobiography
Open
and think it might help a few of us: "You're making everyone around you miserable. You're making yourself miserable. Perfection? There's about five times a year you wake up perfect, when you can't lose to anybody, but it's not those five times a year that make a tennis player. Or a human being, for that matter. It's the other times. It's all about your head, man. With your talent, if you're fifty percent game-wise, but ninety-five percent head-wise, you're going to win. But if you're ninety-five percent game-wise and fifty percent head-wise, you're going to lose, lose, lose." Although people talk about being creative as though it were a headless achievement, I think this quote does actually hit the nail on the proverbial head. Examining the achievements of the achievers, there's no denying that a lot of their success lies in the marketing, and if that isn't head stuff, I'd like to know what is. I'd quarrel with the mathematics in that percentage calculation, but I can't quarrel with the message. But the other point is also salient, I think. I know from my own experience how negative the striving for perfection can actually be. Self-criticism, certainly. Self-annihilation, no. But how does one know when that line has been crossed? Is it now time to re-gesso those 50 colorful canvases that have been hanging around for longer than I care to reveal? Or do I show mercy yet again? The answer must be in that quote. It's a case of what Agassi's coach Brad Gilbert calls "meat and potatoes." When you play tennis, you don't have to beat the world, just make the opponent fall down (= lose) or better still, let him lose. When you make an artwork, you don't have to be better than Rubens or Picasso or anyone else for that matter. But maybe just a bit better than the worst thing you've ever done yourself and then a helluva lot better at selling it!
There is 1 comment for
Head-wise and game-wise
by Faith Puleston
The Ballad of 'The Bugaboo Ten'
by Dennis Fairbairn Well now in the autumn of two ought and ten While led by Liz Wiltzen and Robert Genn A group of intrepid artists will set out to see What they can paint in the Bugaboos of BC. We number twelve with Wiltzen and Genn But Bob decided to call us "The Bugaboo Ten." Now many posts followed when the trip was announced Most congratulatory and some envious they pronounced But others were angry and on the "Ten" they pounced "The Bugaboo Ten are wasteful Dabblers!" they pronounced "polluters and destroyers of God's great work" "Each should stay home and not be such a JERK!" Now many others came to the defense of the "Ten." Wiltzen join in but only silence from Genn. At the first my reaction was just to say, K.M.A! They had theirs, now I'd have my say. I'd get them back with my poison pen! But then I took a cue from Wiltzen and Genn. Liz had been respectful and conciliatory And now I'm sure as I write this story That Bob was too much a gentleman To roll in the mud of any dissention. So now in the autumn of two ought and ten We'll be led by Liz Wiltzen and Robert Genn We, the painters known as "The Bugaboo Ten" A group of intrepid artists we'll set out to see What we can paint in the Bugaboos of BC. It will be life altering of that I have no doubt. For expanding our horizons is what life's all about. For those with envy, just trust that your turn will come around For those who scold I hope some enlightenment can be found. For those whose words were only supportive and kind I dedicate my trip to you and hope you find Encouragement in whatever you do Just as I found encouragement from you. So if you happen to be posting this September third I hope you'll remember to send us a kind word. For now in the autumn of two ought and ten We'll be led by Liz Wiltzen and Robert Genn We a group of intrepid artists will set out to see What we can paint in the Bugaboos of BC. We number twelve with Wiltzen and Genn ….But Bob decided to call us…"The Bugaboo Ten."
There are 2 comments for
The Ballad of 'The Bugaboo Ten'
by Dennis Fairbairn
Archived Comments
Enjoy the past comments below for Art not for the faint of heart…
 Featured Workshop: Painting in the Bugaboos with Robert Genn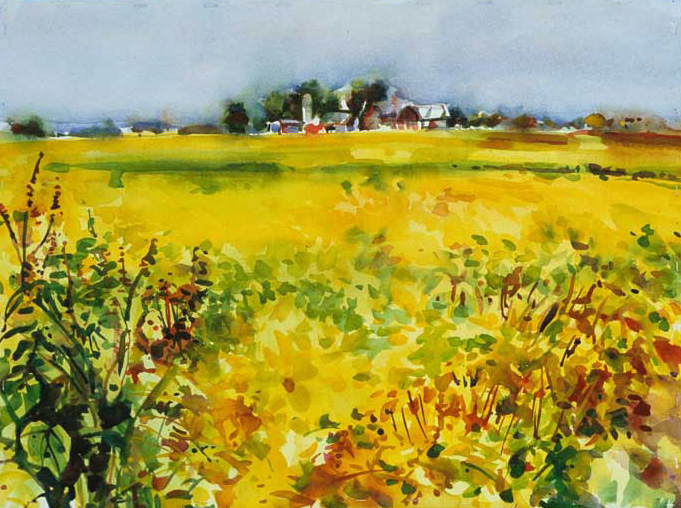 Curve on Swanson Rd. watercolour painting by Charlotte Rollman
You may be interested to know that artists from every state in the USA, every province in Canada, and at least 115 countries worldwide have visited these pages since January 1, 2013. That includes Helen Musser of Terrell, TX, USA, who wrote, "What an adventure in the Bugaboos. You people are forever young when you accomplish this paint out high." And also Carol Lavoie who wrote, "What would I do without your inspiring and insightfully wise letters? The quotations you find and your wisdom-filled snippets of esoterica never cease to amaze me and make me take pause to fully digest them as the thoughts they contain spin around in my head all day long." And also Vivian Chamberlin who wrote, "I recently unearthed a series of 'plein air' paintings I did in Mexico years ago. I could feel what it was like to sit there — sometimes on the curb — in all that sun and colour." And also Mel Davenport of Cedar Hill, TX, USA, who wrote, "One must always keep on taking risks, enjoying adventures." And also Sally Browning Pearson of FL, USA, who wrote, "What an experience!! You said a 'trip of a lifetime' and it was indeed! Thank you so much for all the advice and help."
There's the sheer brutality of this great gas guzzler with its thundering twin jets and the swish swish swish of the killer windmill just off the top of our precious little heads. The other thought is the outrageous privilege and joy of being whisked to places you would never otherwise see — often with an altitude change of more than 4000 feet — all in less than ten minutes. Then there's the miraculous and eerie silence when your chopper leaves and you're simply king of the world, gobsmacked with 360 degrees of infinitely paintable magnificence. With a lump in your throat, only humbling praise comes easily. We're staying at the Bugaboo Lodge, high in the Purcell Range in southeastern British Columbia, Canada. Bundled up for the blown snow, hail, and sharp, sub-zero winds, we have the added fun of painting in mittens. Another spot included sunshine, soaring golden eagles and alarming bear scat. Daily we've staked out our territory, not too much out of sight or earshot of one another, coming to grips with our private terrors of plein air. No matter what we've done or accomplished in this life, we take our winnings and our weaknesses to the peaks and carry with us the methods and processes of our prior learning, great and small, right and wrong. Breathless in the high altitude, tears in her eyes, a painter turned to me and said, "I simply can't do justice to this place." "Calm down, settle down, get into the flow, feel the magic; today's second painting will be better than your first." At times like this I think of the words of the Austrian-Canadian mountain guide and climbing pioneer Konrad Kain, (1883-1934) who, well before helicopters, was first to the top of many of these spires: "The guide should never show fear, should be courteous to all and should always give special attention to the weakest member of the party." Best regards, Robert PS: "Whatever is in any way beautiful hath its source of beauty in itself, and is complete in itself; praise forms no part of it. So it is none the worse nor the better for being praised." (