Dear Artist, Yesterday, Colleen O'Brien wrote, "I was meeting with a client last night and a question came up regarding hanging artwork over a new fireplace. One of the builders said to never hang art above a fireplace as it would ruin a painting. Another person said there is no issue. There will be no mantel on this particular fireplace. Do you have any knowledge about this?" Thanks, Colleen. Apart from the fact that "over the fireplace" is a traditional (and mandatory) location for art, there are three main problems with fireplace proximity. One is the excessive drying that takes place near any heat source. Canvas, particularly, can become brittle after only a few years. Also, overheated oils can become cracked and flaky. Modern, better designed fireplaces may radiate heat outward and not be as problematical. Another problem is the buildup of soot and grime from smoky, poorly designed hearths. Visiting in a cottage this summer I noticed a really dark oil over an ancient river-stone fireplace. The painting looked like something out of a mediaeval nunnery. On closer examination it was a landscape by a deceased painter I used to know. He would be rotisserating in his grave if he saw it, I figured, so I offered to clean it up. It was quite a job. Starting with Mr. Clean and a soft, circular motion with a white towel, I soon found myself resorting to a Brillo pad. (Please don't share that last sentence with anyone — that's strictly between you and me, okay?) Actually, well dried, with a final cotton-batten cleaning with mineral spirits and a shot of Damar varnish from a spray can, it looked like a million bucks. Interestingly, with the darkening that had taken place over the years, the folks who owned it simply lived with it and thought that was how it always was. There's another thing about fireplaces. Whether there's a mantel or not, paintings tend to fall down from them. For some reason they seem to land on the corners of the fire screen or the sharp parts of fireplace implements. Holes in fallen canvasses are a big problem around Christmas, particularly where stockings are involved. Also, the heavily-laden and overweight Claus coming down the chimney may inadvertently be knocking the pointy ends of picture hooks. Just a theory. Best regards, Robert PS: "The national distrust of the contemplative temperament arises less from an innate Philistinism than from a suspicion of anything that cannot be counted, stuffed, framed or mounted over the fireplace." (
Lewis H. Lapham
) Esoterica: One only needs to look at paintings under glass to see the effect of dangerous, poorly-drawing fireplaces. The constant return of an oily smudge (creosote) may indicate the presence of toxic, airborne substances, including carbon monoxide — the result of incomplete or low-temperature burning. Perhaps a painting over a fireplace is like the proverbial canary in the coal mine — a pleasant monitor to have hanging around.
No water on oils please
by Carolyn Edlund, Poughkeepsie, NY, USA Goodness me, Robert! Mr. Clean — are you truly serious or just honing the point that soot accumulation is darned hard to remove? Water, water everywhere and nary should it touch an oil painting — but then, you didn't specify whether the artist used oil or acrylic paint. Conservation wisdom on the subject of grime encrusted art (of the oil painting genre) is adamant that water should never be used to clean oils. It seeps into cracks loosening the paint film encouraging future flaking. Here are some resource materials. Except for the last, which is specific to works on paper, these books cover all manner of antiques in addition to paintings and works on paper.
The Winterthur Guide to Caring for Your Collection (Winterthur Decorative Arts Series)
 ~ Gregory J. Landrey
Care and Handling of Art Objects (Practices in the Metropolitan Museum of Art)
~ Marjorie Shelley
Caring for Your Art: A Guide for Artists, Collectors, Galleries and Art Institutions
~ Jill Snyder
How to Care for Works of Art on Paper
 Museum of Fine Arts Boston ~ Roy L. Perkinson
Sulphur turns pigments black
by John Smith, Durban North, South Africa A number of pigments turn black in the presence of sulphur, so hanging an oil painting or in fact any painting above a fireplace is not a very good idea.
There are 2 comments for
Sulphur turns pigments black
by John Smith
Bad choice
by Cristina Monier, Buenos Aires, Argentina Over the fireplace is a bad choice, as are drafty places, direct sunlight and where sudden changes in temperature and humidity may take place. If only people took care of their paintings as they do of their plants! But as much as I admire Mr. Genn as a painter and a teacher, my advice to him (and everybody else) is to leave conservation and restoration of easel painting to professionals. That's why they study for long, grueling years and would never, ever clean a painting with anything but the smallest q-tips and the appropriate solvents.
Depends on the climate
by Jackie Knott, Fischer, TX, USA There are variables in "over the fireplace." In south Texas we may have a fire four to six days in a season. In Alaska, our fireplace was continually fed for five months without ever cooling. Anyone living in a northern climate knows how the interior climate can ravage our skin every winter. One can only imagine what it is doing to a painting. We've all seen accent lights spot heating a painting on a dark wall. That can't do a canvas much good either. Other than advising your client of those dangers it's basically their painting after they buy it. I've never heard a gallery recommend to a buyer where to hang a painting; they probably should.
Steamy kitchen sink
by Roslyn Levin, Shelburne, ON, Canada Your painting over the fireplace email brought to mind a client of mine who wants to hang a painting over her kitchen sink. My work is sumi-e, Japanese brushstroke, painting on rice paper, mounted on canvas with a final coat of acrylic matte medium for protection. I have reservations about such a move but still want the sale. (RG note) Thanks, Roslyn. What people do with your art is their business. All you can do is warn them against the possibilities of damage. One temporarily disquieting event is when you nip into the bathroom at a friend's house and find one of your works above a certain piece of bathroom furnishing.
There are 3 comments for
Steamy kitchen sink
by Roslyn Levin
No problem with modern fireplaces
by Scott Anderson Modern, gas-fired fireplaces are much more efficient and radiate heat throughout a room and do not belch heat and soot upward as in the older, wood-fired type, which are now, in many jurisdictions, illegal. In many cases air tight and behind thermal glass, they should not be a problem to valuable paintings hung above them. In my experience over many years of service with approved installations, there is no issue.
Potential for water damage
by Laurie Debord, Texas, USA I just wanted to add another reason to be careful about hanging paintings above fireplaces. This last week during the rains and flooding here in Texas, water came in due to flashing not being installed properly around our fireplace chimney. The sheetrock was soaked and the painting fell to the floor. Thankfully, not damaged, only the frame was somewhat out of whack.
To varnish or not?
by Melanie Peter, Gainesville, FL, USA Your "over the fireplace" letter reminds me to ask the big question about varnishing oil paintings: to varnish or not? Some artists, including myself, rarely give paintings a final varnish. Very few of us live in homes heated entirely by wood or coal or have windows opening to unpaved streets that cast up dust and dirt. We have central heat and air, sealed environments, paved streets. The idea of varnishing was to keep a layer between the paint and the dirt that could be safely removed or safely cleaned. My corporate portraits will never see the open air or a fire, unless the building burns. My question is: do we need to varnish? (RG note) Thanks, Melanie. Varnishing also serves to even out sinking in areas which occur in both oils and acrylics. Different pigments and variation in grounds hold paint in different ways, and most painters prefer consistency. Nowadays, you are quite right, varnishing has become a matter of taste. On the other hand central heat and air, sealed environments and paved streets do not protect against fly specks, occasional smokers and Martini splashes.
There is 1 comment for
To varnish or not?
by Melanie Peter
Endorsement of book
by Sam Adoquei, New York, NY, USA Thank you for being gracious and generous with the endorsement of my book. Forgive me for taking me this long to write. I have been in Europe for the past two months and just returned two days ago. We sold between 80-100 books on Amazon because of your letter. I owe you a big one, for both the sales and your kindness.
(RG note) Thanks, Sam.
How Successful Artists Study
was mentioned in my letter
An artist's world
 on July 30, 2010. I found Sam Adoquei's book to be a stimulating, energizing read and loaded with truly excellent advice, especially for young artists just out of art school.
There is 1 comment for
Endorsement of book
by Sam Adoquei
Archived Comments
Enjoy the past comments below for Over the fireplace…
 Featured Workshop: Painting in the Bugaboos with Robert Genn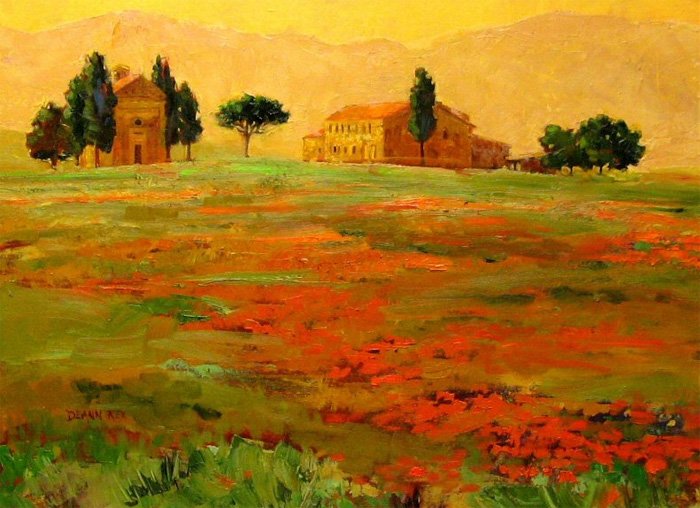 Untitled
original painting by Deann Rex, UT, USA
You may be interested to know that artists from every state in the USA, every province in Canada, and at least 115 countries worldwide have visited these pages since January 1, 2013. That includes Brenda Behr of Goldsboro, NC, USA, who wrote, "You've named a place where a watercolor, pastel or other like medium, protected by glass, will win out over its oil and acrylic cousins." And also Edwina Halsey of Albany, NY, USA, who wrote, "Personally, I would not do that. You are asking for trouble with that. Mantel or not, a fireplace will eventually ruin your painting." And also Bonnie Butler of Lorton, VA, USA, who wrote, "Are the over-the-fireplace areas reserved for TVs these days? If your 'harsh conditions' theories prevail, they'd hold true for expensive electronics too!"