Dear Artist, Artists need to be constantly on the prowl for ways to make their work more visually exciting. Art needs magic bullets beyond mere subject matter. Fact is, perfectly dull subjects can be made more interesting with a little extra thought and effort. You may already be applying some of these ideas, but if my request seems more like a tough order, perhaps these exercises will be all the more important for you. We'll be happy to post a few of your examples in the next clickback. Take a small card or canvas and divide it into six areas. The first on my list is an easy one. 1. Paint a smooth gradation from warm to cool or cool to warm. 2. Using a red, a yellow and a blue, or a green, a purple and an orange, paint three equal-intensity colours side by side. When you half close your eyes, they should all be about the same value. 3. Without showing any form, paint something that appears to protrude from something that appears to recede. 4. Paint some patches of tone or colour in alternation along a partly disclosed curved line and try to "hold" the line by implying it. Still with me? 5. Paint a "transformer" — that is, some subject or motif that looks like or becomes something else. Think of a praying mantis that could be a truck, or an owl that could be Uncle Fred. 6. Paint a simple motif or subject from life, then cover part of it up by further painting up to and past it so that the motif or subject is now only partly disclosed. Always learning, always questioning, we see exercises like these as experiments — even when they come from some dude in a computer. "The true method of knowledge is experiment," said
William Blake
. "Life," said
Ray Bradbury
, "is trying things to see if they work." Exercises like these have the distinct tendency to wander into your regular work and add mystery, interest and appeal. Displacing the commonplace, they show your artist's hand. Best regards, Robert PS: "All life is an experiment. The more experiments you make the better." (
Ralph Waldo Emerson
) Esoterica: Of course you can do these sorts of experiments in and about your regular work. Those you make up yourself will be the most valuable. Those who search, find. The idea is to make the business of exercise and experimentation habitual. Just as a tinkerer can go on and on in his shop, missing meals and important appointments, the artist stays glued to the unfolding of experiments. I call it magic — you can call it anything you want. You may not be able to put your finger on exactly what the magic is, nor will you be able to put it into words, but magic will be in the air.
'Directly from Source'
by Aleta Pippin, Santa Fe, NM, USA This painting is entitled
Directly from Source
. I feel that it has passages that "protrude from something that appears to recede."
Taking people with you
by Michael Fuerst, Urbana, IL, USA An excellent book that takes one along similar paths is
Keys to Drawing with Imagination
 by Bert Dodson, sample pages of which can be read here. A day will come when you are able to read my lips, comprehend my thoughts, one day… you will feel my mood, live my world, one night… be a part of my tradition, my story, and know who I am… one day, one night.
Escape to private magic
by Ann Price, North Little Rock, AR, USA Here's a doodle painting that fits with #3. I'm headed off on a solitary painting weekend, for the first time ever. Books, paints and myself in a cabin in the woods. I am terrified, exhilarated and free. I will paint and draw, then look at it later.
There are 2 comments for
Escape to private magic
by Ann Price
Through the eyes of other artists
by Angela Treat Lyon, Kailua, Hawaii, USA I'm on #50 now of my 100-painting quest, and I have to say I've learned so much I've had to take a mid-point break just to sit back and assess it all. One of the coolest things I've played with has been to try to paint like masters. I intentionally didn't imitate to copy, but just to get the feel — I really enjoyed it. I tried playing with the idea of that new laughing Rembrandt that was found recently — just to play with trying to get those incredible dark greenish and reddish browns — wow, the man could PAINT. Understatement….For fun, I replaced Rembrandt's head with a funky version of my own with a badly seated hat, but it was so great to try to paint like him. I loved the strong line he had going from chin to shoulder, and if there is any line I'm proud of in the one I did, it's that one — I got it! The hat and head — nah — but that line and the browns — woohoo! And here is where your exercise comes in — The other was Chagall — I was struck by what a story-teller he was, and how he placed his story elements so perfectly within the realm of the canvas. I changed a couple of his symbols — most notably cow became fish — and the non-defined curve of the circle behind it was smooched into allusion and carried on by the gills. What fun to imitate and see through their eyes! Great exercises — I'll be trying them this next batch.
Paint it black?
by Brian Smith, ON, Canada As a faithful daily reader and oft-time collector of your notes, I from time to time read one of your letters to a student who has asked about a specific issue that you brought up that very morning. However, "Six exercises in magic" won't be quoted as it seems to me to have a very large flaw in the middle. Exercise #2 states: "Using a red, a yellow and a blue, or a green, a purple and an orange, paint three equal-intensity colours side by side. When you half close your eyes they should all be about the same value." Every colour on the colour wheel has an inherent value (that is the lightness or darkness of the colour shown most clearly if you were to take a black and white photo of the colour). Yellow, for example, is the lightest value on the colour wheel and its complement, violet, is the darkest. If I paint the three primary colours at the SAME INTENSITY, there is no way they will be the SAME VALUE. The yellow will always be lighter in value than the others. In order to make the yellow as dark a VALUE as the others, I would need to add either some other darker colour to the yellow (thereby making it not a yellow anymore), or make it a tone by adding grey, or a shade by adding black. By making the yellow a tone or a shade, I immediately lower its intensity or purity, so the three primaries are no longer of equal intensity. The only way I can see to make them the same intensity AND the same value would be to make them all very, very dark SHADES of their respective colours and therefore also very, very low intensity as well. In fact, they would all be …well, black.
There are 6 comments for
Paint it black?
by Brian Smith
The magic of transformers
by Forwarded by Roman Skotnicki, Vancouver, BC, Canada This creative man converts parts of scrapped cars into sculptures worth thousands of dollars. The Australian artist, James Corbett, 46, creates these sculptures using salvaged car parts from junked 1950 and 1960 automobiles. One of the pieces, a ram made of spark plugs sold for a whopping $23,000. His sculptures are made of gears, spark plugs, exhaust, radiators, anything that the artist chooses. After spending weeks locating suitable pieces, James meticulously cleans every part and welds them together. "After a period of time, people began to become more and more interested in what I was doing and now what do I in life is a dream come reality," says Corbett.
There is 1 comment for
The magic of transformers
by Forwarded by Roman Skotnicki
Archived Comments
Enjoy the past comments below for Six exercises in magic…
 Featured Workshop: Painting in the Bugaboos with Robert Genn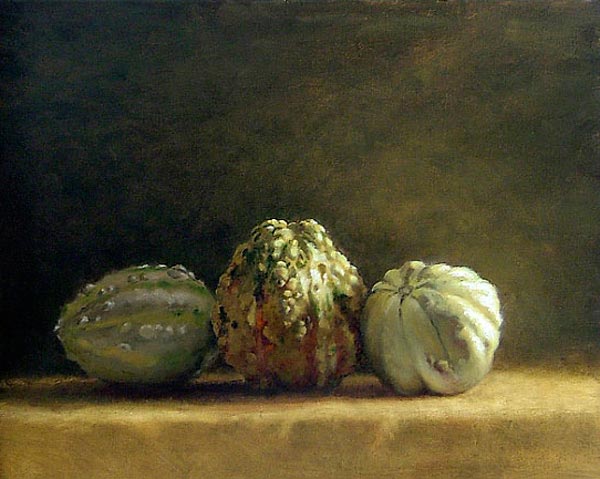 Lightplay
oil painting by Cindy Revell, AB, Canada
You may be interested to know that artists from every state in the USA, every province in Canada, and at least 115 countries worldwide have visited these pages since January 1, 2013. That includes Jan McCaffrey who wrote, "I don't create anything interesting unless I am in a creative place I haven't been before… that usually means experimenting!" And also Carolyn Marques-Wiginton of Austin, Texas, USA, who wrote, "I often hold on to practice sheets and work into them at a later date as experiments. Sometimes these become interesting pieces that people really like."