Dear Artist, At a recent soirée of old friends and colleagues there was a politician whose acquaintance I had made back in high school. He was a jerk then and, as far as I can see, he's a jerk now. I found myself pleasantly moving around the room and not making eye contact with him. As a matter of fact, through the whole party I was blind to his existence. To my last Scotch I successfully avoided the renewal of our acquaintance.
Anton Chekhov
) Esoterica: "Seeing is a gift that comes with practice," says earth-lover and simplicity advocate
Stephanie Mills
. It seems to me that the evolved creative eye is capable of putting problematic patches aside in the full knowledge that a gentle return will be made when other items are further resolved. Learn to squint. In the words of
Henri Cartier-Bresson
, "One eye looks within, the other eye looks without." Above all, be patient. "One looks, looks long," said
Joseph Campbell
, "and the world comes in."
Facing up to mediocrity
by Gaye Adams, Sorrento, BC, Canada This letter articulated something I already recognized but never really sorted on a conscious level. Just as a chain is only as strong as its weakest link, the same is true of a painting. By failing to address areas that are not working, we doom ourselves to mediocrity. It turns out in the end that the energy used to avoid working out a problem in a painting is greater than the energy it takes to fix the problem — at least in my experience. It takes nothing more than some objectivity, a good work ethic, and perhaps a little courage.
There are 4 comments for
Facing up to mediocrity
by Gaye Adams
Unpleasant advice
by Esther Rogoway, Tubac, AZ, USA Your letters have helped me in many ways to be a better artist, although I am an abstract, contemporary painter, very different from
plein air
. I have been reading your letters out loud in our Critic class Monday mornings. All of the students enjoy discussing your comments. So I was a little surprised to read the last paragraph in this week's letter "The Blind Spot." We all have bad days and some of us need to work harder at painting than others. I don't think that it is your place to say, "If in your most lucid and confrontational moments your whole work strikes you as one big blind spot — bad design, bad composition, bad form, colour, stroking, etc. — and you find the condition persists through many consecutive efforts, you might give consideration to another profession such as politics or psychiatry." You have a lot of influence over your readers. Some of them might be having trouble painting, but that is not a good reason to quit. One should always try harder — the breakthrough will come eventually. If not, keep trying, but only if one is having fun. There must have been a good reason for painting in the first place. (RG note) Thanks, Esther. Every time I write a paragraph like that I wonder if I'm going to bother someone. That one slipped by the editors partly because they know I have this ridiculous and unfounded antipathy for certain professions and can be relied upon to get off a cheap shot. This is bad of me, and I apologize. My consolation this time is that you are the only one to complain so far. Sometimes there are hundreds of complaints in my inbox, especially when I slur the accounting and taxation subculture. On another note, I was reading where every year tens of thousands of children sign up for ballet lessons. And every year tens of thousands give up ballet because they are not graceful, have the wrong kind of body, lack the pluck to get good, or simply because it's not fun anymore. Yes, I agree with you, people should do what is fun. We generally have the most fun doing what we do well.
There are 6 comments for
Unpleasant advice
by Esther Rogoway
Practice the bad bits
by Leonard Skerker, Ann Arbor, MI, USA In Arthur Rubenstein's autobiography he tells the story of a student he had once. He taught piano to make money and develop social contacts. The student was not very good, and he recalls watching her approach the part of a sonata that he always had trouble with and she soared through it, flawlessly. He figured that he had some kind of mental block there (like what you describe). Rubenstein warmed up for each performance (offstage) by playing a series of many of the bits that he had found most difficult to play. I wonder whether we might profit from, once recognizing our little bad places, doing preliminary warm-ups of them.
Filling the blind spot
by John Crowther, Los Angeles, CA, USA In both my cartooning and painting I long ago had an epiphany that obviates the "blind spot syndrome." Uppermost in my mind as I work is that I must always be learning something, which demands I actively look for the weaknesses. For a few years I kept this painting on my wall, aware that something was wrong. It reminded me aggressively on a daily basis that it needed something, and it finally hit me what it was. The figure (me, in the "role" of the homesteading Maine fisherman). Adding the figure suddenly gave it both the narrative and focus it lacked.
There are 10 comments for
Filling the blind spot
by John Crowther
Solutions pop out
by Ann Davis, Springfield, VA, USA Even though I'm a silversmith I try to work around drawings that aren't exactly working in the 3-dimensional world, so I bring out the flex shaft with a titanium burr and just reduce the offending part to dust. Or, if really frustrated, I bring out the torch and reduce the whole thing to melt, and remake. Artists of every calling must think alike. That is so fascinating. That is a very comforting feeling; we are all going through the same thing. I so resonate with this letter and my poor attempt at watercolor flowers don't stand up to close inspection. But get me to make a silver flower… ahhhhhh. When I'm stuck, something like that, a flower — easy… therapy making just hits the spot! Or I just go paint a wall with the color I feel. I 'need' to 'ingest' that day and after a couple of hours of mindless rolling… I have gone deep inside and worked my problem out. Don't understand the process, but just the physical act of doing and the color… just pop out solutions. I guess at least I've tamed my
bête noir
but I have such a multi-colored house!
Take as long as it takes
by Rick Rotante, Tujunga, CA, USA When I was a young painter I avoided those areas that I could not resolve, which of course meant the work didn't get finished. When I look at older paintings from my formative years, I'm amazed at the daring I possessed to even attempt the subjects I did. True areas need work, but overall the results thrill me even today. I no longer close my eyes to problems. Time and experience is a wonderful thing. Now when I work, I move forward with little thought of problems. I let the work evolve naturally, mistakes and all. While working I don't want to interfere or limit my creativity with critique that may slow or stop the process. When the session ends, I look at the work to spot areas that need reworking or need more 'finish.' No area is too sacred that it can't be fixed. If I can notice a problem and have a solution, I work the area until I am satisfied. If not, I leave it for another day. These days I don't rush to judgment about whether a work is good or bad. I've come to understand a work of art is like a good wine and needs time to sit and come together. Today, I take my time while working and if the work needs more time, I take it. I take as long as it takes to create something I hope will stand the test of time and be noticed as a great work.
There are 2 comments for
Take as long as it takes
by Rick Rotante
Problem areas first
by Paul deMarrais, TN, USA Years ago I did a short apprenticeship with a wonderful sheetrock finisher in Hoboken, New Jersey. One of his theories was that you should do all the problem areas first. If you encountered such a problem, you should stop what you were doing and address it right then rather than putting it off. I didn't have that discipline at the time and still don't. Henry did, and once finished the sheetrock in a ten story building entirely by himself! He was disciplined in all aspects of this trade. I was assigned to keep his tools clean and to never let him run out material and to mix the sheetrock mud in a certain way and to keep it absolutely free of contamination. Some artists are disciplined. Others are not. Some are disciplined only to a degree. That's me. We all gravitate to what we like. My wife always remarks how hard I work… if it is something I enjoy doing! Conversely I am not as hard a worker with a vacuum cleaner or a lawn mower! It is our job as painters to know our strengths and play to them, to identify our weakness and try for improvement. We must accept, even embrace our limitations.
There is 1 comment for
Problem areas first
by Paul deMarrais
Understanding our visual world
by Tiit Raid, Fall Creek, Wisconsin, USA I was interested in reading Cartier-Bresson's… "One eye looks within, the other eye looks without." …and Campbell's… "One looks, looks long, and the world comes in." The Cartier-Bresson quote suggests that there are two aspects we need to be aware of when we observe the world: the inner and the outer. The inner being our personal territory, that which only we fully experience, our thoughts, emotions, feelings, memory, beliefs, and expectations. The outer world, that which we share with others, is the physical world around us. But, there is another aspect to the outer world which is not often talked about, and that is the visual world. Which, basically, is the appearance of things. In order to observe and see clearly we need be aware of both the inner and the outer. We tend to see the world through our beliefs and expectations, in other words, our inner world has much to do with how accurately we see what is going on around us. From an early age on we are taught to identify and name things we are observing, but, recognizing something and knowing what it is called is not seeing. And thus, we only see partially and never completely because our inner world 'colors' and distorts what we are observing. The visual world, the realm of the artist, as mentioned, is the appearance of things. The only way to seeing it clearly and accurately is to pay attention to how we look at something. Taking Joseph Campbell's advice to look long, you may find that we become satisfied too soon. In other words, the visual world tends to appear quite clear and detailed soon after we begin to observe it. Yet, when we take a second long look we most often notice things we totally missed. This should be a clue, to never assume that we see well enough. Often, what we believe or think is going on, is, in fact, a figment of our mind and is not what is actually taking place, or what we think we see is a small fraction of what something actually looks like.
Archived Comments
Enjoy the past comments below for The blind spot…
 Featured Workshop: Francesco Fontana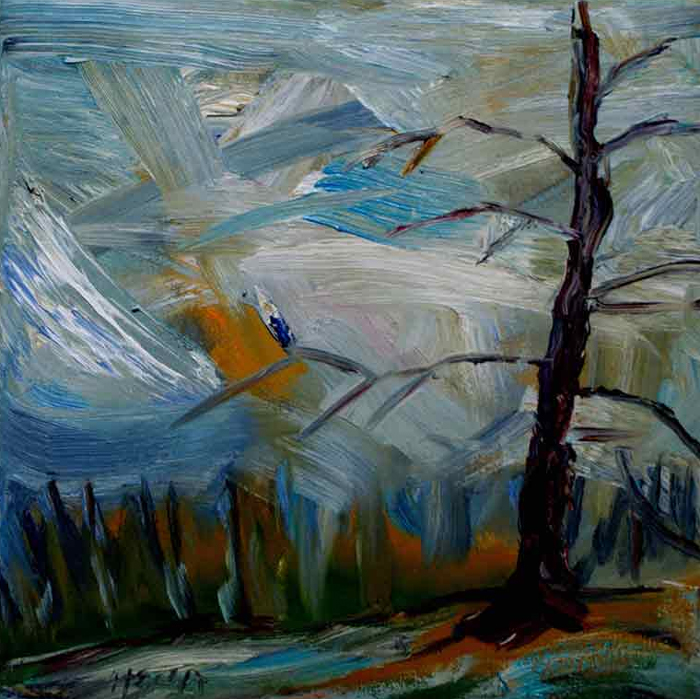 Moody Winter Day I
oil painting, 12 x 12 inches by Birte Hella, Toronto, ON, Canada
You may be interested to know that artists from every state in the USA, every province in Canada, and at least 115 countries worldwide have visited these pages since January 1, 2013. That includes David Graham of Estelline, SD, USA, who wrote, "As a retired pathologist and passionate lifelong artist for over 60 years, I've been motivated and inspired by the insight of Alphonse Bertillon, the French detective and anthropometrist, to wit: 'We see only what we observe, and we observe only that which is already in the mind.' " And also Anne W. Nye of Omaha, NE, USA, who wrote, "When I work, I hear this mantra: 'Work the painting as a whole. Don't get too careful too soon.' It's the voice of one of my art school professors ringing in my ears after all these years." And also Tom Pirozzoli of Goshen, NH, USA, who wrote, "In art, trust only two things. Your eye and… your other eye." And also Linda Archinal of Woodacre, CA, USA, who wrote, "This astute observation reminds me of a drawing I did when I was 8 years old. I drew a face and was stunned at how much I liked it. I proudly showed it to our maid 'Lillian' who said in a very kind fashion, "That is so nice honey but where is the nose?" So from that day forward yes I included the nose and forevermore have attention on it."
A few days later, outdoors with friends in a complex and difficult environment, I realized I was doing the same thing with my painting. I disliked some areas in my work and avoided them. Other areas held my attention and kept me busy. Checking on my fellow painters, I was happy to note that some were stuck with the same sort of blind spots. This was a sophisticated "avoidance syndrome" and a previously unexplored mind trap, I thought, slipping into my irregular Freudian bonnet. It's as if an area of the painting turns on you and alienates you. And you don't see it properly because you don't want to recognize it. For some of my fellow painters the background held their rapt attention while they neglected a difficult foreground. For some others, certain small areas around the painting became lost in the shuffle. For a few there was a big, blurred elephant. I figured the condition is probably caused by one's experiences with previous successes and failures — parts that have previously given trouble. How do you defeat the blind-spot syndrome? First, I rationalized, you need to accept that you will naturally favour some parts of your work more than others, and that's okay. While your work is in progress, you need to move between confident, intuitive brushing and rational strategy. It takes both sides of your brain to find the blind spots. Ideally, let a few days pass before final decisions. When the time comes, cruise objectively as if through the eyes of another artist. The fixable blind spots will more readily appear. Leave the unfixable ones alone. A different workplace and lighting aid in this part of the process. If in your most lucid and confrontational moments your whole work strikes you as one big blind spot — bad design, bad composition, bad form, colour, stroking, etc. — and you find the condition persists through many consecutive efforts, you might give consideration to another profession such as politics or psychiatry. Best regards, Robert PS: "I have the feeling that I've seen everything, but failed to notice the elephants." (