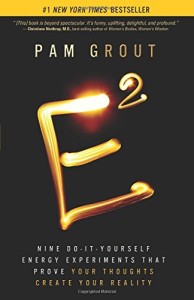 Grout, Pam

E-Squared could best be described as a lab manual with simple experiments to prove once and for all that reality is malleable, that consciousness trumps matter, and that you shape your life with your mind. Rather than take it on faith, you are invited to conduct nine 48-hour experiments to prove there really is a positive, loving, totally hip force in the universe. Yes, you read that right. It says prove.
"This book provided me with the necessary guidance I needed to truly know that my thoughts have power through 9 cut and dry exercises. The best part is, Ms. Pam Grout is writes in a language that is accessible, humorous and the very opposite of boring." — reviewed by Anonymous.
View more books by Pam Grout.
Buy Here