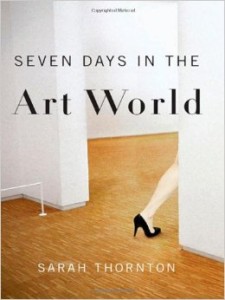 Thornton, Sarah

Sarah Thornton's vivid ethnography―an international hit, now available in fifteen translations―reveals the inner workings of the sophisticated subcultures that make up the contemporary art world. In a series of day-in-the-life narratives set in New York, Los Angeles, London, Basel, Venice, and Tokyo, Seven Days in the Art World explores the dynamics of creativity, taste, status, money, and the search for meaning in life.
"I tell everyone who asks me about the art world, 'Well, here's what I know; but, read Sarah Thornton's book'" — reviewed by Robert A. Stanley.
View more books by Sarah Thornton.
Buy Here