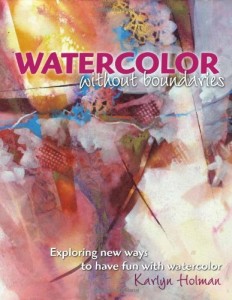 Holman, Karlyn

Organised like a cookbook, this title allows readers to jump in, and try any idea presented. The step-by-step demos are cross-referenced to direct readers to techniques. Readers follow basic 'recipes' but can add or substitute ingredients to create their own interpretations. Painting with 'whatever works' is like making up a recipe; instead of adding the same old ingredients, throw in something different, and instead of the usual, you may come up with the extraordinary. Demos include foliage as a way to frame your subject; starting with a range of values; layering colour; combining traditional with non-traditional techniques; creating paths of light on wet and dry papers; and much more.
"I have all Karlyn Holman's books and this one didn't disappoint. I find her creativity contagious and I am finding her excitement brings out the creativity in me. I recommend any of her books or CD's highly." — reviewed by Donna Reid.
View more books by Karlyn Holman.
Buy Here