Dear Artist,
Painting and other creative activities are essentially solitary pursuits, but there's something to be said for working alongside others. A companion can turn a wonderful experience into a fantastic one. With my friend Jack Hambleton, now passed away, I spent many happy days painting "en plein air" in Portugal, Spain, France and on the West Coast of Canada. We had a peculiar, competitive relationship that seemed to bring out something in both of us. We didn't step on each other's toes and often went speechless for long periods — until it came time for what we called "Monday Morning Quarterbacking."
Recently my daughter, Sara, and I spent a week at Lake O'Hara in the Canadian Rockies. Lodged in a fine cabin, we ventured daily along mountain pathways. As well as being their own rewards, father-daughter and father-son relationships are particularly challenging. The younger needs neither the shadow nor the glow of the elder. Both need to be left to their own devices — a tricky business when the inevitable crit comes up.
Sara and I have worked together on numerous occasions — often for sustained periods of time. She has her own style and motivation, as well as a sophisticated collector base in New York and elsewhere. While she's on a path of self-education, she's well beyond tuition from me. Thus we play on level ground. Some rules:
Don't comment unless asked.
Give the gift of joyous approval.
Accept all comers for what they wish to become.
Understand and grant other styles and approaches.
Realize the sun doesn't rise and set on academics.
Feature others rather than yourself.
Bask in the sunshine of others' success.Treasure the miracle of friendship.
I've always admired families and extended families where passions are shared across generations. In the same way, these letters and the resulting correspondence help to build a remarkable family that leads to mutual empowerment. Many subscribers have slyly noted that I insist on not saying what, when, where, why and how others ought to paint. After all, nobody gets away with saying it to me.
Best regards,
Robert
PS: "Don't walk in front of me, I may not follow. Don't walk behind me, I may not lead. Walk beside me and be my friend." (Albert Camus)
Esoterica: Our buddy system works best when the only alarm is for the approach of bears. We carry whistles. Airedales with bear bells work too, but dogs are not allowed at O'Hara — it's in a National Park with a fragile ecosystem and lots of critters. Working together in such places is best understood as "two solitudes." There will always be plenty of time for socializing, but it will be later — we're too busy working out our private problems. We've included a few photos of our mountain togetherness below.
Yoho Park — The buddy system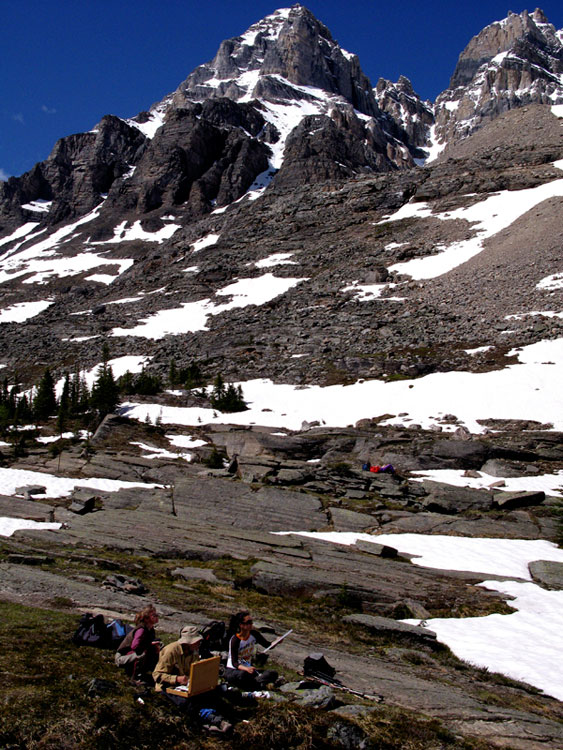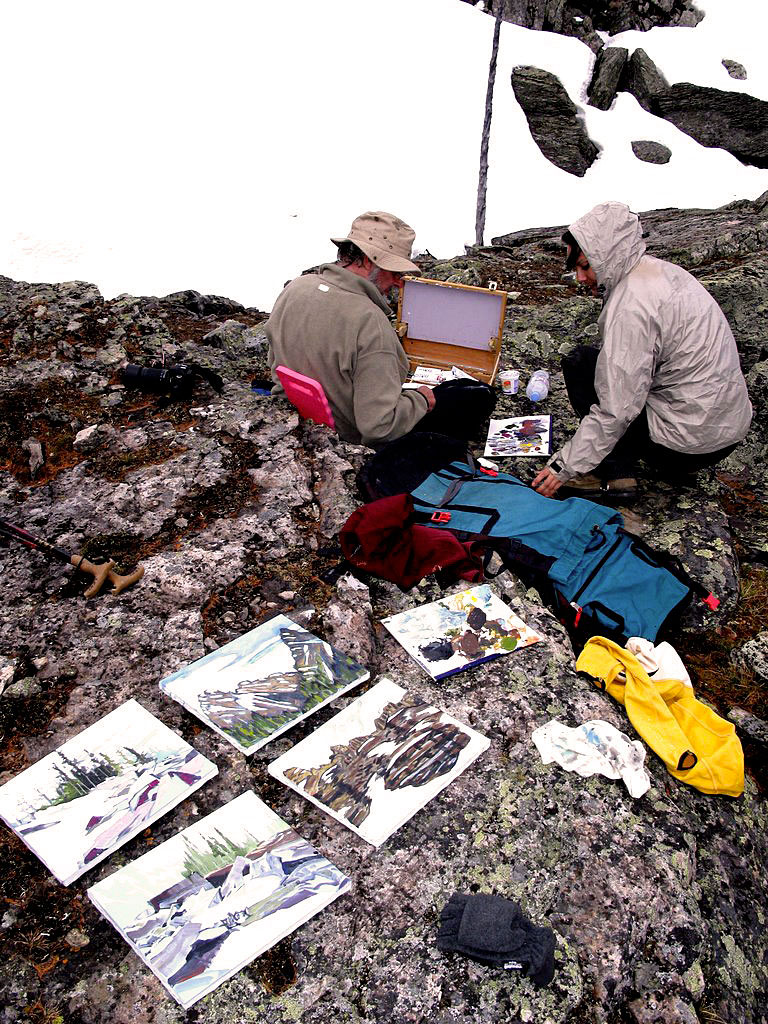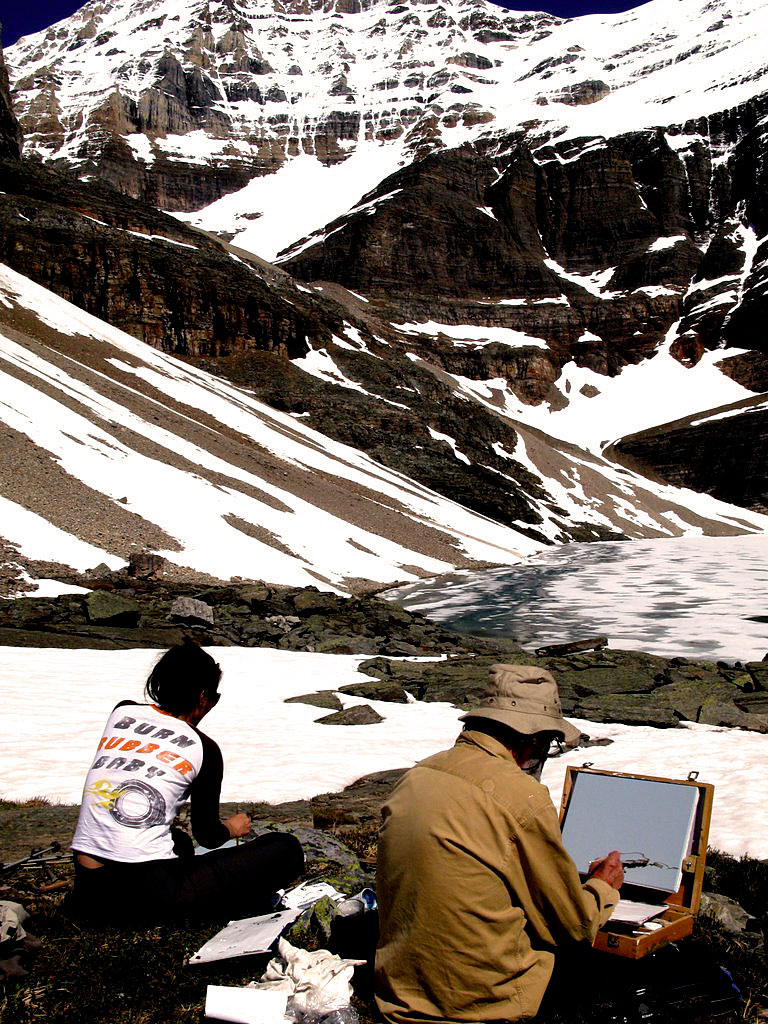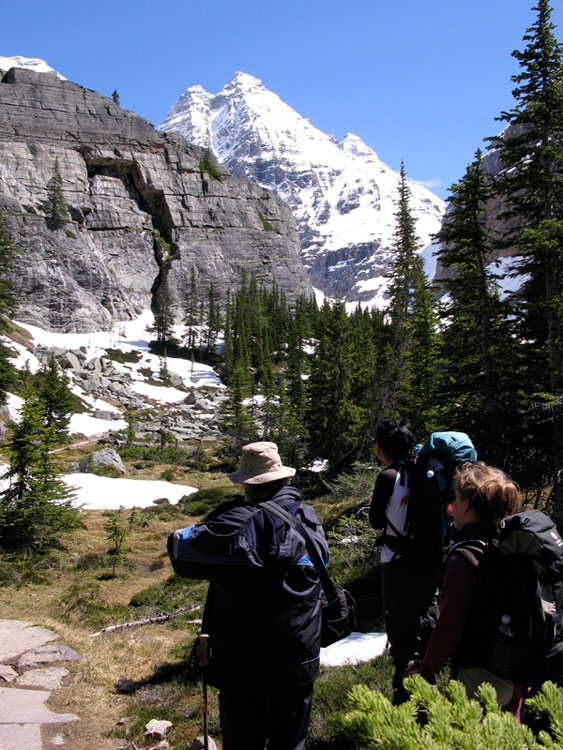 Lake O'Hara Video Clip

Your shining standard
by Brad Michael Moore, Perrin, TX, USA

Seems the hardest leveling to do, as an adult, is to sit back and allow the narrowing, inevitable loosening of your hold to the younger ones of your brood. "If I can just let time do it's magic — and be a supportive shoulder on that rare occasion when wisdom is sought…" At some point, the finest way of giving is to just polish oneself off as a comforter and supporter. Whatever the past — your most shining standard may be your best effort.

Friend without an agenda
by Vivian Anderson, Sydney, Australia

Were it not for my painting buddy I would not half understand what I do. She "reads" my work and finds more in it than I imagined when doing it. This encouragement is so uplifting, especially from a friend without an agenda — just pure support, and kindness, too. How fortunate to be understood.

Age factor in artistic success
by Beth Weise, Urbana, IL, USA

A friend who is a very successful painter tells me that youth is the secret ingredient to success for artist. Not only do you have to do great paintings but you have to look good and be young. I am sixty one years old and new to the art world in many ways. I paint and sculpt fairly well but she says I will never achieve that magical success because of my age. I can become eccentric and color my hair pink or something like that but will never be any younger than I am now. Any comments on this subject?
(RG note) Thanks Beth. While the input of younger people is often an undervalued asset, creativity and success can bloom at any stage in life. No need for the pink hair, it's not you that needs to be exciting, it's your work.

Colour touched by the rain
by Sylvia Naylor, Kingston, ON, Canada

Your mention of walking with your daughter in the mountains with the bear whistles reminded me of a lovely experience I had last August. I went to one of your dealers, Canada House in Banff, Alberta, for a demo day. Then I spent a few days hiking in the mountains gathering references for my work. I kept delaying my visit to the meadows until a sunny weather day was forecast. I ran out of days. On the last day of my trip out west I met my young guide at the base camp. There we were clad in rain gear. How fortuitous it was that I went on the mountain on that rainy day. No one else joined us. We hiked in the mountain rain talking loudly to warn bears of our presence. At one point some deer just appeared like an apparition from a low cloud. We and they stopped to assess each other. The lakes were only a few feet away but could not be seen. The close flowers had colour that was electrified and enhanced when touched by the rain.

An artistic community
by Mitzi Smyth, St. John's, NF, Canada

I have been an art teacher for many years and have developed a friendship with other art teachers within our city core. Over the years we have shared teaching methods, shared our class rooms and shared supplies and many ideas. We started our get together about ten years ago because all of us felt isolated from the core teaching group. We all felt that those who did not teach art could not relate to what we were experiencing in the class room. It's very different from teaching a class of English or Math. With the exception of two members we are now in retirement. This has not stopped us. All of us are involved in one way or another in the world of art and come together almost every month to share our thoughts.
Recently we all went on a retreat around the bay and stayed in my brother-in-law's house. We had a ball! Our prime directive was to make art while we were there. We have a potter, a printer, two painters, an encaustic artist, and a textile artist and each of us can sit with the group and work in silence and appreciate each other's methods of approach on the same subject. It's really rather interesting and enjoyable to see the ideas flow, the questions thrown about, and the amazing things that are done when we are together.

Online artist colony
by Carol Chretien, USA

Your rules are absolutely the ground floor of our Art Helping Animals artist fellowship. We paint as individuals with a common purpose and mutual respect and support of our art styles and work. We inspire the best of each other and celebrate successes of the individual… it helps us go further in our own work. Although members of our fellowship have never met in person… the best of the Internet has brought us together in our online artist colony.

Toxic criticism
by Sandra Merwin, MO, USA

I am in a gallery where toxic criticism and snide comments are par for the course. The sun rises daily for the god of academics! To anyone who questions this approach to art, the artists repeat the mantra, "You can't be an artist without the academic credentials. Every artist needs criticism to grow. You must develop a thick skin and learn how to take it." Although comments are not given without being asked, I've never seen a joyous response to anything. Instead, when a piece is presented the response is: narrowed eyes, deep sighs and nonverbal dismissal of any non-realistic art. The lack of comment in this instance speaks louder than words. Some of the best comments I've heard recently are:
"I'm sure that someone somewhere must like this art."
"This must be children's art, I bet a child would like it."
"I think you've accomplished all you can with the medium of acrylic."
"I can't recommend any art or artist who does not have academic credentials — I don't consider a minor degree in art as having the proper credentialing — so I really can't comment."
Having been trapped in this artistic culture for several years, I thought that this was how artists behaved and I concurred that I must be the odd duck. How lovely to find that your "rules" are the ones that I have followed.

Be 'Bear Aware'
by Sandra Donohue, Robson, BC, Canada

Our youngest son is a park ranger (in Garibaldi Park) and has explained these reasons for not allowing dogs in certain areas. Just the presence of a dog, leaving its scent, is enough to upset sensitive wildlife. Also, many dogs off-leash will encounter a bear, annoy it and then run to their handler and the bear will follow. In your little video clip you shared with us recently, your dog showed remarkable training, staying with you. For anyone going out in an isolated area to paint, read up on Bear Aware, and enjoy the outdoors.

Reverse order
by Julie Tonkovich, La Habra, CA, USA

You did throw me for a loop when I viewed this video. I was always told to paint background to foreground. Is there a reason you painted the trees in the foreground first, and then went back to paint in the water, mountain and skies behind it?
(RG note) Thanks, Julie. There are no right or wrong ways. I often use the reverse order because the counterpoint and negative areas give the sort of vitality I think I need. Foreground first also has the effect of building simpler, stronger patterns and compositions.

Varied perspectives
by Alicia Nielsen, Canada

I am currently project manager for a commissioned mural for our town. We are six artists working on this 10 x 24 foot piece and it is amazing how we all approach our painting so differently, our styles and techniques make for experimentation and much discussion. How we perceive colours, their intensities and even their mixing, is an eye opener. Perhaps the most difficult aspect is to adhere to my original motto "this project has to be fun." We try to look for ways to improve all aspects of the work without being too critical; this is sometimes a big challenge. I have through the last three weeks often thought it would be so interesting if each artist could have done this mural on their own and had a display of all of them.

Pushing each other's buttons
by Todd LaChance, Canada

I just got back from Lake O'Hara on Sunday night. For me it's like walking into the Montreal Forum (which I have done). My heroes have been there and done their best work. It's awe inspiring! Getting up at five and doing four paintings starting at Cathedral, all the way up to Victoria Falls and Oesa, then back down and getting the sunset on Mt Biddle and the lake. All along drawing on the energy of the other artists I was with, Jerry Markham, David Veres and Margery McBride Elliot. My best buddy is Dave. We have that same competitive spirit you talk about. Sitting down at the same spot and coming up with something completely different. We push each other's buttons to go faster and capture the fleeting light. Like kids in a candy store as the snow turns pink…

Art runs in the family
by Paul Massing, Amelia Island, FL, USA

The in-grown art experience of the Massing family has been interesting and rewarding for father and two talented sons. Mother and female siblings also participate in that experience and relate as observers. The elder, a painter/graphic artist, has done art most of his life span and, as the family grew, "doing art" became part of the family environment. Both sons naturally took to doing art as they watched the "old guy" doing his work. They went on to pursue their own directions in the art experience as adults, using education to sharpen their talent and to move and develop in directions that suited them. The oldest son is a fine print maker and is a tenured professor in a University. Younger brother is a highly successful and respected "contemporary" artist. They each have immense respect for the other's directions and styles although widely apart in their approach to their work.

Joyous approval
by Marj Vetter, Three Hills, AB, Canada

The buddy system is great, although, like most artists, I usually work alone. So every once in awhile, my friend Jeanne and I go off in my trailer and paint, talk, eat, have some wine, and just generally catch up on things. Although we have painted together for 30 years, it has not affected our styles. We are supportive of each other, and like you say, do not comment unless asked, and always give "joyous approval." May everyone be blessed with such a friend.

Mutual hunger for learning
by Linda Saccoccio, Santa Barbara, CA, USA

The idea of a community, collaboration or just constructive critiquing is something I imagined I would experience when I went to graduate school. Unfortunately this was not the case during the two years where every artist seemed to need to be for her/himself. On average the faculty was also a part of this competitive atmosphere. Of the three major art schools I have attended, only one showed respect for individual development and creative support from students and faculty alike. At this school I was an evening student, unlike the others that I attended full time. Perhaps that made the difference in attitude. Recently I attended for the second time, Naropa University's "Summer Writing Program." It was gratifying to find a deeply creative community that is supportive and insightful. It is not in any way patronizing, and it is a place where collaboration and thoughtful criticism is a natural way between all involved, including the faculty who are established writers. Everyone listens to others' reading with respect and a hunger for learning.

Adhesive capsulitis
by Susan von Borstel, Garden City, CA, USA

Three months ago I had a big show deadline and wanted to finish six large paintings. I painted eight hours a day and noticed a growing discomfort in my right shoulder each evening. I finished on time but have been diagnosed with "possible" adhesive capsulitis" which causes increasing pain for about a year followed by declining range of motion (sometimes to total freezing of the joint) for about a year. It then gradually subsides to normal or with some loss of range of motion. I'm following a program of exercise and stretching (ouch!) through a physical therapist and trying not to overdo on pain killers. It's really affecting my painting which is large and needs to be upright so I can stand back while painting. Have any others had this complaint?
Archived Comments
Enjoy the past comments below for The buddy system…
Woodbine
acrylic painting
by E. L. Stewart, Richmond Hill, ON, Canada
You may be interested to know that artists from every state in the USA, every province in Canada, and at least 115 countries worldwide have visited these pages since January 1, 2006.
That includes Moncy Barbour of Lynchburg, VA, USA who wrote, "Your rules of painting with partners would not have applied to Vincent and Paul. But yours are agreeable, and, as my deceased grandfather told me so many years ago, 'No man is an island unto himself.' "
And also Leslie Allen of Washington DC, USA who wrote, "Waking to a steamy Washington DC morning felt delightfully cooler just thinking of you and your daughter painting in the Canadian Rockies."
And also Minnie Valero of Aliso Viejo, CA, USA who wrote, "Your letters are beautiful, natural, humble, generous, with a lot of common sense."
And also Jan Verhulst of Belgium who wrote, "What a great online tutorial. And free."
And also Diane Voyentzie of CT, USA who wrote, "In the past my sister and I would paint together on family vacations. While the men and boys were fishing, we went into the woods and set up our easels. Many wonderful times came out of these forays into nature with our meager supplies."
And also Angelika Jaeger who wrote, "Sara is a multi-talented, young woman, you should be very proud! I have been familiar with her work, yet to hear her voice made her more real as a person."
And also Jean Burman of Cairns, Australia who wrote, "Sara's soundtrack for the video is so beautiful. What more could there be for a father to do but stand back and beam with joy and admiration! Our children are sometimes our greatest masterpieces!"
And also Dar Hosta of Flemington, NJ, USA who wrote, "Oh, if only every art teacher in every school could approach their students and their teaching with these virtues in mind! I will be borrowing this and spreading these values whenever I talk about art and the student-teacher-partner relationship!"
No Featured Workshop
No Featured Workshop