Dear Artist,
When Swiss philosopher Jean Piaget was marking intelligence tests at a school for boys in Paris, he noticed that younger children consistently gave wrong answers to all the same questions. Piaget concluded that children of a certain age were simply not yet ready for these particular questions, having not yet developed cognitive abilities in these areas. It was 1921 and Piaget returned to Switzerland to propose a global theory of cognitive developmental stages — laying out age periods and their patterns — basically showing how knowledge is built.
By 1934, Piaget was serving as the Director of the International Bureau of Education. He proposed that children of all ages mostly required long, uninterrupted periods of play and exploration in order to learn. His theories, known as Constructivist philosophies of education, asserted that knowledge was acquired by having self-earned tools to invent, find new solutions and make discoveries. "Intelligence," said Piaget, "is what you use when you don't know what to do."
In art, the term "constructivist" is an aesthetic and way of working that focuses on materials and materiality. Think of the architects of the Bauhaus and De Stijl and the graphic collagists of the Russian Revolution. Think of their blocky forms and the intentional spotlighting of their materials and craft. So tied to the factual physicality of work and to truthfully describing all the elements that made up a design, the members at the Institute of Artistic Culture in 1920s Moscow even deposed their first Chairman. They felt Wassily Kandinsky was too "woo woo" for their new group — his paintings leaked hints of mysticism.
Finally, the First Working Group of Constructivists defined their new movement as the combination of two terms: faktura — the particular material properties of an object — and tektonika — its spatial presence. Not long after, Jean Piaget pinpointed the principle goal of education: "Creating men and women who are capable of doing new things, not simply repeating what other generations have done."
Sincerely,
Sara
PS: "Only education is capable of saving our societies from possible collapse, whether violent, or gradual." (Jean Piaget)
"Play is the work of childhood." (Jean Piaget)
Esoterica: There's no hiding in play — it reveals, firsthand, the truth of how things work. Piaget put it this way: "When you teach a child something, you take away forever his chance of discovering it for himself." Not until the 1960s would Piaget's theories of play and discovery really take off. After teaching at the Universities of Geneva and Paris, Piaget was invited in 1964 to Cornell and Berkeley to share his designs for curriculum development. "Every time we teach a child something, we keep him from inventing it himself," he said. "On the other hand, that which we allow him to discover for himself will remain with him visible for the rest of his life."
The Letters: Vol. 1 and 2, narrated by Dave Genn, are now available for download on Amazon, here. Proceeds of sales contribute to the production of The Painter's Keys.
"Play is the answer to how anything new comes about." (Jean Piaget)
Featured Workshop
August 25, 2018 to August 31, 2018
Capture on canvas the vibrant autumn reds, mauves, greens and golds of the Arctic tundra. Distractions: Caribou migrating south from their summer feeding grounds to their winter shelter; magical nightly displays of northern lights; world-class fishing for Arctic char or grayling; hiking or boat trips to see ancient Inuit sites; or, after an excellent dinner, hear of the exploits of the owners during their adventures to the North & South Poles. An experience like no other!
Not a workshop but rather a group paint out under the guidance of professional oil painter and textile designer Mette Baker (http://mettebaker.com/). Mette has been painting at Arctic Haven, a wilderness lodge in the southwest corner of Nunavut, for the past two years. Her husband, former Canadian Ambassador and consultant Brian Baker, has been leading groups to Greenland and Northern Canada for many years.
For more details about Arctic Haven, see website: https://www.arctichaven.ca/
For information about the trip generally, contact Brian brian@businessbeyond.ca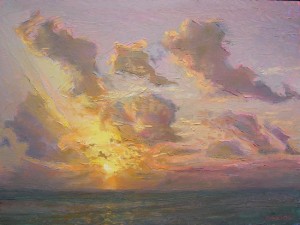 Shining Through
oil 12 x 16 inches
Featured Artist
Capturing the beauty of nature and expressing those impressions in oil paint is a joy. Every hour of the day presents new possibilities and keeps even the same landscape location, same composition, an ongoing and beckoning challenge. For this reason, I love painting series: it is exploration made visual.