Dear Artist,
Plodding through the New York Times Sunday crossword is a tiny perfect illustration of the notion that the only way to get better at anything is to keep going. Like a dancer in cement shoes, I tinker in a blind trust that the answers will come in a bolt of inspiration, my ineptitude crumbling away, mid-jeté. "Inspiration," wrote Elizabeth Gilbert, "needs to find you working."
Are you working? In art, we are students of infinite potential. If you're wondering if you can keep going — if there's still any meaning to your quest in the midst of a global re-org, consider the desire to make progress reason enough to continue. The pursuit of expression is worthy of your dedication. The first order of business is applying paint. Here are a few ideas:
If your life is a series of creative acts, pay attention to them. Consider the most casual moments of invention opportunities to practice a kind of care reserved for transplants and the hybridizing of trees. You want, afterall, your inventions to take. "Whatever is worth doing at all, is worth doing well;" wrote Philip Dormer Stanhope, "and nothing can be done well without attention."
Grow your vocabulary. "Sometimes you need an axe and sometimes you need a scalpel," says writer Joshua Fields Millburn. How's your toolbox? Building up a range of techniques and understanding of the visual world gives you choice of expression. Now that you've got a bunch of $20 words, you can master how not to use them.
Eliminate the jumbled and superfluous. Even the most maximalist works of art are successful when they polish up for clarity. Pointless daubing is the same as filling a conversation with meaningless chatter. Did poet Suzanne Buffam write her 2016 collection A Pillow Book exclusively at night while her family slept, or does it only feel that way because it was written for the sleepless?
Sincerely,
Sara
PS: "Because painting is so easy to do and yet so difficult to do well, it encourages humility in the human soul. It's an apprenticeship, a studenthood that can be stretched into a lifelong education. It thrives on democratic ideals and freedom of expression, individualism, pioneering spirit. It permits a quiet corner of private struggle and joy. You don't need to follow someone else's path." (Robert Genn)
Esoterica: Like Suzanne, grasp the object of your devotion. Who are you painting for? It helps to feel love while you're working. Art is just a conduit for loving the world. "Work," wrote Kahlil Gibran, "is love made visible."
I wish each and every one of you well during this global health crisis and encourage you to flatten the curve by staying at home with your creative materials. I hope our Painter's Keys community can be a source of friendship and creative inspiration during this time and always.
In friendship, Sara 
Have you considered a Premium Artist Listing?  With each letter, an artist is featured at the bottom of this page. The Premium Artist Listings are a means of connecting artist subscribers through their work. Proceeds from each listing contribute to the production of The Painter's Keys. 
"Try to pick a profession in which you enjoy even the most mundane, tedious parts. Then you will always be happy." (Will Shortz, Editor of the New York Times crossword)
Featured Workshop
June 7, 2020 to June 16, 2020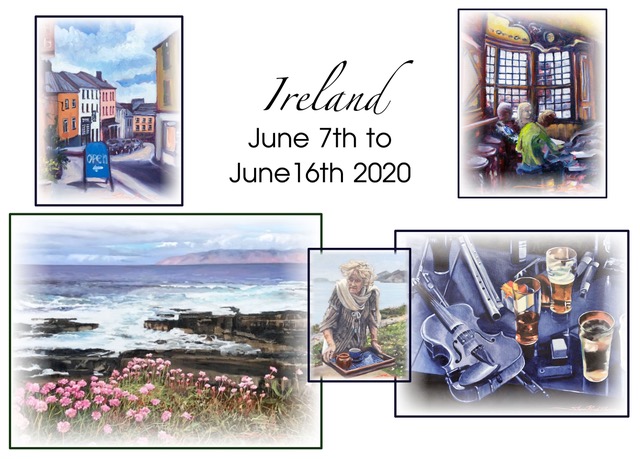 Join award-winning Plein air painter Sharon Rusch Shaver as she conducts her next exciting workshop to the Dingle Peninsula of Ireland. Painting daily in your chosen medium: oil; watercolor; pastel; pen and ink artists as well as photographers will find plenty of inspiration where the sea defines the life and creates excitement on this amazing Island. Daily demonstrations and one-on-one help will be provided for those wanting to learn how to work quickly capturing that changing light and color in their paintings.
Delicious chef prepared gourmet meals and a well-appointed ensuite rooms, as well as all ground transfers are included. All-inclusive* 9 nights accommodation, transfers, meals, and instruction. Go to: Adventure-Artists.com
Artist Sharon Rusch Shaver has postponed the Ireland Adventure until 2021. If you would like updated information about this an other upcoming adventures, you can get on her mailing list by visiting: Adventure-Artists
Join us!
Featured Artist
Shawn's paintings evoke the feelings of the West Coast, its shores and islands, ponds and lakes.