Dear Artist,
It's one of those open-air workshops on a crisp spring day. The fields and wood-groves are studded with painters, right down to the water's edge. Here and there, respecting each other's space — men with big hats and French easels; women, in pairs, hunched down in the grass. Some are very much alone and aloof. A woman gives me a frown as I approach.
"I don't need to learn anything from you today, Mr. Genn," she says, over her shoulder. She's cut herself some privacy under a blossoming cherry. There's a stream below and a rusted hay-rake obstructing the bay and the distant islands. An ant-hill seems too close for comfort. "I more or less just want to be left alone," she tells me.
At the end of this golden day she is still there — her finished watercolor quarter-sheets laid down in a tidy row. I'm marveling at the current phenomenon of plein air painting — the togetherness and yet the apartness. I see how the dynamic of a group gives security and a reason to work and remain focussed. I see the value of imprinting one location, taking in everything possible in its good time — letting the environment slyly surrender its values. I see the rust and dust of studio-habit being vacuumed away by the gentle breeze. This person was one who didn't show up for my noon demo. "Can you hear the ant-hill?" she asks. I listen hard, and eventually I can — a kind of crickling, almost a hum, running on their DNA I guess, not unlike the tiny traffic on a distant freeway.
"If this were all there was," she says, "it would be enough, wouldn't it?" I agree with her. She gathers her things, blows away the fallen petals, tucks away her work. The sun is now setting. Everyone is moving toward their cars and another world.
Best regards,
Robert
PS: "And since to look at things in bloom
Fifty springs are little room;
About the woodlands I will go
To see the cherry hung with snow." (A. E. Housman)
PPS: "My work is always better when I am alone and follow my own impressions." (Claude Monet)
Esoterica: Serious practitioners report plein air to be zen-like, mind-altering, life-enhancing. The resulting work may be a secondary benefit. When a butterfly comes and sits on your palette, you know you are blessed.
This letter was originally published as "Under the cherry tree" on May 8, 2001.
I wish each and every one of you well during this global health crisis and encourage you to flatten the curve by staying at home with your creative materials. I hope our Painter's Keys community can be a source of friendship and creative inspiration during this time and always.
In friendship, Sara 
Have you considered a Premium Artist Listing?  With each letter, an artist is featured at the bottom of this page. The Premium Artist Listings are a means of connecting artist subscribers through their work. Proceeds from each listing contribute to the production of The Painter's Keys. 
"…Lacking any biographical details about the artist, one can only indulge one's fantasies in imagining the reasons which might have induced this workman from Upper Austria, a dyer by profession, to undertake so zealously between 1832 and 1887 the elaboration of the most sumptuous bestiary ever seen." (André Breton)
Featured Workshop
July 31, 2020 to August 5, 2020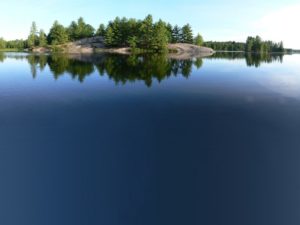 This retreat is an homage to early pioneers of plein air painting. We canoe-in and camp, paddling every day to our painting locations. This is a self-catered trip. We provide the canoes, life jackets and instruction. You bring your own provisions, tents, etc. The scenery in Kawartha Highlands is fantastic. Bald rock faces, sparkling lakes, majestic trees. Every direction you turn is another painting. Your instructor, Keith Thirgood, has been camping and canoeing all his life, and teaching artists his own unique approach to painting for over 12 years. Learn how to find order in the chaos, control your colours and create paintings that work. Learn modern colour theory, values, shapes and lines, what makes for a good painting.
If you need advice on the camping portion of the retreat, we have you supported. Even brand new canoeists have no trouble with this gentle adventure. This retreat is suitable for beginners wanting to learn to paint in a fun, outdoor location, as well as more experienced studio artists who want to try plein air, plus artists who are looking to loosen up and paint in a more post-impressionist style. To find out more and register, please visit 
www.wilsonstreetstudios.com
Featured Artist
I am a painter. I am delighted to be a painter.