Dear Artist,
An old friend asked if she could schedule a quick zoom painting lesson for her grade-schooler. A recent shipment of supplies has set her daughter on the precipice of some serious art making. Now, while I wait for our zoom, I'm wondering what a helpful offering on art could be. "The painter," said writer Robert Brault, "needs all the talent of the poet, plus hand-eye coordination."
Begin by squeezing onto a palette, 6-8 acrylic colours in a line from warm to cool, like a rainbow. You can refer to a colour wheel for help — your palette will be whatever colours you have on hand. Try to use at least one red, one yellow and one blue, as they're the primaries and will allow to you mix, with variation, so many other interesting colours. Mixing is a matter of practice and is where much of your individualism, personality and understanding of the visual world will develop. You can also include black and white for darkening and lightening, and a splash of acrylic medium, if you have it, for thinning, though water works. Have on hand at least three sizes of brushes in a bucket of water, and a rag for wiping them.
Have you chosen a subject? A nice start is to arrange, a few feet front of you, some objects from around the house. Choose just a handful of things that have varying shapes, with curves and points, one long-sided thing and one thing that is taller than the rest. You can use flowers or fruit or shoes or even your dog or your brother or anything else that looks like it might be fun to try to paint. If you can find a theme in your selections, it will give your work more meaning.
Now, paint an imprimatura as a thin, first layer in a warm colour like pale pink or apricot, covering the whole canvas with a big brush. You might want to do several at a time. After they dry, you're ready to go. Here are a few ideas:
In a contrasting colour, follow the outer and inner edges of your subject without picking up your brush. This is called a contour drawing and helps you warm up and develop a characteristic line in your brushwork. It can also capture, without overdoing it, the vibe of your subject.
Next or instead, study the shapes in the objects, laying them down as abutting and overlapping "form zones." Even more fun is to study the negative areas between the objects and paint those. If you do it this way, you will see your subject appear in your imprimatura colour, after which you can accentuate the objects with a few confident strokes.
Lastly, squint at your subject to find the darkest and lightest spots. You can go in with a dark colour that isn't just black, punching in those areas and also the lightest ones. Try to mix the colour you really see, not just what you think you see. "One eye sees," said Paul Klee, "the other feels."
Sincerely,
Sara
PS: "He unfolds, as a painter, that which has not yet been said; he translates it into absolute terms of painting – something other than reality." (Paul Cezanne)
Esoterica: Stop just before you think you're really finished. You have made something new. After letting your work dry, give yourself a chance to study it from a distance while doing something else, like eating dinner. You can ask yourself a few questions:
"Is my painting describing something in a new or unexpected way? Is it telling me a story? How does it make me feel?"
"Is my painting fun to look at all on its own? What are my favourite parts, and why?"
"When I try again, what will I do differently?"
Have you considered a Premium Artist Listing?  With each letter, an artist is featured at the bottom of this page. The Premium Artist Listings are a means of connecting artist subscribers through their work. Proceeds from each listing contribute to the production of The Painter's Keys. 
"I suppose what you're doing as a painter is making a record of your trip through life. I can't think of any job that is quite as satisfactory as doing a painting." (Robert Genn)
Happy Birthday to my Dad, who would have been 84 today. 
Featured Workshop
September 12, 2020 to September 17, 2020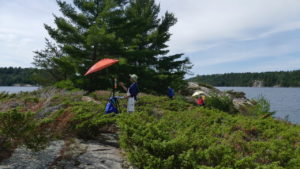 The Killarney are of Ontario is in what is called the 'near north'. The landscape is wild and rugged. Giant granite cliffs plunging deep into the glacial lakes. There are no roads leading to our painting locations. We travel by a large, sturdy pontoon boat. This is a self-catered retreat. You bring your own provisions and cook your own meals in our fully equip cabins at a northern camp. Our instructor, Keith Thirgood, has been teaching artists his own unique approach to painting for over 12 years. Learn how to find order in the chaos, control your colours and create paintings that work. Learn modern colour theory, values, shapes and lines, what makes for a good painting. This retreat is suitable for beginners wanting to learn to paint in a fun, outdoor location, as well as more experienced studio artists who want to try plein air, plus artists who are looking to loosen up and paint in a more post-impressionist style. To find out more and register, please visit www.wilsonstreetstudios.com
Featured Artist
Gardens are my enduring inspiration, and getting to the heart of the flower, my passion.