Dear Artist,
Recently, Jil Ashton-Leigh of Steveston, BC, Canada told me about a wise Chinese art instructor who looked at her painting of the Fraser River and said, "Your mind — it is too fast." He told her to sit by the river for 30 minutes each day — no camera, no cellphone. "When you 'observe' the river then you will come to 'know' it," he said. If you're interested, you can read Jil's full letter The Art of Patience at the bottom of this letter. Thanks, Jil.
I first noticed my own problem about 20 years ago. I was losing patience with any outdoor painting I started. I was jumping up and running around with my camera looking like an advanced case of St. Vitus' dance. It wasn't the coffee. It was something more serious. In my love affair with technology, I had mistaken my camera for a life. In my compulsion to grab every image, I lost sight of places I could pleasantly inhabit. I had become a mere collector without actually observing the things I was collecting, and I was feeling bad about myself. Further, I realized I was living in a world that was "putting in a nickel and trying to get a dollar tune." I took the advice of the great American art educator and author of The Art Spirit, Robert Henri. He warned of the potential problems of too much camera, too little time. To build observational skills when painting from a live model, he frequently placed his students and their easels in one room and the model in another. "There is no art without contemplation," he told his students as they trudged back and forth.
One fine day I had my "hour of decision." Just as a child eventually deserts its soother, I suddenly didn't need my camera any more. Brothers and sisters, if you've been troubled, or if you've been teetering on the edge, both Jil and I need you to convert. Glad tidings are in the grace of patience. "All things come to he who waits," wrote the poet Violet Fane in 1890. Sit still. Look around. Be one with nature. Inhale life. Observe the nuances. Come sit by the river.
Best regards,
Robert
PS: "Patience has to be cultivated. Perhaps the entire creative process can be viewed as a patience builder." (Jil Ashton-Leigh)
Esoterica: Several years ago I was visiting William Wordsworth's cottage near Grasmere in the English Lake District. Alone, I followed his trails out behind and above his property and into the shining dales. Passing slowly by nodding daffodils and under scudding clouds, I suddenly got it. No wonder Wordsworth was such a great poet! He took the time to think, to wonder, to contemplate. While predating the phone and the instant camera, he nevertheless had a warning: "The world is too much with us; late and soon, Getting and spending, we lay waste our powers; Little we see in Nature that is ours; We have given our hearts away, a sordid boon!" (William Wordsworth, 1770-1850)
This letter was originally published as "Patience" on May 14, 2013.
Have you considered a Premium Artist Listing?  With each letter, an artist is featured at the bottom of this page. The Premium Artist Listings are a means of connecting artist subscribers through their work. Proceeds from each listing contribute to the production of The Painter's Keys. 
"In our fast paced society, where instant gratification is the norm, have we become too impatient? How can we be more mindful? How do we cultivate patience? One of the first artists I studied with was a wise man, who had spent a lifetime learning his craft in China. He took one look at my fledgling attempt to hurriedly paint the Fraser River and said, "Your mind …it is too fast. Slow your thinking. You believe you know this river? You do not know. Your homework is to go to the river and observe. You must watch the river each day for 30 minutes. No photos, no cell phones. When you observe the river then you will come to know it." On the first day, I quickly headed down to the river to watch. Before I knew it, my mind started to wander and I reached for my cell phone. Perhaps I should take a few photos, to help me remember the river, I thought to myself. My total observation time had lasted 5 minutes. The next day, it was raining and I stood on the dock as the muddy river swirled past me. Surely, he wasn't expecting me to stand here and get wet I thought to myself. This time, I had made it 7 minutes. By the end of the week, I worked my way up to a grand total of 15 minutes. While this was an improvement, it still fell short of the required time. The following Saturday, I unpacked my art gear, and quickly started on my painting of the Fraser River. The instructor watched me then quietly asked, "You completed the homework assignment?" "Of course," I replied confidently as I continued to paint. He looked at me then asked, "Thirty minutes each day?" I nodded and continued to paint but the look on his face told me he knew I hadn't the patience to complete his homework. "If you want to be a good artist, first you must have patience," he said. Three years later, I am beginning to understand that patience has to be cultivated. Perhaps, the entire creative process can be viewed as a patience builder. My current instructor routinely tells me, "Art cannot exist without patience. Less painting. More thinking." In other words, slow down and live in the moment, take the time to reflect on what you have done and where you are headed. St. Augustine once wrote, "Patience is the companion of wisdom." I am just now realizing that these are words of wisdom for artists as well."   (Jil Ashton-Leigh, The Art of Patience)
Featured Workshop
August 14, 2020 to August 16, 2020
A 3 day Non-Objective Painting Workshop with Cat Tesla and Julie Schumer
in Santa Fe, New Mexico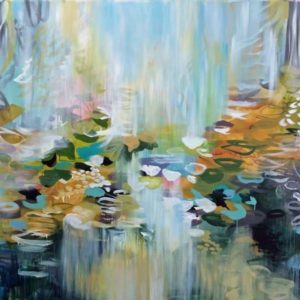 Explore and develop your personal voice in the inspirational environment of Santa Fe.   We will explore composition, color, value and how to work on multiples at the same time.  Find your own signature with different mark making tools and learn how your marks enliven your paintings.   Learn how to harmonize any palette, move from analysis paralysis to painting success and to trust your artistic choices. This intensive 3 day workshop is perfect for the beginning artist who has some experience using acrylic paint.
August 14, 15, and 16
9 am to 4:30 pm
$950  Bring a friend and save $50 each
https://artbycat.com/page/1-Workshops-Prints.html
Featured Artist
My statement is pretty short. I love all kinds of paintings and I think Robert Genn is Canada's finest painter. A great feature of his work are his designs — so beautifully conceived.