Dear Artist,
Canadian artist Justin Beckett wrote, "I have been thinking of making some prints of my work lately, due to these unusual times — to make a more affordable option for people, and to give a bit more income to myself. I was thinking of making some smaller prints to get my work out there a bit more, and also making some medium sized prints on high quality paper. I would only make some of my work available as prints. I have seen more artists doing this these days, even artists with gallery representation that are fairly well known, but there are others that are not doing it. I am early in my career and don't want to make the wrong move. Is it a good idea to make prints available, or should I stick to only originals? Please stop me now if I should not make any prints. Why do some artists make prints versus and others do not? Does it make originals less valuable if you do make prints?"
The question of whether or not to make reproductions of your original paintings depends entirely on what your goals are. Here are a few questions to consider before hitting "print":
What are my long-range goals and my dream destination for my paintings?
Who would I like to see engaging with my work?
Do I have a limited inventory of originals? Is my process one that would make reproductions helpful in satisfying demand?
Have there been tangible inquiries for more affordable versions of my work?
Is there a print house, graphics collaborator or affordable art advisory that could help reach new audiences?
Do I view reproductions as a kind of advertising or exposure vehicle for my originals, as a supplementary revenue stream or as an in tandem, whole new product?
Is this a permanent strategy or a limited thing?
What is the platform I'm planning on selling through?
What can a reproduction do that an original can't?
What can an original do that a reproduction can't?
Sincerely,
Sara
PS: "A country where flowers are priced so as to make them a luxury has yet to learn the first principles of civilization." (Chinese proverb)
Esoterica: In the first week of the pandemic, an artist told me of a gallery contacting its artists to let them know that they would immediately begin offering a 30% discount to clients. Soon enough, those clients asked for fire sale prices from other dealers, and a quiet race to the bottom began. It seemed to me that such a response threw more than just the artists into jeopardy. While our ecosystem is precarious on the best of days, like many systems, it becomes ever more vulnerable when stressed. My experience has been to try to stay the course on whatever your goals are for your work — be they accessibility, exposure and a broad scope of collectors or the pursuit of the creation of the rare and special. It's okay to want to try to find new ways to reach new audiences and to offer enthusiasts an affordable piece of joy. Being open to a pivot, for survival, is part of your creativity. Just know why you're doing it and try to make it the most beautiful, authentic and exciting thing you can.
Have you considered a Premium Artist Listing?  With each letter, an artist is featured at the bottom of this page. The Premium Artist Listings are a means of connecting artist subscribers through their work. Proceeds from each listing contribute to the production of The Painter's Keys. 
"Go confidently in the direction of your dreams. Live the life you have imagined." (Henry David Thoreau)
Featured Workshop
August 19, 2020 to August 21, 2020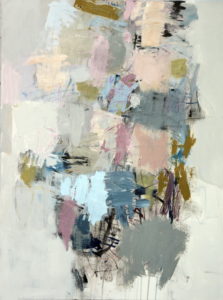 Have some experience painting, but want to explore the elements of non-objective painting in more depth, increase your confidence and creative intelligence? Boldly Abstract 2 is for you.  As in Boldly Abstract 1 we will cover aspects of color, composition and mark making however through a series of more challenging exercises meant for those with more painting experience. Learn how to fix an unsatisfying painting.  We will share our extensive knowledge of the art business with you, covering such topics as the mechanics of running your own art business, applying to galleries and the ins and outs participation in art fairs.   
August 19, 20 and 21
9 am to 4:30 pm
$950  Bring a friend and save $50 each.  Take both workshops and save $100
https://artbycat.com/page/1-Workshops-Prints.html
Featured Artist
Christine Hanlon, whose work has been compared to that of Edward Hopper, creates 'urban landscapes which quietly exude atmosphere.'