Dear Artist,
My friend Jack Hambleton and I were in the town of Sao Bras de Alportel in southern Portugal. Stepping out onto the spacious flat roof of our three-story hotel one evening, we saw potential. Before sun-up the next day we were back out there, drinking our coffee and seriously rethinking the variety below. Small winding streets led away in all directions. Red-tiled roofs rubbed shoulders and formed cubist patterns with the white walls, laundry lines, and geranium-filled window boxes. Decorative chimneys studded the skyline. Jack said, "There are a million views in the tiny city."
We set up in the middle of the roof, near the potential shade of a water cistern. Our method was to walk to the parapet and assemble a view in our heads, then come back to the easel and begin. Going from one view to another, only a short time was required to lay in each composition. We set down our half-baked paintings — his watercolours and my acrylics — in a growing circle around us. By noon we both had a half dozen starts. The second phase was to walk to the parapet with a "chosen" painting in hand. Elements and points of interest not noticed before popped into view and motifs from other works begged to be included. Needless to say, midday light introduced different shadows and different challenges. Returning again to the easel brought a further degree of finish. Some works took four or five parapet-trips before signature. Less favoured ones were unceremoniously abandoned. By Scotch-time we each had several modest crackerjackers.
Later, an inconvenienced but mildly amused hotelier served us a calamari and asparagus dinner right there on the roof. We revelled and anecdoted until we could no longer see. The Oxford Dictionary defines "desultory" as "skipping from one subject to another, disconnected, unmethodical." It may be an unmethodical method, but it's a useful one. Here's why: Our minds are capable of far more multi-tasking and multi-tracking than we think. The critical sense that goes with the processes of art-making moves forward on both prior experience and intuition. Quick looks and automatic decisions, devoid of long-term contemplation and recrimination, often produce decent results. Going from one project to another heightens the faculty. Over time, an artist builds a repertoire of creative moves, motifs and techniques — there to be released or withheld as the artist sees fit. Desultory it may be, but it's a valuable ploy in an artist's ongoing obligation to play.
Best regards,
Robert
PS: "You have no obligation under the sun other than to discover your real needs, to fulfill them, and to rejoice in doing so." (Francois Rabelais)
Esoterica: Life is a precarious balance between letting go and taking control. When we are on the very roof of our art, we see that our own reality is within reach. Accepting the gift may take the accumulated wisdom of some trodden miles, but it also opens the welcome windows of joy.
This letter was originally published as "Desultory painting" on May 31, 2011.
Have you considered a Premium Artist Listing?  With each letter, an artist is featured at the bottom of this page. The Premium Artist Listings are a means of connecting artist subscribers through their work. Proceeds from each listing contribute to the production of The Painter's Keys. 
"What we play is life." (Louis Armstrong)
Featured Workshop
May 16, 2020 to May 31, 2020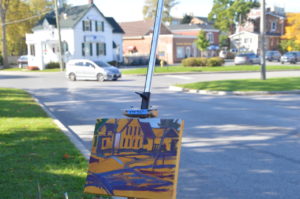 Four separate, 7-hour workshops where you will learn all the fundamentals of approaching plein air painting. You will also learn modern colour theory which makes working with a reduced palette and mixing colours a breeze. Two of these workshops are held in Markham, Ontario, the other two in Peterborough Ontario. Your instructor, Keith Thirgood, has been painting en plein air and teaching art for over 12 years. These workshops are suitable for beginners wanting to learn to paint in a fun, outdoor location, as well as more experienced studio artists who want to try plein air, plus artists who are looking to loosen up and paint in a more post-impressionist style.
Featured Artist
Candace studied at the Ecole des Beaux Arts in Angers, France but it is her travels in the deserts of Africa and Oman, Antarctica and the Arctic, and sacred sights of Machu Picchu and Petra that serve as her true place of learning. A desire to combine these experiences with a deeper understanding of her own spirituality has provided the underlying focus and inspiration for her paintings.