Dear Artist,
"You are an idea-driven artist," my Dad told me. "I am a subject-driven one." Each year, with the support of my Mum, he took a trip for "material gathering." Over the course of his life, he amassed innumerable drawings, studies and plein air work, as well as a collection of over 20,000 slides, catalogued by subject and housed in flat sheets above a large light table in the corner of his studio. Like a rainy day bank, the slide library offered a million possibilities for painting subjects, with notations for reference, location, names and dates, if needed. Like a diary of experience, my Dad believed that reference should be personally felt and collected — upholding the authenticity of his authorship and honouring a beloved process and tradition.
When our family came along on these trips, we, too, were encouraged to collect our own inspiration. We were given blank books and cameras and expected to develop our powers of observation and feelings. I suppose, in many ways, my parents were teaching us how to love the world. I learned that when abstraction finds its origins in the environment, it gains strength in story and connectivity and retains its own kind of authenticity over the course of its life cycle, too. Here are a few ideas:
Leave the studio and pay attention to conditions. Make field notes that feel most useful.
Exercise with a colour story.
Connect landmarks to their origins.
Honour the poetry of names.
Look for design, scale, form and colour relationships.
Seize the wonder and humility that nature provides.
Eliminate some elements and exaggerate others for the purpose of making them more powerful.
Attach a feeling to this place.
Zoom in, then out. Ask, "How can I make a meaningful record?"
Sincerely,
Sara
PS: "Inspiration arrives as a packet of material to be delivered." (John Updike)
"A landscape clean and crisp in form and colour, rich in inspiration is all that an artist could wish for, begging to be used, and full of inherent possibilities…" (Franklin Carmichael)
Esoterica: Yesterday, for my birthday, Peter and I zig-zagged the devil's elbow hairpins of the San Bernardino National Forest, past the Eye of God Quartz Dome, the Pinyon Juniper woodlands and the pale, grassy, dry bed of Lake Baldwin, to Big Bear. We rode silently hand-in-hand, peering out and into the vastness of the high desert, which flexed its wildness, polka-dotted with Joshua trees and boulder gardens, its tawny ridges morphing cool to warm under the shadows of disappearing clouds. I quietly committed the names to memory: Apple Valley, Sugarloaf, Fawnskin, Running Springs, Silverpeak, the Over-budget Ranch. Peter gestured toward the perfection of a landlocked bird box. Back in the studio by dusk, the lockdown-emboldened Mockingbirds deafened in their exultation. "It is spring again. The earth is like a child that knows poems by heart." (Rainer Maria Rilke)
Have you considered a Premium Artist Listing?  With each letter, an artist is featured at the bottom of this page. The Premium Artist Listings are a means of connecting artist subscribers through their work. Proceeds from each listing contribute to the production of The Painter's Keys. 
"What a strange thing!
to be alive
beneath cherry blossoms." (Kobayashi Issa)
Featured Workshop
June 7, 2020 to June 16, 2020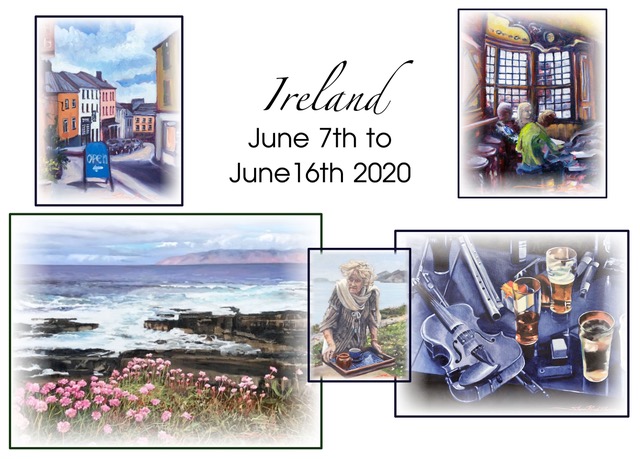 Join award-winning Plein air painter Sharon Rusch Shaver as she conducts her next exciting workshop to the Dingle Peninsula of Ireland. Painting daily in your chosen medium: oil; watercolor; pastel; pen and ink artists as well as photographers will find plenty of inspiration where the sea defines the life and creates excitement on this amazing Island. Daily demonstrations and one-on-one help will be provided for those wanting to learn how to work quickly capturing that changing light and color in their paintings.
Delicious chef prepared gourmet meals and a well-appointed ensuite rooms, as well as all ground transfers are included. All-inclusive* 9 nights accommodation, transfers, meals, and instruction. Go to: Adventure-Artists.com
Artist Sharon Rusch Shaver has postponed the Ireland Adventure until 2021. If you would like updated information about this an other upcoming adventures, you can get on her mailing list by visiting: Adventure-Artists
Join us!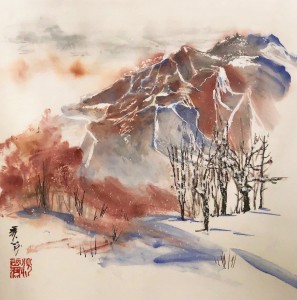 Midwinter Chill
Featured Artist
Los Angeles-based artist Lisa Chakrabarti works in a variety of media: oils, acrylics, pastels, watercolors, graphite and colored pencils. Focusing on a style she calls "romantic naturalism" – impressionism based largely on subjects in the natural world – her works have found their way into galleries in Los Angeles, Florida, Colorado and New York. In 1995, after being introduced to sumi-e and Chinese ink painting by Asian friends, Lisa became captivated by the apparent freedom and subtlety of this ancient medium.  This shift in focus has informed her work ever since.