Dear Artist,
Rosemary Parkinson of Christ Church, Barbados wrote, "A few days ago, I painted a particularly sweet painting that was immediately 'picked up' once I posted it online. Instead of putting my usual Sargent Art Acrylic Gloss to cover it, at the art shop I decided to use its counterpart Acrylic Matte Medium. The label states clearly that it can be used as a varnish coat. I followed instructions and foolishly did not test, just painted the whole 28″ x 28" painting with this 'varnish'.
This morning I was horrified to find it left a ghost white coating (brush strokes very evident) all over the painting. Is there any possibility of removing this without great damage? I have purchased water soft sanding paper (advised to remove with water by sanding), turpentine in case, methylated spirits in case, acetone in case. In one of your posts I saw the use of ammonia. We do not get huge sales of paintings on our small island, so when you get one, it is a blessing, but this has turned out not to be one. I hope you can advise as to how best to turn it back around to a blessing."
Thanks, Rosemary. Sargent Art's webpage describes their Acrylic Matte Medium as an acid free, non-toxic protective finish that can be used as a clear coat. There's no information provided on removability. On Amazon, the customer reviews repeatedly describe the horror of a cloudy white haze. At the time of this letter's publication I've received no response to my direct inquiries to Sargent's Art.
Regardless of what it says on the bottle, it's not a good idea to swap varnish for medium. Acrylic medium is made up of big, juicy molecules — the same stuff that suspends paint pigment in its emulsified form. It's designed to be permanent. In addition to using medium for mixing, you can use it as an isolation coat (cut with water 50/50) to protect your work as you go. This will ensure that the whole thing is stable and sealed before varnishing. When applied on its own at full strength, acrylic medium — even the highest professional artist quality — can pool, take forever to cure, dry cloudy, leave streaks or remain eternally soft and tacky to the touch.
Acrylic varnish is an entirely different animal. Its molecular structure is designed to lie on top like a sheet of plastic wrap. It can be wiped with a cloth and removed without incident. Golden Polymer Varnish with UVLS (Ultra Violet Light Stabilizers) is a professional grade varnish that's easily removed with regular household ammonia. I apply the ammonia liberally with a rag outdoors and then rinse the whole thing with the garden hose. Without proper ventilation, I once nearly anaesthetized myself in my own bathtub. We all have our own personal, technical mishaps to learn from.
Sincerely,
Sara
PS: "What seem to us bitter trials are often blessings in disguise." (Oscar Wilde)
Esoterica: I'd try a thin coat of gloss medium before any sanding. Matte medium contains small particles that absorb light, but gloss medium will reflect light, possibly obscuring the "cloud" beneath. Both mediums are clear and without pigment. Soft sanding aside, and after trying the ammonia technique for good measure, if your painting were mine, Rosemary, I'd start again from the very beginning. As heart wrenching as it sounds, collectors appreciate knowing they're getting your fresh best, with the highest quality materials. Artists are invited to share their techniques for removing cloudy coats of dodgy medium products (and anything else) below this letter.
[fbcomments url="http://clicks.robertgenn.com/cloud-story.php"]

Featured Workshop: Margie Samuels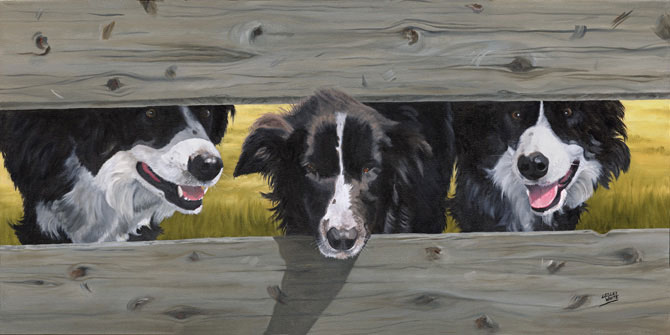 Ready, Willing and Able
oil painting, 15 x 30 inches
by Lesley White, British Columbia, Canada
You may be interested to know that artists from every state in the USA, every province in Canada, and at least 115 countries worldwide have visited these pages since January 1, 2013.
No Featured Workshop
No Featured Workshop