Dear Artist,
Seven Days in the Art World
, by Sarah Thornton, gives a chapter each to seven venues: "The Auction" takes us to Christie's in London — an inside look at who bids and who gets what, and why, and how prices are cleverly pushed. "The Crit" finds us at the "artstarmaker" CalArts school in Los Angeles for a laid-back marathon crit where the instructor has little to say and the students make small sense of their efforts. "The Fair" takes us to Basel and the world's most influential art fair where all the right stuff is hastily discussed and inhaled by the right collectors. "The Prize" takes us to the arm-twisting boardroom and knighted hierarchy of the annual Turner Prize — twenty-five thousand quid for the "Best Artist in Britain." "The Magazine" introduces us to the management, staff, contributors and advertisers of Artforum, the NY-based influential art journal that not many people seem to be able to read. "The Studio Visit" hops over to the Tokyo factories of international fashionista artist Takashi Murakami where hundreds of talented workers carry out his ideas and seed their own careers. "The Biennale" spirits us up the Lido Canal to Venice, where participating nations parade their hottest and youngest. Everyone dines, drinks and speeds from show to show in vaporettos. Sarah tiptoes through all this, taking notes, dropping names, recording and observing everything from clothes to tics, seldom making an unwelcome judgment. It's a hoot. Most of the art is of the installation variety — bound eventually for museums and public view, but there are also lots of significant paintings and sculptures. While we might, at first glance, appear to be in an age of low craftsmanship, there is a sensible interest in what may become the great and lasting art of tomorrow. Everyone is trying to spot a winner. Remarkably, the venues Sarah covers are often attended by the same curators, critics, dealers, collectors and sometimes the currently-popular artists themselves. It's a small, international microcosm of deal-making and mutual back-scratching. While there may be meanness and jealousy in the ranks, all are agreed that quality is king, passion is the emotion of choice and the great search for artistic meaning is well worth the effort of backing out your private jet. Best regards, Robert PS: "It's very possibly a great commercial conspiracy. The newness of now, which is quite obsessive, is actually a reflection of the consumerism that you see in the whole culture. It can be a lot of fun if it is to your taste." (Nicholas Logsdail, gallerist) Esoterica: In Sarah's world, the bucks are big and everyone is subject to the intransigence of personality and the fickle finger of fashion. But the same goes for any midsize village where there happens to be artists, gurus, studios, galleries, media, community fairs, picture buyers and benefactors, however modest. Injustice and joy lurk at every turn. Private choice is always to be tested against those who might wish to be in control. What a wonderful game!
No beating herself up after this one
by Judy Singer, Toronto, ON, Canada
The $12 Million Dollar Stuffed Shark: The Curious Economics of the Art World
 by Don Thompson, professor emeritus, Schulich School of Business at York University in Toronto, is highly readable. I couldn't put it down. After reading this book, I finally understood that the art market has nothing to do with what I am doing in the studio. I stopped beating myself up for things that I had no control over, namely the art market, and I could focus even more on what's most compelling to me: namely, creating the best work I can possibly make.
There are 3 comments for
No beating herself up after this one
by Judy Singer
Strange words, strange times
by Alcina Nolley, St Lucia, West Indies Could you please explain what a 'gallerist' is? (RG note) Thanks, Alcina. Gallerist is a term used to describe gallery owners and art dealers. Galleristas are people who work for them. Gallerinas are the often attractive and aggressive, well educated young women who work in galleries. Baristas are those nice folks who serve your coffee at Starbucks. Ocarinas are artists who use a lot of ochre in their paintings. Like a lot of Sarah Palin's invented words, many of these are not in the dictionary just yet.
There are 4 comments for
Strange words, strange times
by Alcina Nolley
Contemplated giving up
by Olana Carol Clark, Santa Fe, NM, USA After reading
Seven Days in the Art World
 I was so depressed I contemplated giving up the painting and drawing that I have loved doing more than anything for the past 25 years. When I began to study and visit museums and galleries in New York City, where I then lived, I believed that making art was a greater challenge and a higher calling than anything else I had done or could do. That kept me going for many years, until a few years ago. After much pondering, I have decided that I cannot give up what I love most, and so I am going to give myself a new name, throw any expectations out the window, and try not to take myself and my "art" so seriously.
There are 3 comments for
Contemplated giving up
by Olana Carol Clark
Never read the art magazines
by Sharon Knettell, Woonsocket, RI, USA One of the best favors artists can do for themselves is never to read art magazines unless you are trying to finagle, con or position yourself into the next big thing. Inspiration is one thing, but all too often this can derail our own journey. We become anxious and jealous when we see tremendously famous artists raking in the goodies while the majority of us labor in obscurity. Often, we think that if we emulate these stars or take a slightly different tack we will be the ones standing in the winners' circle, loved and admired. This blinds us to the beauty and significance of our original vision and to why we became artists in the first place.
There are 4 comments for
Never read the art magazines
by Sharon Knettell
It's a great movie
by Ken Paul, Eugene, OR, USA This sort of high-profile art scene is now a spectator sport for me, although to be honest I was never really in the big-stakes art-circus in the first place. I don't even follow the "regular" art mags anymore, much less ArtForum (for which I confess to being one who found it perennially unreadable). About 30 years ago I attended a printmaking conference in Pullman, Washington, where the late Robert Motherwell was one of the honored guests. He did a little monologue sitting in a chair alone onstage, gesticulating with his omnipresent Galouises and possibly a glass of scotch (I may be making the latter up, but that's how my addled mind remembers it.). He made one remarkable statement which has stuck with me ever since: "Art is a game between artists." He might have added "…and critics and collectors and educators and curators and gallerists," but that was more or less implicit anyhow (The audience on that occasion included many those types.). Your letter resonates with Motherwell's observation. Notwithstanding the tongue-in-cheek flavor to the text, I appreciated the absence of any deep cynicism. Instead, I found a sort of bemused enjoyment of how things are as they are in the art world! Count me in. It's a great movie.
Salon alive and well
by oliver, TX, USA Sounds like the "salon" is alive and well. It is of course interesting and not surprising that the salon is dominated by a few. As with all generations I would expect that the salon will choose "the best" of their view(s). I guess this is the nature of the salon, it is a feeding frenzy on the incremental, the mill separating the wheat from the chaff and bad kernels of grain from the good, but operating on the same field or closely related fields of grain. The salon feeds from the same set of "schools" or "master teachers" and evaluates the new in relation to the old. I would expect however, that like all generations some of the best, truly unique, innovative and influential will not be accepted by the salon or at least until late in their careers…… and sometimes these become the salon and the wheel turns again. For some, success is going to be evaluated by the current salon and sometimes that is not just about the art — good and incremental is not enough you also have to be accepted on some level personally by the salon. For some, more outside the salon it is starting their own understandings to supplant or be accepted as part of the salon and usually it takes several to build a movement. For some it is building a few bridges to the salon, teaching a little and hope that they will be remembered eventually. I always wonder what has past that was wonderful and not remembered because they were outside the salon, didn't build enough momentum or a movement to become part of or supplant the salon (the Impressionists built theirs but many individuals were also bridge builders to the salon) or didn't build enough bridges to be remembered (like van Gogh).
He could not be in the gallery
by Bev Searle-Freeman, Savona, BC, Canada This has been the way of the art business for the "elite" for the longest time. For most of us, we just march to the beat of our own drum … I do anyway. My art is my passion. This old Dire Straits song says it all … In The Gallery (Dire Straits) Harry made a bareback rider proud and free upon a horse And a fine coalminer for the NCB that was A fallen angel and Jesus on the cross A skating ballerina you should have seen her do the skater's waltz Some people have got to paint and draw Harry had to work in clay and stone Like the waves coming to the shore It was in his blood and in his bones Ignored by all the trendy boys in London and in Leeds He might as well have been making toys or strings of beads He could not be in the gallery And then you get an artist says he doesn't want to paint at all He takes an empty canvas and sticks it on the wall The birds of a feather all the phonies and all of the fakes While the dealers they get together And they decide who gets the breaks And who's going to be in the gallery No lies he wouldn't compromise No junk no bits of string And all the lies we subsidize That just don't mean a thing I've got to say he passed away in obscurity And now all the vultures are coming down from the tree So he's going to be in the gallery
There are 3 comments for
He could not be in the gallery
by Bev Searle-Freeman
Hard or soft cover?
by Jean Stephenson, CA, USA I am about to self-publish a 60 page art book which contains full color photos of my life-sized soft sculptured "people" that I call "Whimsicans" including their tongue-in-cheek bios. Everyone who has read my mock-ups has laughed at the humor and said they would definitely buy a copy when I get it published. This has been a universal reaction, but I have stalled due to being involved in a lot of aspects of the art field. It's time to get cracking or quit! My question is do you think hard cover is mandatory or will soft cover do? The book will be 8 1/2 by 11. The cover is full color and well designed to attract attention. I am in touch with a print-on-demand company that will produce either hard and or soft cover and will do a lot of merchandising for me. I have never contacted a regular publisher because there are not many listed in Writer's Digest who print this type of book. I have a
website
 where four of these figures and their bios can be read. (RG note) Thanks, Jean. In my opinion a memorable, hard cover coffee table type book would be preferable. These books need to be given away with your figures, particularly after you have doubled your prices — then the difference in book costs will be negligible. With regular sales of these amusing items, you will be able to handily sell the books as well. Good luck with the project. Go for it.
There are 4 comments for
Hard or soft cover?
by Jean Stephenson
Pumping the hype in the art mags
by Susan Schneider, London, England I read the behind-the-scenes expose,
Seven Days in the Art World
, the moment it came out. It is fascinating, very entertaining and the book did a good job of describing what the art world is truly like at the international level. The hype is always pumped (or maybe I should say "pimped") by the art magazines but everyone who sells art uses those same indecipherable articles to sell their discoveries. And, those who collect art bank on every word that promotes their private collection items. Given this milieu of commodification, it's hard to fathom why so many of us persist in the making of our art and why so many more are clamoring to learn how they, too, can jump in. Since even before painting bulls on cave walls, I think we've been hard-wired to want to find ever new ways — and invent new media — for our visual expressions. Every decade or so, painting is pronounced DOA. Yet, it manages to re-emerge roughly with each new generation alongside an even newer iteration of a media form. As artists we need to reinvent our art over and over. Otherwise, we can get awfully bored with our own work. If we're successful, it's difficult to avoid becoming formulaic. But, that's what makes it challenging and new each time we walk into the studio. We find our niches and comfort zones and galleries somehow find their ways to continue the commercial trade of our forms. Given this constant churn, it's important not to lose sight of the fact that the Art World would be nowhere if it weren't for us artists. Staying on our own course, making the best art we possibly can in the moment is just one of the challenges that either differentiates us and makes us better artists or discourages us so much that we decide to do something else. What's also important is that while everyone is more than welcome to make art, not many are cut out to be professional artists. That's not a bad thing. The Art World is a business after all. And it can be a great ride — chock full of surprises as well as necessary disappointments — if you've decided you might have what it takes to go for it.
There is 1 comment for
Pumping the hype in the art mags
by Susan Schneider
Archived Comments
Enjoy the past comments below for A great commercial conspiracy…
 Featured Workshop: Plein Air for Camphill 2010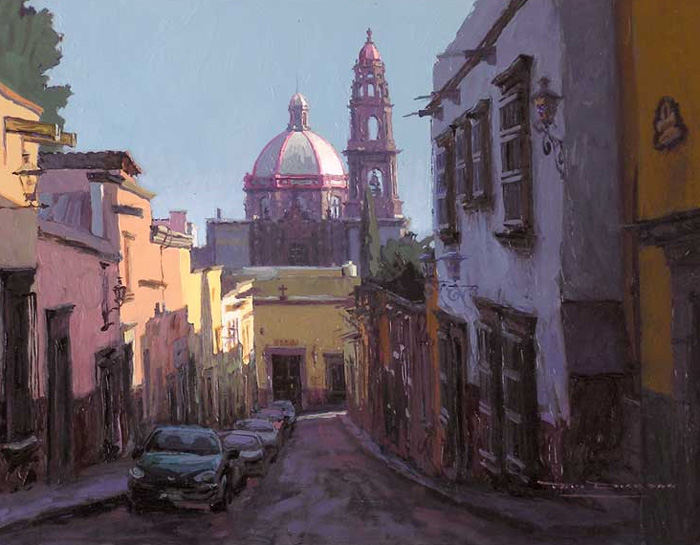 Morning Calle Recreo
oil painting by Donna Dickson
You may be interested to know that artists from every state in the USA, every province in Canada, and at least 115 countries worldwide have visited these pages since January 1, 2013. That includes John Smith of Durban North, South Africa, who wrote, "Then there was this British art guru who said in an interview 'but of course art collecting and art trading have very little to do with art.'" And also George Kubac of Edmonton, AB, Canada, who wrote, "What a shameful situation."