Dear Artist, Yesterday, Cedar Lee of Ellicott City, MD, wrote, "I have a 10-month-old son. Before I had this child I never realized the level of freedom and time that I had. The demands are so all-consuming that they leave me with little if anything left to give to my work. I'm depressed about my career — at full speed a year ago, it's now barely squeaking along. Do you have any advice for how to keep my creative flames burning, how to keep my professional image from slipping, and how to be productive during this time? What are the creative, financial, political, and practical dilemmas facing female artists with young children." Thanks, Cedar. Big order. Before I start in with my stuff about being more efficient, making time, getting help, etc., I need to ask you mothers to give me a hand with Cedar's questions. Your best advice will be included in the next clickback. Live comments are welcome as well. Also, I want to mention the extreme expectations that current parents have for their children. Children have taken on a god-like role and have become the focus for everything from prepping for stellar futures to daily parental companionship. Parents sacrifice their own lives for the potential brilliance of kids. For better or for worse, raising kids well is the new religion. Further, I wanted to say that letters like Cedar's come in here like leaves from a shaken maple. I'm conscious that many artists, both male and female, use the advent of parenthood as a scapegoat for failing careers. Artists in this predicament need to examine their true motivation for this popular complaint. It's been my experience that dedicated artists will always find a way. I'm also happy to report that selfishness need not prevail, nor need the baby lie unchanged in its crib. The creative mind is always working, even during the application of nappies. Household workstations can be set up and work can continue between feedings and other downtimes. The intermittent business may actually benefit the art — for many of us, contemplation is a much needed ingredient to our progress. Cedar, exhausted though you may be, there is always recourse to the DMWH (Daily Manic Working Hour). This can be programmed any time, perhaps early morning or late at night. When performed as regularly as baby-feeding, you might amaze yourself with how much you can get done when you focus hard for one lovely little hour. Best regards, Robert PS: "You have no obligation other than to discover your real needs, to fulfill them, and to rejoice in doing so." (
Francois Rabelais
) Esoterica: There is an excellent book on the subject.
The Divided Heart: Art and Motherhood
by Rachel Power. It's well researched with lots of references and historical evidence. An excerpt is
here
. There's value in partnership. "To create art once you have children requires the commitment of more than one person," she writes. "As novelist Eleanor Dark wrote, 'The balance is elusive; the support crucial.'"
Who does she think she is?
by Jeanne Marklin, Williamstown, MA, USA There is an excellent documentary
Who Does She Think She Is?
about women artists who are also mothers. It shows the battles they sometimes have to fight to have spouses recognize the importance of their work — even when it isn't bringing in a large income. Women talk about how they juggle parenthood, and their work.
There are 6 comments for
Who does she think she is?
by Jeanne Marklin
Treasure the time
by Sarah Wimperis, Cornwall, UK Stop panicking! If you are a real artist you can't stop your artwork. The way you make your living might change over the years; I became an art teacher and then an illustrator. Remember you have a delightful little model. The drawings that I did of my children as babies and growing up are my most treasured possessions. When the youngest left home I decided I would paint more to fill the aching empty space. I did and it worked. I am selling and exhibiting my own work very well. To be an artist you must always train, like being an athlete or a musician. He will be at school before you know it so treasure the time you have together.
Art will find a way
by Elizabeth Schamehorn, Washago, ON, Canada Your response to Cedar Lee contained some finger-wagging that needs to be challenged. First of all, the fact that your art career takes a back seat when you have a baby is real, not "scapegoating." The primary caregiver for babies is responsible for them every minute of every day all the time unless you have regular daycare. This is not "extreme" parenting. It's just normal. However, your advice about having a handy work area that you can go to when the baby is napping is very good. Make long term commitments, such as setting up a show in two years. Build up your body of work slowly towards that deadline. Keep up your blogs or websites. Canadian artist Emily Carr stopped painting for fifteen years when her work wasn't selling. She ran a boarding house, raised sheepdogs, and made souvenir pottery to support herself until the second phase of her painting career started. And when her health failed and she couldn't go out into the forest painting any more, she became a writer. Art will find a way!
There are 3 comments for
Art will find a way
by Elizabeth Schamehorn
Keep on drawing
by Theresa Bayer, Austin, TX, USA Years ago when I had a little baby to care for I did a lot of drawing. Times of heavy duty family obligations are an excellent time to amp up drawing skills and children make wonderful models. If they're asleep or watching TV you can do a study, if they're active you can do gestures. The other day I ran across old sketches of our son as a newborn. Like an old photo, it brought back sweet memories.
Inspiration of mommyhood
by Eileen Downes, Carmichael, CA, USA When I first became a mom I very naively thought I could just put the baby on a blanket on the floor of my studio and keep working. That was not a good situation. Artists are always gathering information for future creative endeavors, and that is exactly what I poured my creative soul into for many years. I never totally gave up art when my kids were young but it was not my first priority. After my youngest entered kindergarten I had more time for the studio and I had tons of inspirational experiences from which to create. A life well lived, including "mommyhood," makes for terrific subject matter of inspirational artwork. There will be time to pour your heart into your work later. For now just absorb life and create when you can. It is from that life that you will be most productive in your work. It is encouraging and quite a blessing to sequence things in your life. I LOVE being a mom, and I LOVE being an artist. This portrait of my daughter is made from BandAids, yep that's right BandAids — because as mothers we are always bandaging little skinned knees and bruised egos.
There are 2 comments for
Inspiration of mommyhood
by Eileen Downes
Small snatches of time
by Melinda Wilde, Gabriola Island, BC, Canada I bet the cave woman of old was pining about the same dilemma as she tried to feed her children and take care of her man while giving up the time it took to scratch those amazing drawings on the walls of her home. As a mother of 5, blended family, albeit young when we got together, I can relate to your predicament. I learned to paint in small snatches of time — so much so that if I were given 8 hours in my studio now, I'm not sure what I would do with it! My oldest is now 27 and youngest 16 and I still paint in micro moments. The training stood me well in regards to teaching as I learned to demonstrate with much haste so my students get to their work quickly. I began to paint when my oldest biological was 1. He napped twice a day for up to 2 hours. I set up the paints on the kitchen table and we didn't eat there again until after the divorce. OK, my painting had nothing to do with that, it didn't even fan the flames of the separation. What it did do was get me through single-parenthood and new step-parenthood and new motherhood as an older mother. For me, the time I lost in the studio was gained many fold in inspiration gleaned from the leisure moments I was forced to spend doing "nothing" with my children. The bottom line is, raising children that emerge relatively unscathed by what you think is a crisis now, is such a blessing, lack of time in the studio is worth it — even though at the moment it seems an endless trial.
There is 1 comment for
Small snatches of time
by Melinda Wilde
My studio includes kids
by Vianna Szabo, Romeo, MI, USA There are benefits to combining motherhood and an art career. I began seriously painting when my children were infants. I was working in pastel and would set up a non perishable still life and keep the painting on the easel. I would work on the still life during nap time. When I would walk by the painting during the day, areas that needed to be corrected became obvious and I would attack those problems at the next opportunity. The time away from the painting gave me a fresh perspective when I returned to the easel. Another benefit of parenthood is having a built in model. I began drawing and painting my children when they were infants. At first the drawings and paintings consisted of sleeping babies. As they grew they learned to pose for groups and enjoyed the attention and money they earned. My children are now young adults and excellent portrait and costume models. I often use my daughter as a model when I teach workshops and students enjoy the unique mother/daughter collaboration. When the kids work for me I treat them as professionals and pay them the going rate. This is a skill that they can use to earn extra money in college.
Mom's a terrific role model
by Sandra Bos, Cookeville, TN, USA I was a very young mother of 6 children when I began painting. I painted in my kitchen while the kids ran in and out, and dinner was on the stove! I just fell in love with painting and painted when ever, and where ever I could. Some of my students are young mothers, and they complain that there just is NO time to paint. You are right Robert, when you love something enough, you WILL find a way. I feel that being an example is far more important than running the wheels off the car, delivering kids here there and everywhere. There used to be a saying "kids are people too." Now we need to say "parents are people too." If you love to paint, PAINT! Your kids will love you for it and be better people because of it. "Follow your Bliss" (
Joseph Campbell
)
Kids enhance a creative life
by Laura den Hertog, Rosemere, QC, Canada Motherhood can and will be a boon to your art career in more ways than you can imagine. While you do have to deal with time constraints in the very early years you have also gained an entirely new perspective on the world and your art. It begins with creating your first masterpiece (your son) and that work of art will infuse, inform and inspire much of the art that follows. For practical reasons you need to separate your art time from your mommy time, but that's easily done. That's what nap time and early to bed are for. Mundane tasks can be tackled while baby is awake but engaged in some all consuming activity like bellybutton surveillance. A creative life is enhanced by the addition of a brand new human being. You will probably find that you put your creative juices into new genres of expression, like child's room murals, cake decorating, costume making, toy production, and on and on. All of these acts of creation will allow you to explore colour, form, texture and technique in ways you would never have done before. The real gift that your son can give you is a new set of eyes. A child can renew your sense of wonder in the world. As he discovers the world in his own way and reacts to all that crosses his path, you will be watching, teaching, encouraging and most importantly, rediscovering simple but profound things about the human experience. Kiss that child and thank him for coming along to help you!
There are 2 comments for
Kids enhance a creative life
by Laura den Hertog
Befuddling the instincts
by Meka Zieger My "art" is my kids. Although I homeschool my children, they aren't my religion — more my experiment, an interesting existence. You're quite right, our culture warps our relationship with our kids — we focus our worlds on them in a way nature never intended — in fact, in a way society couldn't have supported until recent decades. It breeds self-centered children and resentful parents. But more, we separate our children from the things we love rather than passing it down. We put Child-Raising and Everything Else into different categories, and never the two shall co-exist. David Gutterson puts this idea best: "Ripped from the long-hallowed womb of Place and from the bosom of home and community, we no longer know where we are in relationship to anything else in the world. The tradition of parental and communal responsibility for the daily instruction of our own is denied us because teaching has become institutionalized, a convenience in a time of industry and profit when citizen-labors perform economic functions more efficiently without children present. Children suffer a loss of connectedness, a detachment from the web of communal affairs, a distance from the life and work of the tribe. Our instinct to nurture through passing down what we know is blunted because our children are elsewhere and what we know is too strange. If a parent can't share who he is and what he does with the child with whom he feels driven to share it, a hole grows in him rapidly. The circle of learning, a kind of womb, encloses everything else. Most parents don't have these moments often enough to gain sustenance, have quit looking to their children for emotional food, and have begun to search inwardly. The result: a dislike of their children on an order and of a scale that befuddles their instincts…"
There is 1 comment for
Befuddling the instincts
by Meka Zieger
Guilt and daycare
by Connie Geerts, Canada Before my son's birth I tried to send out as many paintings to galleries as possible, to stock up for what I assumed would be approximately a year of dedicated full time motherhood, with very little painting. I was giving myself and my son the same time that I would take if maternity leave was available to me. In my mind the best way to keep working was to treat my creative career as though it was as demanding and predictable as the career of any woman who works outside the home. To some extent that mindset helped. It was impossible to concentrate enough to get paintings done while Axel was at home, so after a year, part-time daycare became the only answer to being a mom and an artist. It's working for us, though I feel the same guilt and tear at my emotions that I'm sure most women feel when they drop their child(ren) at daycare. My level of production of work is not as high as before I became a mother, but that's okay. I feel as though I'm still catching up, trying to get my career back to the place it was before I had my son. It will get there, though its importance in my mind is overshadowed by the need to be a good mother. I can't see the struggle between those two needs ever ending. The best I hope for is a little balance.
There is 1 comment for
Guilt and daycare
by Connie Geerts
Four guidelines for frazzled mothers
by Stacey L. Peterson, Littleton, CO, USA I'm a professional painter and a mother to a sweet 4 year old daughter and 10 month old whirlwind of a son. I quit my stable chemical engineering job when I had my daughter so I could stay at home with her and paint. I didn't realize at the time how much work making a living as an artist can be, nor did I anticipate the number of times I'd find myself in tears due to the stress of it all and the feelings of inadequacy I felt as I couldn't be the best I could be at being a parent OR my painting career. Over the years, I've learned to just do the best I can do. I try to stay positive, I work hard, and I refuse to give up. Since I've had my children, I've been published in major art magazines, won awards at national shows, and been invited into galleries and shows. It's possible to be a parent and a successful artist. And while I can't say for sure, I'd like to think I'm a better artist because of my children and the creativity they bring to my life. My advice for Cedar Lee (and all the other frazzled artist-parents out there) follows: — Paint when you can. Even if you can only carve out an hour here and there while the baby naps, or a few hours after bedtime, get in the studio and work. You need to adapt your working style to make spontaneous, short bursts of painting productive. If your baby goes to bed at eight, have a cup of coffee and hit the studio until 11. Sometimes those quiet hours at night are the best times to work. — Get help. It's easy to think that you must be there for your child 24 hours a day, 7 days a week, but it will benefit you and your son to find a way for you to have a few hours of kid-free painting time on a regular basis. Find a relative or a neighbor who can babysit a few days a week, or find a school or daycare center that you trust. My kids go to preschool a couple of days a week. They love being with other kids, and those days are my days to paint, paint, paint! We all end up happier on the days we have together. — Set your priorities. Are painting and motherhood your main priorities? Then drop the other things you're trying to do. I used to blog regularly, and loved doing it, but after I had my son I knew it was ultimately cutting into my painting time so I set it aside. I try to limit my internet time. My house isn't as clean as I wish it could be. My husband doesn't get a home-cooked meal every night of the week. But I spend a lot of quality time with my kids and husband and my galleries are stocked — those are my priorities. — Focus. When you have time set aside for painting, make sure you paint. Don't check your email, don't return phone calls, don't clean your studio — just paint. You can do all those other things with baby in tow, so don't waste precious time procrastinating. Having children has brought a sensitivity to my art that wasn't there before. Try to stay positive and stay in tune with the ways that having children can change your work for the better. And know that it gets better — that ten month old that gets into everything right now will soon be a four year old who loves to set up an easel next to you and paint, and before long that four year old will be in school every day and you'll be wondering where the time went. Don't focus on the dilemmas facing you as a mother and an artist — focus on solutions instead, and be grateful every day for the two wonderful and fulfilling jobs you have as an artist and a mother.
There are 7 comments for
Four guidelines for frazzled mothers
by Stacey L. Peterson [fbcomments url="http://clicks.robertgenn.com/motherhood.php"]
Featured Workshop: Plein Air for Camphill 2010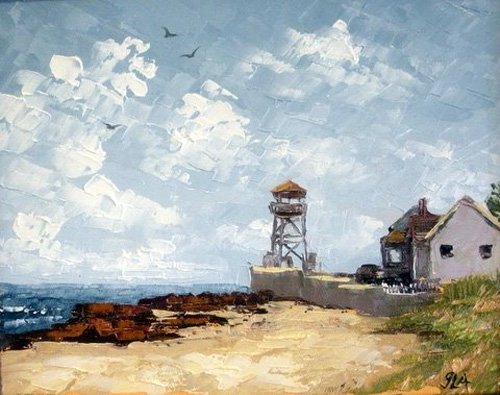 House of Refuge
oil painting by Georgia Abood, Stuart, FL, USA
You may be interested to know that artists from every state in the USA, every province in Canada, and at least 115 countries worldwide have visited these pages since January 1, 2013. That includes Elfrida Schragen of Victoria, BC, Canada, who wrote, "Life will never be the same as before — once you have a child your heart is changed forever, and they are always a factor in whatever you do." And also June M. Perry of Annapolis, MD, USA, who wrote, "I found myself painting from the time the boys went to bed until 2 or 3 in the morning. Of course I could only do this a few nights during the week. I was selling at several galleries but I did not feel pressure to do more than I could comfortably do unless I was preparing for a show. My motivation was more for sanity than for salary."
Archived Comments
Enjoy the past comments below for Art and motherhood…