Dear Artist, Yesterday, Todd Butt of Trenton, Ohio wrote, "A local group is opening an art studio building in the next town. They need about thirty artists to rent studios and they are planning to have a Friday opening each month for the public view. Have others tried this? Are there any guidelines, cautions and contractual warnings you might offer?" Thanks, Todd. Subdividing buildings into artists' rentals is currently a hot trend. Frustrated landlords are looking for creative ways to beef up density and turn a profit. Some run a pretty tight ship, like a strata-title operation, while others rent casually, often cheaply, on a month-to-month basis. For artists who chop and change, the latter might be preferable. Here are a few considerations: Many buildings restrict hours of use. It's best to work in a place that's open any time you need it. Also, you need to ask yourself how far you have to drive to get to it. I'm a believer in working where you live, and oftentimes there's a fine spot right under your nose. Regarding potential noise, make sure walls and partitions aren't too flimsy. Nothing worse for a Vivaldi lover than a thumping rocker next door. High ceilings are preferable to low ones. Check out the lighting, both natural and artificial — some converted buildings are dark and dreary and not really suitable for artists. Most of us require big windows. You need to check the heating and air conditioning: Who pays for it and how good is it. Some older industrial buildings are poorly serviced. You also need to check fire precautions and escape routes. A big building full of dreamers could be a fire trap. If all else fails, you need a rope tied to a radiator. Further, human nature being what it is, you need to figure out if you'll be able to function in an extended commune where people tend to socialize and may even invade your space. While many artists find these environments stimulating, others find the lack of privacy neutralizes their individualistic spirit. Weak egos can go even further into negative. The presence of super-achievers, on the other hand, can be useful. You cannot dismiss the possible benefits of like-minded passions. Not so handy is the company of underachievers. When all is said and done, artists need to struggle on their own. Best regards, Robert PS: "Under the magnetism of friendship the modest man becomes bold; the shy, confident; the lazy, active; and the impetuous, prudent and peaceful." (
William Makepeace Thackeray
) "My work is always better when I am alone and follow my own impressions." (
Claude Monet
) Esoterica: Perhaps the greatest benefit of beehive buildings comes when the general public finds out there's a lot of honey to be had at predetermined times. Visitors wander in and out of the studios, nip away at your finger food, meet other bees and are exposed to a wide range of art. In theory, quality prevails. In practice, a serious artist may be overshadowed and oversold by a drone who paints cute pussycats on barn boards. "Meow!"
Successful beehive
by Ro Fulkerson, Ogden, IL, USA Here's one example of a very successful, very competitive arts "beehive."
The Foundry Art Centre
 in St. Charles, MO has become quite a tourist attraction as well as a popular place with the locals. It's amazing what variety of talent can be found there.
There is 1 comment for
Successful beehive
by Ro Fulkerson
Historic Alton Mill
by Jim Lorriman, Shelburne, ON, Canada Such a beehive is the Alton Mill in Alton, Ontario. There are 25 plus studios, a number of galleries, retail shops and a cafe. The setting is an historic mill that has been completely refurbished. The mill is close to the Millcroft Inn which is an upscale hotel and spa. I prefer to work alone but a number of artists from my area have their studios there. Here is the
website
.
Great space, no pay
by Richard Woods, Sparks, NV, USA With its tall ceilings and wide open space I loved my live-work studio. From the massive rafters eighteen feet up to the warehouse stripes on the bare cement floor it also had its down sides. Located in an industrial area of East Oakland, I had a fine view of the Chevron Asphalt plant. A Union-Pacific rail-yard book-ended the street beyond a screen of weed and willow, while the Bay Area Rapid Transit line in the other direction brought a train into the East Oakland station every few minutes. Noise could be disconcerting but I grew used to it. The live-work spaces were rented month-to-month, were all newly built to proper commercial code into this '50s era factory complex. You had your choice of a regular commercial size hinged door or keep the industrial roll-up. Bring your own heat. One guy slept and showered in a travel trailer, in his studio. It was a wonderfully eclectic bunch of working artists for the most part, although one neighbor was an early Internet pioneer. Everything from monumental compositions in steel plate, to ceramic plates with delicate fishbones burnt onto the glaze in the kiln. Painters, printers, furniture makers, and one guy who collected monster wood-working machinery, and made foundry patterns to pay the bills. We hosted open studio tours, barbecues on the loading dock, impromptu concerts out on the rail spur. There was always the hum of activity, but after a while it seemed like an oasis of sanity in an otherwise indifferent world. But I couldn't make it pay.
Mini self-promoted galleries
by Jackie Knott, Fischer, TX, USA One of the most successful such endeavors is the
Torpedo Factory Art Center
 in Alexandria, VA. It literally is what it says, an old WWII torpedo factory. In 1969, the city took on an ambitious project to convert the building to studios. Today, 165 artists create and work in this huge building, and over a half million people visit there a year. It is indeed a fascinating place. I wandered past the open room studios and saw some artists busily productive. But I saw more of these spaces functioning as mini self-promoted galleries, but deserted ones at that. I got the impression many of these artists exhibited there but they didn't actually work there. The glaring shortcoming I observed was no one was present to help sell. I saw one patron trying to buy a piece and she couldn't find anyone in the adjoining studios that knew anything about it. She walked off frustrated and an artist missed a sale. In such an environment one would have to be present just as you would a paid job and that doesn't set well with most artists I know. Few work like that. The other alternative would be to depend on others when you couldn't be there, then you'd be available to sell their work in a reciprocal relationship — it all sounds too complicated. A once a month showing sounds reasonable and I might be tempted to try it but a daily grind would be just that, impossible.
There is 1 comment for
Mini self-promoted galleries
by Jackie Knott
Frustrated by drama and chatter
by Laura Tovar Dietrick I am currently working in a "hive" environment with 24 other artists and I have enjoyed moderate sales in this economy, for which I am grateful. The studios themselves are not locked, but are partitioned off and patrons are allowed to enter to look at the artwork hung on the walls. People enjoy coming to our First Friday events and with food and music find it to be a monthly treat. The upside is having other artists to talk to and discuss various issues that would normally bore others to death. The downside is that many of the artists don't take it seriously and like having a "studio" so that they can tell everyone that they are an artist even though they may only create one piece of work per year. For those of us who treat our art as our business, it can be frustrating as there is plenty of drama and distracting chatter. The only solution, in my view, is to also work at home and consider your studio away from home as only another venue to show your art.
Life and death of a gallery space
by Suzette Fram, Mapel Ridge, BC, Canada My experience was in a small gallery/studio space. When we opened, there were 5 artists with their own studio and a large gallery space for different guest artists each month (with promotion and opening reception and all that) and lots of space in hallways to hang paintings. It seemed like a wonderful idea. It was, at first. The company was great, the energy awesome. After a while, artists no longer came regularly. The place was deserted. Few visitors came. When they did come, someone would have to greet them and give them the tour. That was not always very convenient if you were in the middle of painting. It became annoying. And there were days when no one came at all. What I learned is that being an artist and being a gallery operator are two very different things. To successfully run a gallery, you have to have a business mind, and a salesman's mind. More importantly, you have to have contacts and a client list that is interested in art and will come out to openings and especially, that will actually buy art. You can't be painting and being gallery host at the same time. After a while, not that many people came, there were very few sales; it kind of turned into a little tourist attraction. People would say how wonderful the place was and how needed it was, but no one ever wanted to take out their wallet and buy something. In a matter of months, artists started leaving. I left after about a year.
Unsafe neighbourhoods
by Richard Gagnon, Knowlton, QC, Canada I really appreciate the regular poke that reminds me of what I should be doing as opposed to what I have to do. I do understand that at some point sanity will dictate that what I have to do will take precedence and I can paint again. Your letter on the artists' beehive was very insightful. The fire consideration was important and there are collapsible ladders that can be bought provided you are not above a certain height from the ground. The building location would also be a safety factor. Not all neighbourhoods are safe after dark. Some aren't even safe in the daylight hours. Unfortunately, neighbourhoods that are the least safe have the most attractive rent. Working late on a project or going in when the muse strikes could be life altering. Personal alarms and cell phones with 911 on speed dial still leave the emergency response time to deal with. A lot can happen in five minutes. Even good quality buildings are impacted by the neighbourhood. I used to stay at a high end hotel north of the airport in Atlanta. The concierge regularly warned me not to walk the streets after dark. The pool patio area where I would spend a few minutes in the evening destroying a cigar and a glass of scotch was surrounded by high walls with razor wire along the top. If a building was to be selected for such a project location is everything and the extra cost in rent should be considered insurance.
Missing the beehive
by Kathy Weber, RI, USA For about ten years, I had a studio in an old mill building with a number of other artists. It was great; we organized a yearly Open Studio event that became better attended every year, until the building was sold for conversion to condos and the artists were all kicked out. I work at home now, which I like, but I really miss those Open Studio events; it's a great way to get known and to sell some work. I didn't find that I was interrupted constantly; in fact, mostly the opposite, as the people who were there were trying to get work done. Funny thing, I knew a fireman who worked in the fire station that happened to be right across the street. He told me that they worried about that building burning down and had walked around inside to become familiar with the layout in case that ever happened.
There are 2 comments for
Missing the beehive
by Kathy Weber
Eight hours of lock-up?
by Brenda Behr, Goldsboro, NC, USA Think twice before you jump. Going into a "beehive" artist space is about the dumbest thing I didn't do. I was the first to sign up, lay down a deposit, and then pull out. I refused to hear him when an artist friend, more experienced than I, said, "Don't do it. Nobody will want to climb those stairs." I wanted too much to believe it was a good thing — camaraderie with other artists, Friday night art crawls, publicity for all, revitalizing an otherwise dead downtown. In the final days before the move, the voice I heard that kept me from moving my studio there was my own. I paint from life, and only on the coldest days, it's still life. I'm a
plein air
on-location artist that visits everything from strip joints to local landmarks to breathtaking landscapes. Why the heck would I want to lock myself inside a studio eight or more hours a day? For the most part, art is a solo activity. We need to save our socializing chitchat for our openings. [fbcomments url="http://clicks.robertgenn.com/art-beehive.php"]
 Featured Workshop: Plein Air for Camphill 2010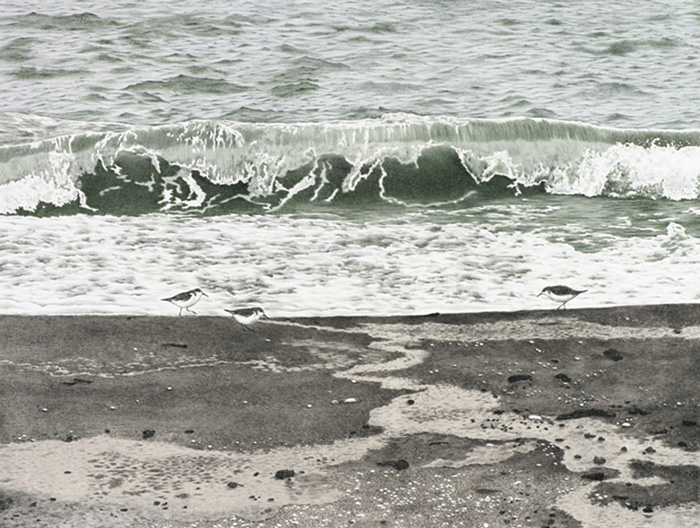 Beachcombers
5-colour stone lithograph by Betty Sommerville, BC, Canada
You may be interested to know that artists from every state in the USA, every province in Canada, and at least 115 countries worldwide have visited these pages since January 1, 2013. That includes Linda Blondheim of Gainesville, FL, USA, who wrote, "Currently, I'm negotiating with a gallery for a loft space upstairs within the gallery space. This gallery already shows my work so people are used to seeing it there. I think having your own space would be better than sharing it with a commune of artists for the reasons you stated, and the everyday battle of trying to get along with many artists who have varying degrees of professionalism. When you have your own space or partner with someone you trust you are in control.
Archived Comments
Enjoy the past comments below for Art in a beehive…