Dear Artist,
Researchers at the University of Granada in Spain and the Washington University School of Medicine in St. Louis have published a study that says we weren't always this creative. Creativity, they say, has been the deciding factor in our evolution into modern humans. The study identifies 972 "creativity" genes, which regulate three systems of learning and memory: emotional reactivity, self-control and self-awareness. The emotional reactivity network allows us to form social attachments and learn things. The self-control network gives us the ability to set goals, cooperate with others and make tools. The self-awareness network, unlike the other two, is unique to modern humans. Responsible for "episodic learning," it allows us to remember experiences and improve upon past behaviors, as well as offering an autobiographical memory of our life, complete with a narrative with a past, present and future, "within which a person can explore alternative perspectives with intuitive insight and creative imagination." It is this last item, say the researchers, that separates us from our distant primate relatives and earlier humans.
While it's intriguing to think that my self-awareness could be, rather than compulsiveness, say, what's behind all this art-making, the study is a slap in the face to my feelings with regards to my late Airedale, Dorothy and her obvious interior life. Why else, for example, would Dorothy run, snow-angel-style, on the living room carpet, in her sleep, while yelping with delight? Or was it frustration? And what about all that acquired learning and improved climbing I witnessed through the studio window, at the base of a squirrel-infested Red cedar, and the artful arranging of sticks on the front lawn?
Senior author and professor emeritus of psychiatry and genetics at Washington University, Dr. Claude Robert Cloninger does not mention Airedales in his study. Instead, he maintains that Homo sapiens' "self-awareness is what enables us to have divergent, original creative thinking [and to]be very flexible." If he's right, today's paintings are the products of genes our distant relatives didn't yet possess for their cave-painting sessions. Are our paintings, though, more creative? Perhaps painting is not solely dependent on creativity but rather reliant on a cocktail of all kinds of impulses. Perhaps painting is not even close to being the most creative artform. Perhaps, as a species, our creativity genes are responsible more for our Mars rovers, peacekeeping and life-saving vaccines than our brushwork. Rather than a signifier of progress, perhaps art is, among other things, a kind of emotional journalism — a record keeper of the human soul. Perhaps art, like air, has always been with us in some form, our creativity simply part of the evolving technology of an essential expression.
Sincerely,
Sara
PS: "What is art but life upon the larger scale, the higher. When, graduating up in a spiral line of still expanding and ascending gyres, it pushes toward the intense significance of all things, hungry for the infinite?" (Elizabeth Barrett Browning)
Esoterica: We have all been uniquely tasked with some kind of problem to solve — even Dorothy. Dr. Cloninger's creativity genes are merely what gave us sapiens edge. The emotional reactivity network evolved in primates about 40 million years ago, the self-control network evolved about two million years ago, and the self-awareness and creativity network arrived a mere 100,000 years ago, right at the moment humans were grappling with a changing climate and a dwindling food supply. Sixty thousand years later, says Dr. Cloninger, Homo sapiens, with "unprecedented cultural and technological sophistication" began to rapidly replace Neanderthals across the globe. As lifespans increased, humans were able to accumulate more knowledge and experiences, build communities, migrate, gather and hold onto resources and make art. "What happened?" said Marina Abramovic. "Art happened."
Have you considered a Premium Artist Listing?  With each letter, an artist is featured at the bottom of this page. The Premium Artist Listings are a means of connecting artist subscribers through their work. Proceeds from each listing contribute to the production of The Painter's Keys. 
"There hasn't been any art yet. Art is just beginning." (Constantin Brancusi) 
Featured Workshop
January 23, 2022 to January 30, 2022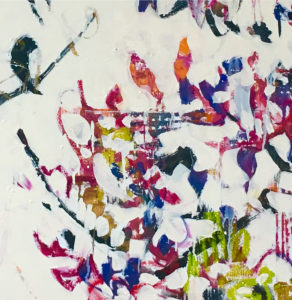 Join Ellie Harold for "Intuitive Painting: Permission to Paint Expressively," designed especially for mature women artists of all skill levels who wish to explore this medium for soulful exploration. The retreat provides attractive accommodations (your own room!) along with lightly structured activities for centering, relaxation and low stress art-making. You'll have plenty of free time to muse, paint, write and reflect while enjoying the colors, textures and flavors of San Miguel. This Retreat has the potential to transform not only your art but your life! You'll return home with a specific art "care plan" to assure support for further creating. Details at www.EllieHarold.com.
Featured Artist
My statement is pretty short. I love all kinds of paintings and I think Robert Genn is Canada's finest painter. A great feature of his work are his designs — so beautifully conceived.