Dear Artist,
"Unschooling" is an educational philosophy and practice that allows children to learn through natural life experiences. Play, games, fantasy, hobbies and social interaction are supposed to take the place of traditional schools. The theory is that current curricula and grading systems are counterproductive to the goal of a broad education. The term "unschooling" was coined in the 1970s by educator John Holt. It's not to be confused with "homeschooling" where kids are taught standard curricula by parents. Critics of unschooling have concerns that unschooled children will lack social skills, structure, and motivation — especially in the job market. Proponents of unschooling maintain the exact opposite — a self-directed education in a natural environment makes a child more equipped to handle the real world.
Many of us run our creative lives like unschooled kids. We work for joy, go here and there, treat our work as a hobby, indulge in wishful thinking, and have lots of social interaction. The question is — if unschooling is so effective and superior, how come there aren't more brilliant artists around? More to the point, how come there's so much substandard art out there? Further, what type of education makes for superior art? Fact is, great art comes from both the schooled and the unschooled. It may have more to do with the old business of "character." In our game, character is the confluence of four virtues: high motivation, high curiosity, high work habits and high ego force. Funnily, among the folks I compete with, those four virtues are most often found among the unschooled.
Another interesting aspect of unschooling has to do with credentialism. Unschooled folks enter the jobosphere uncredentialled. They may have no degree, affiliation or parchment to back up their capabilities. Recent studies in the field of medicine, of all places, have revealed a few surprises. In some cases, the least credentialed doctors had the best human skills, on-the-job learning capabilities, and most success with treating patient maladies. In my case anyway, I'm not quite ready to allow a non-credentialed proctologist to practice proctology on my precious proctor.
Best regards,
Robert
PS: "What makes people smart, curious, alert, observant, competent, confident, resourceful, persistent — is not having access to more and more learning places, resources, and specialists, but being able in their lives to do a wide variety of interesting things that matter, things that challenge their ingenuity, skill, and judgment, and that make an obvious difference in their lives and the lives of people around them." (John Holt)
Esoterica: In measuring yourself for those four virtues — motivation, curiosity, work habits and ego force — you can get an idea how your own chances stack up. Then again you might just become a roaring success by being lackadaisical, ignorant, lazy and without confidence. In the funny game we call art, it's been done. Regarding ego force, we don't always like people who have it. If you have it, and need to be liked, you ought to consider letting most of it come out the end of your brush.
This letter was originally published as "The unschooling of art" on May 3, 2011.
Have you considered a Premium Artist Listing?  With each letter, an artist is featured at the bottom of this page. The Premium Artist Listings are a means of connecting artist subscribers through their work. Proceeds from each listing contribute to the production of The Painter's Keys. 
"I myself incline to drift, to accept a lesser situation rather than strive for a greater, and yet, I know that character in life and art is only made by an effort that is quite beyond one's ordinary everyday acceptance of things as they are." (Lawren Harris)
Featured Workshop
January 23, 2022 to January 30, 2022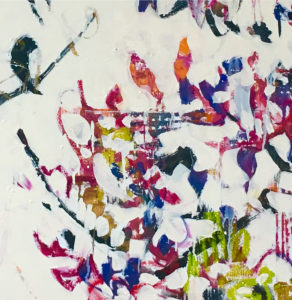 Join Ellie Harold for "Intuitive Painting: Permission to Paint Expressively," designed especially for mature women artists of all skill levels who wish to explore this medium for soulful exploration. The retreat provides attractive accommodations (your own room!) along with lightly structured activities for centering, relaxation and low stress art-making. You'll have plenty of free time to muse, paint, write and reflect while enjoying the colors, textures and flavors of San Miguel. This Retreat has the potential to transform not only your art but your life! You'll return home with a specific art "care plan" to assure support for further creating. Details at www.EllieHarold.com.
Featured Artist
Gardens are my enduring inspiration, and getting to the heart of the flower, my passion.