Dear Artist,
When IBM surveyed the world's CEOs on how to thrive in business, technology, health and every other industry, the results almost unanimously pointed to one determining factor. More than rigor, management, strategy, integrity or even vision, creativity came out as the top skill. Less than half of senior leaders believe their businesses are equipped for an increasingly complex and volatile global economy, and their proposed solution is to bump up the value of imagination. Part of this plan is to set up projects like "skunkworks" — innovation theorist Everett Rogers' term for a free-association think-tank on company time. The problem is that committees, by their nature, tend to kill ingenuity in favour of what's comfortable. And what's comfortable is usually what's most familiar. In advertising, it's called "status quo bias," and brands rely on it to keep their customers coming back for the mediocre.
While dining recently with a couple of sharp-as-tacks Millennial art directors, I asked about their creative goals. "I love to paint," said one, still in her twenties and already a mover and shaker at a major publishing company, "but I want to have influence." The other, a freelancer, talked about her art print start-up: "I went through design school, learned what agencies were looking for, put together a beautiful portfolio and landed my dream job right out of graduate school. After five weeks, I realized I couldn't do this for the rest of my life and resigned." "Are you an entrepreneur?" I asked, re-living the meagre circumstances of my own twenties. "I need to think about that," she replied.
In the truckloads of studies done on Millennials, they're at once lauded as the most influential demographic and chided for being the most risk-averse generation in history. They've also been bombarded personally, since birth, with a daily onslaught of planetary bad news while being fed a steady cultural diet of dream-catching idioms and the unearned parental reassurance of being the future's world-changers. Even with all this praise and empowerment, statistics show that Millennials are anxious and contributing to the lowest new business numbers in 40 years. By choice or necessity, if the future's artists are working from within the establishment, it could still be a bona fide disruption. "Power is a tool, influence is a skill;" wrote Nancy Gibbs, "one is a fist, the other a fingertip."
Sincerely,
Sara
PS: "It's when you've found out how to do certain things that it's time to stop doing them, because what's missing is that you're not including the risk." (Robert Rauschenberg) "The pursuit of excellence is less profitable than the pursuit of bigness, but it can be more satisfying." (David Ogilvy)
Esoterica: Studies on schoolchildren, academics, government, publishing, music and even the art world show that creative thinking is increasingly thwarted at every stage, in every setting, in favour of something we've all seen before. Leaders of organizations understand the need for disruption as a lubricant for radical discoveries — they actively seek out change agents to get the ball rolling but often balk when change confronts them at their own desk. For an artist, using the lifelong central conflict between structure and the wilds of unfenced imagination can be her own skunkworks for innovation. "People want change, but they don't realize it means they have to change themselves." (Peter Bray)
Download the new audio book, The Letters: Vol. 1 and 2, narrated by Dave Genn, here. Proceeds of sales contribute to the production of The Painter's Keys.
"I am always doing that which I cannot do, in order that I may learn how to do it." (Pablo Picasso)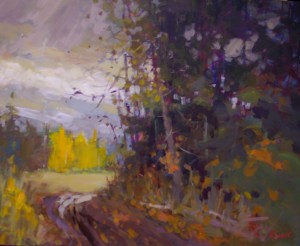 Turn In The Road
24x30 acrylic
Featured Artist
My art represents an artistic journey that has been on-going for more than thirty-five years with help and guidance from many wonderful artists. Now, with years of plein-air painting experience, study and solo exhibitions, I believe that my current work has reached its highest level, reflecting the depth of my absorption in the wonder and beauty of the world around me.  I have learned that, as an artist, I will never stop looking for better ways to express my feelings in art and that struggling to more fully understand myself is integral to my painting; a philosophy that was part of every workshop I taught. Still is.