Dear Artist,
Innovation is a branch of invention that makes changes in existing systems. These changes need not be dramatic. They may not even be seen as improvements. In the art game they need only to be different.
Yesterday, while I was looking into the innards of a public gallery, the work of Charles John Collings (1848-1931) caught my attention. Collings was well trained in English watercolour methodology. Immigrating to Canada in 1910 at age 61, he spent his last twenty years honing a unique style. Collings soaked the sizing out of relatively smooth (hot-pressed) paper. This caused the pigment to "bloom" to varying degrees — something like the effect one would get with blotting paper. Further, with the use of spatulas and burnishing tools, some passages had colour intermittently obliterated, textured, or entirely removed. The result was a sugary softness of enriched greys and impressionistic sophistication. "Collings lays his prepared paper variously on a sheet of slate, glass or cork to preserve moisture," wrote fellow watercolourist Walter J. Phillips. "He paints with pure pigments, mixing them only on the paper, and removes any superfluity, or reduces intensities, with a clean brush."
Vigorous and active into his old age, he settled at beautiful Seymour Arm on Shuswap Lake in British Columbia. He needed to be far from the madding crowd. Several significant rumblings take place in the minds of this sort of creator. Taking little heed of conventional wisdom, they have an innate need to innovate. Further, the free-standing artist requires of himself the personal mastery of a personal innovation. Collings pressed his wisdom into the service of an already dignified spirit and evolved sensibility. Looking closely at his work, you discover order and rationality evident in every passage.
Innovation is its own satisfaction. The feeling that one's efforts are unique and different from the rest is impetus enough to continue. In my experience, innovators tend to be stubborn — in the sense that Edison, Ford and Banting were stubborn. This somewhat dated attitude is easy to miss in today's cookie-cutter society. Collings held his methodology close to his chest, sent his polished gems to a distant market in England, and listened to no one but himself.
Best regards,
Robert
PS: "His masses of floating colour, where they meet and combine, often create forms and hues of great beauty, fortuitous perhaps, but coherent." (From an unpublished manuscript by Walter J. Phillips, 1928)
Esoterica: How to innovate? Look at your current work and ask how you might bring it more in synch with your vision. If you don't have a vision, keep asking yourself for one. If you ask long enough, you will receive. Ask "What could be?" This is how taste is raised, uniqueness is achieved and style is born. Get stubborn. If you happen to be one of those artists driven by curiosity, you're on your way. Innovators are lone wolves, rangy and independent. "What's the point," they ask, "in doing things like everyone else?"
This letter was originally published as "Innovation" on October 23, 2007.
Download the new audio book, The Letters: Vol. 1 and 2, narrated by Dave Genn, here. Proceeds of sales contribute to the production of The Painter's Keys.
Without tradition, art is a flock of sheep without a shepherd. Without innovation, it is a corpse. (Winston Churchill)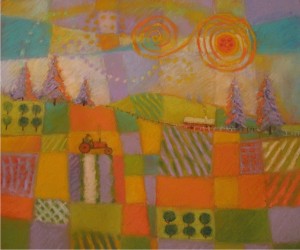 Sunrise Over the Farm #2
original pastel 15 x 15 inches
Featured Artist
Mary's interest in pastel painting began during her years at Whitworth College in Spokane, WA where she majored in art and elementary education. Though she has worked in watercolor and oil as well as calligraphy, her interest has consistently turned primarily to pastel because of the medium's potential for glowing, vibrant color and the harmony achieved in bringing together lights and shadows.