Dear Artist,
A regular inbox question goes like this: "Your dad wrote that he would gladly give a refund to someone if they weren't satisfied or had an issue with a painting. How does that work, exactly, for art?" The query kicks a hornet's nest of grey areas like painting condition, time passed since the original sale, gallery commissions and how much of a cash float an artist needs to keep on hand for refunds. If this idea sounds a bit strange, let me explain.
You may have heard this one before, but when my dad was 14, he exhibited in a Victoria craft fair and sold his first painting — a watercolour of a Rufous hummingbird hovering near its nest. The buyers, a couple from Portland, phoned him at home and thanked him. The following day, Bobby, so blown away by his good fortune (they paid $15 for the thing he loved most in the world,) rode his bicycle to Beacon Hill Park to show his new collectors the actual nest. Still trying to make sense of his unspeakable windfall, he then offered to change the painting if they didn't like it. The couple happily declined.
Call it survivor guilt or extreme gratitude, reckless joy or just a lifelong flow of good vibes, from that moment on, my dad stuck to an idea he called, "value added and guaranteed for life." Though an introvert and workaholic, for the next 50-plus years he cheerfully welcomed collectors and dealers into his studio for tea, scotch, boat rides, counselling and, once in a blue moon, a complimentary cleaning, exchange or touch-up. A big-picture guy, Bobby never forgot the original connection and many friendships that blossomed through the thing he loved most in the world.
Sincerely,
Sara
PS: "I have walked this earth for 30 years, and, out of gratitude, want to leave some souvenir." (Vincent van Gogh)
Esoterica: Think of your guarantee as a way of extending an emotional connection through art by going beyond what's expected. A regular sale, through a gallery or otherwise, might quietly include the future option to exchange for another of the same size and current value from your studio. This small gesture spreads immeasurable good faith and reassurance and is rarely realized — art lovers tend to become attached to their original choices. The exception is a commission — which should begin with a 50% non-refundable deposit with the chance to take another stab if your first pass is unsatisfactory. Inviting your work back into the studio, regardless of age or condition confirms your own self-belief and affords you lifelong quality control. Personally cleaning or repairing early work ensures its future appreciation. An enthusiastic supporter can become a career-spanning friend and, with her, the privilege of saying "thank you" for your mutual joy.
Download the new audio book, The Letters: Vol. 1 and 2, narrated by Dave Genn, here. Proceeds of sales contribute to the production of The Painter's Keys.
"Every great business is built on friendship." (James Cash Penney)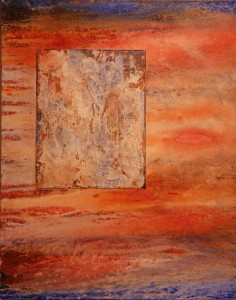 Transition
Featured Artist
Painting is my passion and joy.  My process is intuitive, though informed by good composition and design principles.  I paint what I remember, or think about, or feel, or just what comes off my hands to the brush to the canvas.  Texture and color are of primary importance to me.  I typically choose my support, texture it, select my palette, and go.  There is nothing more satisfying to me than watching paint run and move.  I love the surprises. I experiment and learn constantly.  It is a remarkable journey.  One I am pleased to share with you.