Dear Artist,
"The easiest person to fool is oneself," said my older brother, Dave, a musician, reminiscing recently about our dad's idioms. With this cue, I realized that Dad must have had a unique set of material for each of us. Mine included "Keep busy while waiting for something to happen" and "Start with the foreground." My twin James, a television director, chimed in with, "Don't want to slump over the oars!"
On the flight home to New York, I took a rough tally of my possible personal deceptions: originality, productivity, efficiency, evolution, revolution. I slid into a momentary spiral of sobriety over a packet of mixed nuts. "Everything that deceives may be said to enchant," said Plato. Painting, as the ultimate illusion, depends on it — you need only surrender to the wooden, doll-like glare of Diego Velazquez's Infanta Maria Theresa of Spain in her oystery, light-kissed silk and dangling handkerchief to know what I'm talking about. The fantasy — painted as three versions to be sent to potential husbands — feels more alive in some areas than others. Gerhard Richter's two Bettys, painted over 300 years later, invite the same study. Art, like life, is but a reconciliation of the truth and our most ardent and steadfast illusions.
If you, too, have discovered yourself straddling unevenly between truth and enchantment, begin by recapturing solitude and the surroundings that spark your most unadulterated passions. Limit the outside influences that conflagrate doubts into a negative wildfire. The turmoil of a new reality needn't paralyze. As awkward as it sounds, a forced, solo beginning — that is, squeezing out and dragging a fat, loaded brush across a virgin ground — is your proven, soul-sustaining act. The lace, the drapery, the wisps of teenaged hair, while a flat deception on a surface of your making, shimmer in the knowledge of their own impersonation. By being a sham of the real, they are in reality something else entirely real.
Sincerely,
Sara
PS: "When you meet triumph or disaster, treat these imposters alike." (Alfred, Lord Tennyson)
"Art is the most beautiful of all lies." (Claude Debussy)
Esoterica: Sweat and earned achievement are what build authentic, life-lasting self-esteem. This is why toddlers, at the kitchen counter or while turning the page of a book, need to put in hours of practice before usurping expertise. And, like them, we build skills of creative resilience by riding the peaks and valleys of a life we're committed to interpreting. "Art," said Picasso, "is a lie that makes us realize truth." "Life," wrote E.M. Forster, "is easy to chronicle, but bewildering to practice…"
Download the new audio book, The Letters: Vol. 1 and 2, narrated by Dave Genn, here. Proceeds of sales contribute to the production of The Painter's Keys.
"Sweat the small stuff. Without letting anyone see you sweat." (Chris Hadfield, astronaut)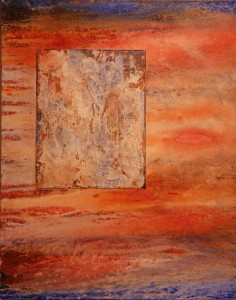 Transition
Featured Artist
Painting is my passion and joy.  My process is intuitive, though informed by good composition and design principles.  I paint what I remember, or think about, or feel, or just what comes off my hands to the brush to the canvas.  Texture and color are of primary importance to me.  I typically choose my support, texture it, select my palette, and go.  There is nothing more satisfying to me than watching paint run and move.  I love the surprises. I experiment and learn constantly.  It is a remarkable journey.  One I am pleased to share with you.