Dear Artist,
Peter and I are rumbling along a dirt path on a rented quad, switch-backing the volcanic slopes of Milos, the southwestern-most island in the Cyclades. The road is ours — the last of the summer cruisers have embarked for still-hopping Santorini or returned home. Along the shoulder, shiny, amber hens peck at split watermelons, content with the honey and walnut breezes carried in from the Aegean and across the sun-baked olive groves. The sea, once worshipped as the goddess Amphitrite, the consort of Poseidon and mother of fish, seals and dolphins, winks and dazzles into an infinite, cobalt sky.
Carved into the soft, volcanic rock at the edge of the village of Tripiti are its early Christian catacombs and the remains of an ancient Roman theatre. Two hundred years ago, peasant Yorgos Krentrotas and his father, Theodoros, were gathering marble from the ruins of a castle near the edge of their property when they discovered a cave cut into the side of the hill. Inside, they found a two-thousand-year-old marble statue of a woman in two parts — an upper torso and draped legs, plus some arm parts and a plinth inscribed with an artist's name.
Yorgos, with the help of a treasure-hunting French naval officer named Olivier Voutier, pulled the statue from the cave and, as Milos in 1820 was part of the Ottoman Empire, convinced the Turkish authorities to let him sell it to Olivier. Within a year, the statue fell into the hands of the Marquis de Rivière and was eventually given as a gift to King Louis XVIII, who put it in the Louvre. Somewhere between Milos and Paris, the statue's arms and plinth went missing. The French named her Venus de Milo — part of an advertising campaign to replace their magnificent Venus de' Medici, plundered by Napoleon in 1803 and reluctantly returned to Florence after his defeat in 1815. In an effort to fill the national treasure vacancy left by the Medici, the French attributed the Venus de Milo to superstar 4th century BCE Classical sculptor Praxiteles, then promoted her as the most perfect representation of grace, with the French public and artists of the day exalting her beauty — except Renoir, who described her as "un grand gendarme," or like the side of a minor Swiss Alp.
Sincerely,
Sara
PS: "An artist, under pain of oblivion, must have confidence in himself, and listen only to his real master: Nature." (Pierre-Auguste Renoir)
Esoterica: Alexandros of Antioch is thought to have been a wandering artist who worked on commission. He won a singing contest at Mount Helicon in 80 BCE.  Twenty or so years earlier, Alexandros carved his statue of Venus (Aphrodite in Greek) and signed his name on her plinth, her destiny to be one day stashed in a Milos cave. Or perhaps she wasn't Aphrodite at all but rather the goddess Amphitrite, carved for the cult of the Sea-Queen, in an archipelago defined by the moods and rages of her husband Poseidon, her moaning sighs the only sound that could calm him. Tonight, as the wind picks up and the blackening surf smashes at the waterline doors of the fishermen's boathouses, Amphitrite, barely detectable, whistles a distant song, lulling us to sleep. In the morning, she'll sparkle, uncontested.
Sara Genn: New Alphabet is on view until October 17th, 2019 at Dimmitt Contemporary Art, 3637 West Alabama Street, Houston. 
The Letters: Vol. 1 and 2, narrated by Dave Genn, are available for download on Amazon, here. Proceeds of sales contribute to the production of The Painter's Keys.
"Be a good craftsman; it won't stop you being a genius." (Pierre-Auguste Renoir)
Featured Workshop
January 15, 2020 to January 22, 2020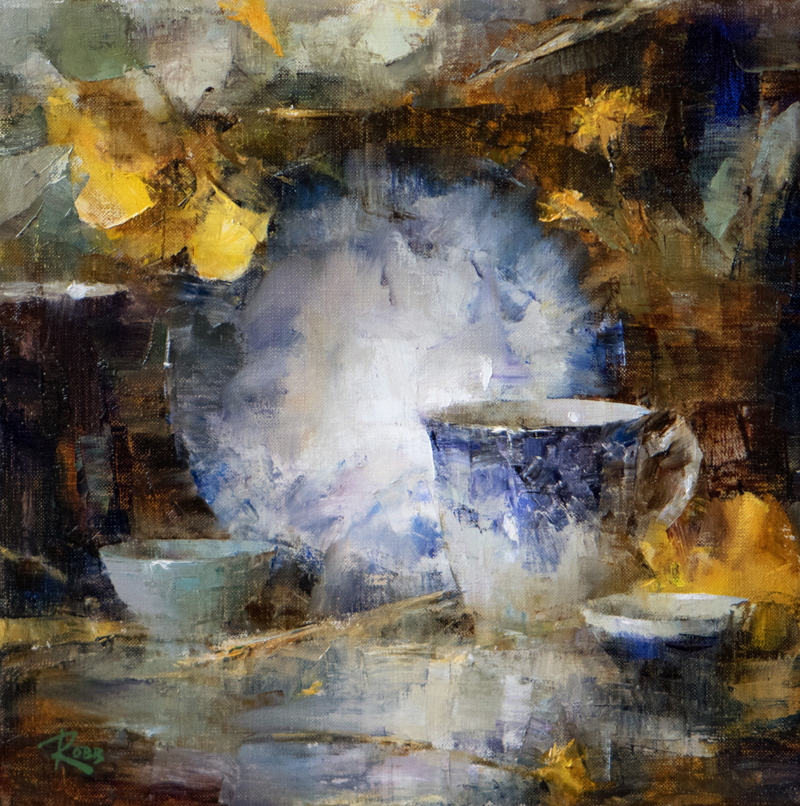 This workshop/retreat will be ideal for artists who are serious about improving their painting skills, but who also enjoy great food, terrific accommodations and a bit of adventure. The instructor has many years of experience in both teaching and painting and is dedicated to passing along her knowledge to those who are eager to learn. Small class size will insure individual attention. We will be working from life and previous experience mixing color will be necessary.
Casa Buena Art Retreat, between Puerto Vallarta and Mazatlan, is a calm and beautiful place to relax and explore your creative energy. Please check out their website for photos and detailed information about this exciting opportunity http://www.casabuenaartretreat.com/Retreat_LauraRobb.htm Non-painting travel companions are welcome too.
For more information on the instructor or to contact her, please visit http://LauraRobb.com
Featured Artist
Shawn's paintings evoke the feelings of the West Coast, its shores and islands, ponds and lakes.