Dear Artist,
Last night in Vancouver, a sparkly-eyed woman in a wide-brimmed hat introduced herself to me as an artist's coach. "What kinds of problems do artists bring to you?" I asked.
She began with a gentle, meandering observation on the individuality and uniqueness of all artists, then described how many grapple with uncertainty when it's time to grow. In all her years working in galleries, art advising and coaching, she has witnessed how creating an enjoyable artist's life requires knowing why we make art in the first place. Only then can an artist truly connect with others and spread her enthusiasm — no hard sales required. Only then can the nitty-gritty of professional growth be refined. Here are a few nitty-gritties:
Define career goals — Where are you and where do you want to go? What is your idea of a happy life in art? Why not break this into actionable steps?
Find your uniqueness and promote it. Work your strengths.
Get the basics right — Your bio, CV, website and social media, like a garden, need steady love and pruning.
Explore a variety of options for showing — Try not to get stuck on one route.
Foster professional relationships — Aim to the highest standard possible. It takes practice.
Demystify commercial gallery procedures like contracts, payments, shipping and framing. Ask for help and information from others who may know.
Pinpoint your personal practice and get clear on things like your signature, pricing, whether you're doing editions, prints, commissions and how to document and archive your work.
Understand your core values and set boundaries you can live by. Communicate clearly, deliver quality, be respectful and fair and expect the same in return. Pour love into all the corners of your art life. Be yourself. Cultivating these essentials is a lifelong practice in a calling we all gladly do for love.
Sincerely,
Sara
PS: "One's art goes as far and as deep as one's love goes." (Andrew Wyeth)
Esoterica: Jennifer Johnson coaches artists of all stripes — in person, on the phone and over Skype. When asked if she vets her clients by looking at their work, she replied that even more important than this is whether she feels an artist is willing to participate and be accountable in the pursuit of her own success. "Sometimes the most exceptionally talented won't do anything by themselves, for themselves, while others are incredibly tenacious and persevering." You can reach Jennifer here.
You're invited to the group exhibition ABSTRACT: DESIGN SHOWCASE opening tonight, Friday, Nov. 3 from 6-9pm at Kimoto Gallery 1525 West 6th Avenue, Vancouver, BC Canada
See you there!
"Allow your love to nourish yourself as well as others." (Maharishi Mahesh Yogi)
Featured Workshop
April 7, 2018 to April 14, 2018
Are you stuck in a rut? Need time to reflect on transitions? Long for an extended art-play date? Join Ellie Harold for a unique art-making retreat for women in colonial San Miguel de Allende.  Re-establish flow in your life through painting, movement, soulful discussion, and a wealth of cultural, visual and culinary delights.
Art practice will encourage intuitive use of color and expressive mark-making with emphasis on process. Materials provided or you can bring your own.
An inspired facilitator and prolific painter, Ellie invites all experience levels (including none) to participate in Painting for Pleasure.
Visit Ellie's website to learn more.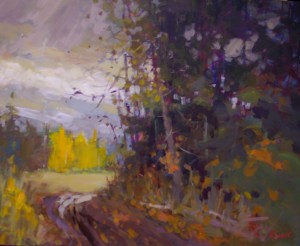 Turn In The Road
24x30 acrylic
Featured Artist
My art represents an artistic journey that has been on-going for more than thirty-five years with help and guidance from many wonderful artists. Now, with years of plein-air painting experience, study and solo exhibitions, I believe that my current work has reached its highest level, reflecting the depth of my absorption in the wonder and beauty of the world around me.  I have learned that, as an artist, I will never stop looking for better ways to express my feelings in art and that struggling to more fully understand myself is integral to my painting; a philosophy that was part of every workshop I taught. Still is.