Dear Artist,
In a previous letter, I touched on the idea that your vocabulary might be responsible for personal happiness, effectiveness or creativity. Could it be possible that we are formed by the words we use? For example, might the elimination of the word "failure" promote "success?" Might the constant use of the word "happy," make you so? You may see a few problems. We may know of folks who give lip service to "love," while they practice "hate." You might think that the program will not work if you think one thing and say another. But the idea behind the concept is that the words themselves are what you may become. Words maketh the man.
There are two parts to the program. The first is a personal list of words you think have negative values and may wish to eliminate. This is the "undesirable" list. They can be discovered by replaying your normal conversation on a recording device. Also, a true friend and careful listener can give you an honest report. Listen to yourself in social situations or in the company of wine. Just as a search-engine scours the internet for keywords, you and your friends can build your negative list. It may take a while. Write them down. Print them out.
The second part is a list of words you think you need. This is the "desirable" list and it may take even longer. It may never be finished. You build your list in several ways: Look at your undesirable list and think of the opposite words and their synonyms. Add words or visualizations that you can only dream. Scratch around in the vocabularies of those you admire. When you feel a positive thought coming on, stop, look and listen. Read uplifting material. Focus on the stars.
Just know that you can train or retrain yourself to paint, write, speak, drive, ski, or become a prestidigitator. Word retraining may not be easy, but believe me, it's been done.
Best regards,
Robert
PS: "Words are a form of action, capable of influencing change." (Ingrid Bengis) "Words are the most powerful drug used by mankind." (Rudyard Kipling) "Fill your paper with the breathings of your heart." (William Wordsworth)
Esoterica: A friend's tape-recorded voice was laced with words like doubt, hopeless, poverty and resist. She was well-spoken. She chose her words carefully. I always thought she was intelligent, discriminating and thoughtful. I was wrong. She was, and still is, clever, talented and witty, but she is in a state of defeat.
This letter was originally published as "Word training" on January 28, 2003.
ABSTRACT: DESIGN SHOWCASE at Kimoto Gallery continues to Nov. 25th. 
Download the new audio book, The Letters: Vol. 1 and 2, narrated by Dave Genn, here. Proceeds of sales contribute to the production of The Painter's Keys.
"I have a predilection for painting that lends joyousness to a wall." (Pierre-Auguste Renoir)
Featured Workshop
April 25, 2018 to May 5, 2018
Relax, explore, paint and shop! Join Victoria wildlife artist, Richard Wong on a privately hosted Pacific Coastal Cruise from Vancouver, BC.  And experience the magic of watercolour on Japanese art paper.  Richard, a full-time professional painter, will guide you on a wildlife themed journey onboard the eloquent Star Princess.  You will learn how to create vibrant, attractive watercolour images from a unique blend of Asian and Western ways of making art.  Stops include Los Angeles, Santa Barbara, Monterey and San Francisco.
Richard organized this west coast trip to include everyone:  friends and families, painters and non-painters; in partnership with Expedia CruiseShipCenters (Victoria, BC office only, Tracey Ball, (250) 381-7447/toll free 1-800-668-8122).  Choose from two options: "Paint & Cruise" (from $1,820 CAD/double occupancy/interior, includes all taxes, port fees, and 4 two hour classes with art supplies); OR "Cruise Only" (from $1,670 CAD/double occupancy/interior, includes all taxes, port fees).
You can learn more about Richard through his website:  http://richardwongwatercolors.ca
Contacts:  either Richard Wong or Tracey Ball per the above.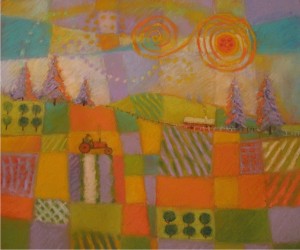 Sunrise Over the Farm #2
original pastel 15 x 15 inches
Featured Artist
Mary's interest in pastel painting began during her years at Whitworth College in Spokane, WA where she majored in art and elementary education. Though she has worked in watercolor and oil as well as calligraphy, her interest has consistently turned primarily to pastel because of the medium's potential for glowing, vibrant color and the harmony achieved in bringing together lights and shadows.