Dear Artist,
A common question is, "Do I need a gallery?" The simple answer is, "No." Yesterday, Vancouver artist John Ferrie emailed his annual exhibition notice, announcing his latest body of work and explaining himself in his own words: "I have often been viewed as an art rebel, as I have very much side-stepped the gallery system. Often showing in obscure environments such as the lobby of the Four Seasons Hotel or doing a huge installation for Vancity at their signature branch in Point Grey, I have discovered what works for me. People are more savvy these days — collectors find my work and deal with an artist directly. Doing this allows me to paint my own voice."
John studied art and has been painting professionally and showing independently for decades. He lives in an arts-supportive live-work community where he can exhibit and be accessible to collectors. John is prolific and enjoys people. He also engages in his community, donates to worthwhile charities and is involved in outreach to arts organizations. Today, John's method has spread globally, especially among artists missed by the gallery system. Online sharing platforms, email lists, artist's websites, portals and alternative exhibition spaces have empowered artists to find supporters all over the world, while avoiding the gate-keeping, commissions, creative restrictions, exclusivity or curatorial control of the main model.
If partnering with a gallery still feels like the right fit for you, here's what you should expect: Gallerists, whether new or seasoned, pleasant or edgy, traditional or striving, lackadaisical or hustling, all contribute to what we have come to believe as a verifying and validating curatorial system designed to nurture and support an artist's creative and professional development over a lifetime. Ideally, they are physical houses for revering art, run by passionate people who invite all into a public exhibition space to experience a lovingly selected point of view — a collection of the work of mostly living, working artists, often from the local community. Be it global or village-scaled, a vital component of a commercial gallery is commerce. Dealers are business owners and must be speculators, and artists, like all other human beings, share life's unavoidable economic concerns. Together, dealer and artist can learn, grow and blossom within the mutual support of a productive friendship.
Sincerely,
Sara
PS: "Actions are the seed of fate; deeds grow into destiny." (Harry S. Truman)
Esoterica: Artists who show in galleries do not avoid the elbow grease of steady, quality production, creative development and the time-consuming synthesis of professional outreach and communication. There is no rest in artistic evolution and professional development, no matter your ultimate distribution model. In my early twenties, I checked in on a friend who worked as a sole-proprietor in business development, P.R. and non-profits, and asked, "How are you doing?" "I'm as busy as I want to be," she said, with a wise resolve. "I can have as much work as how hard I want to work." I never forgot her words.
Have you considered joining our Premium Artist Listings? Share your work with thousands of readers. 100% of your listing fee contributes to the production of The Painter's Keys. Thanks for your friendship.
"Destiny is a name often given in retrospect to choices that had dramatic consequences." (J. K. Rowling)
Featured Workshop
September 23, 2019 to September 27, 2019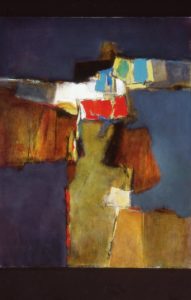 Never be without a design from which to create an abstract painting. Taking images you see on your daily walk, while shopping or in your home… dissecting them into shapes and value to produce abstract paintings that sell.
Held at Gwen Fox's private Art Sanctuary in Taos, New Mexico.  Her 100-year-old adobe home is the perfect environment to inspire and renew your creativity.
There will be private critiques that empower, glorious breakthroughs while basking in a safe environment in which to grow as an artist.
This workshop will fill fast.  Limited to 10 artists.  Each artist will have their own table.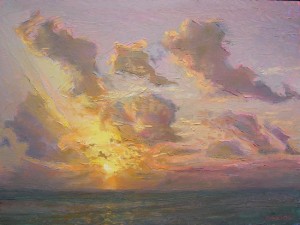 Shining Through
oil 12 x 16 inches
Featured Artist
Capturing the beauty of nature and expressing those impressions in oil paint is a joy. Every hour of the day presents new possibilities and keeps even the same landscape location, same composition, an ongoing and beckoning challenge. For this reason, I love painting series: it is exploration made visual.