Dear Artist,
In Peter Sims' book, Little Bets: How Breakthrough Ideas Emerge from Small Discoveries, we see the value of making lots of small failures as a way to get to large successes. While Peter's book is mainly aimed at entrepreneurs, it's also of real value to us regular creative types. These days, cutting-edge gurus are passing the word around: "Fail often in order to succeed sooner."
But not everyone is pickin' up what these experts are puttin' down. Working from a dated model, many art schools currently expect foundation students to produce two or three major works per semester. The results are often big, poorly-conceived mishmashes of questionable value — either as vehicles for learning or as fine art. On the other hand, when students are encouraged to do volumes of small items they become accepting — even proud — of their failures and are more readily able to move on to ideas that work better for them. Simply put and perhaps surprisingly, less commitment widens opportunity. In a hundred small bets, a dozen or so often ring the bells. With this shotgun effect, even beginners are seen to produce gems. As the lady said, "It's better to have a small diamond than a large piece of glass."
Here are a few ideas for artists who might wish to quicken their progress:
— Prepare a hundred or more similar-sized small supports.
— Choose a subject, motif or series you feel has legs.
— Start bashing off everything that comes into your head, no matter how glib. Stretch your mind.
— Abandon bad ideas in a timely way. Don't waste too much time or get hung-up on outright duds.
— Go from one to the other like a bee goes to flowers. Cross pollinate. Ideas breed ideas. Quality breeds quality.
— Keep your strokes fresh, creative and confident — then both you and your work will become fresh, creative and confident.
— Be always in a state of rejection and acceptance. Steadily sort your work like a deck of cards. To win — to get to the stuff that's really worth enlarging — to evolve — you gotta love the little-bets game.
Best regards,
Robert
PS: "Life is an experiment where failure teaches as much as success." (Peter Sims)
Esoterica: Curiously, in a world where imagination rules, roadblocks to the free flow of imagination are commonplace. Andrew Smith, author of The Dragonfly Effect wrote, "Incorporating core tenets of design thinking as practiced at Stanford University's Design School, Little Bets shows us that many of the things we observe today as great are the result not so much of brilliance but of diligence, humility and empathy. Prior to building something great, it isn't necessary (or even useful) to have a brilliant, buttoned-down plan, researched to exclude potential errors and risks."
This letter was originally published as "Little bets" on April 26, 2011.
Have you considered joining our Premium Artist Listings? Share your work with thousands of readers. 100% of your listing fee contributes to the production of The Painter's Keys. Thanks for your friendship. 
"I got half-a-dozen paintings from that shattered plate." (Georgia O'Keeffe)
Featured Workshop
September 9, 2019 to September 13, 2019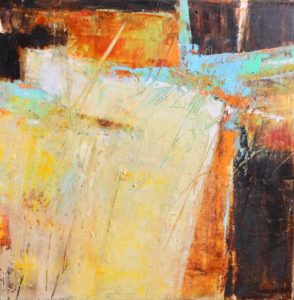 The use of cold wax merging with collage material reveals a rich surface filled with depth.  Learning when and how to add your personal marks enhances the painting while telling a story.
Held at Gwen Fox's private Art Sanctuary in Taos, New Mexico. Her 100-year-old adobe home is the perfect environment to inspire and renew your creativity.
There will be private critiques that empower, glorious breakthroughs while basking in a safe environment in which to grow as an artist.
This workshop will fill fast. Limited to 10 artists. Each artist will have their own table.
Featured Artist
Monique Jarry is a Canadian and a graduate of the Ecole des Beaux-Arts de Montreal.