Dear Artist,
The never-quite-satisfactory answer to the question remains what my dad told me long ago: "Keep busy while waiting for something to happen." And while the old system stands — of visiting galleries in person, getting to know their programming and pursuing a shortlist with excellent images of current work plus support material — a new and remarkable artist's marketplace is teeming with an active audience of gallerists, curators, agents, consultants, designers, collectors and advocates. You will find it on your phone.
If you're serious about getting your work into a gallery, the current name of the game could be Instagram. With the help of a few artists, I've been quietly testing an idea and getting extraordinary results. Dealers, too, have personally told me they are actively looking for fresh blood on Instagram. They're scanning for gorgeous, quality images of your work in progress, in detail and in situ. The picture is complete when including a link to a website that offers additional support material and your CV. Be consistent with both the quality of your work and the images. Stick to posting content that relates to your art practice and periodically include a glamour shot of your dog, cat, or other inspiration. You can post daily, but probably no more than that. Two or three times per week seems to be a sweet spot. Opt for quality over quantity and don't drop your new photo habit. Of course, all of this depends on a steady production of new, finished work.
Next, follow the galleries, non-profits, museums, consultants, designers, art rags and curators you admire, plus your art friends, supporters and art heroes. Include a few inspirational superstars, as well as the unsung unknowns you love. Now, engage with your new community. This includes using a handful of well-chosen and tasteful hashtags per post to draw new eyes to your page. Take advantage of the option to respond directly to those who comment on or like your images. Be professional. If you'd like to attract a dealer, stay collaborative rather than sales-y. Instagram's purely visual platform allows image junkies to scroll through and discover new artists. Your work is democratized to a level playing field, can be assessed for quality, originality and, yes, even marketability, for those inclined. You'll be surprised who's looking.
Sincerely,
Sara
PS: "Your big opportunity may be right where you are now." (Napoleon Hill)
Esoterica: Artists thriving on Instagram report that in-progress studio-reveal images and videos are beloved by all. Do you have a particularly dramatic process that makes you a bit special and you don't mind sharing? Studio messes are also adored, as well as gallery-installation images, close-up brush-pushing and, as I mentioned before, a well-placed dog, cat, or other, which adds heart and scale to your work. Why not try it for six months or a year? If you have an Instagram success story and are open to sharing your results with others, please comment below. You can also find us on Instragram at @painterskeys.
Have you considered joining our Premium Artist Listings? Share your work with thousands of readers. 100% of your listing fee contributes to the production of The Painter's Keys. Thanks for your friendship.
"A total work of art is only possible in the context of the whole of society. Everyone will be a necessary co-creator of a social architecture, and so long as anyone cannot participate, the ideal form of democracy has not been reached." (Joseph Beuys) 
Featured Workshop
August 26, 2019 to August 30, 2019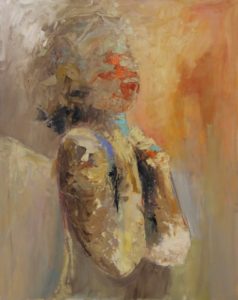 Have you ever wanted to take the essence of the figure and present it in a way that is sensual and thought provoking? When you are abstracting the figure you don't have to worry about anatomy but are more concerned about shapes, value and color.
Held at Gwen Fox's private Art Sanctuary in Taos, New Mexico.  Her 100-year-old adobe home is the perfect environment to inspire and renew your creativity.
There will be private critiques that empower, glorious breakthroughs while basking in a safe environment in which to grow as an artist.
This workshop will fill fast. Limited to 10 artists. Each artist will have their own table.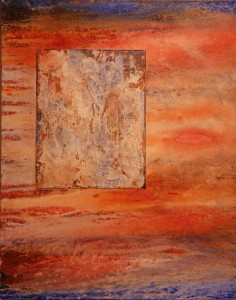 Transition
Featured Artist
Painting is my passion and joy.  My process is intuitive, though informed by good composition and design principles.  I paint what I remember, or think about, or feel, or just what comes off my hands to the brush to the canvas.  Texture and color are of primary importance to me.  I typically choose my support, texture it, select my palette, and go.  There is nothing more satisfying to me than watching paint run and move.  I love the surprises. I experiment and learn constantly.  It is a remarkable journey.  One I am pleased to share with you.