Dear Artist,
You don't need an economics degree to understand the pricing strategies of art galleries. One of my former dealers — no longer in the business — noticed that a very high percentage of gallery visitors just came in and went out. Painting sales were so infrequent he had to do something about it. Thinking price was the problem, he introduced a lot of cheaper items into the gallery — ceramics, souvenirs, knick knacks. The number of sales rose but total dollar values declined. The few "anxious wallets" who did come in simply satisfied their need with less expensive items. This situation is called "Collapsing Floor Syndrome."
On the other hand there are galleries that test the high end. This generally involves "name" and "dead" artists as well as "investment" art. Dealers may even compete with one another to see who can get the highest prices. Supply and demand play a part in this environment, but it has to be said it's good for living artists to be associated with the high-end artists. Simply stated, this implies that someday your work will also be worth more. The downside for artists who work with high-end galleries is that a gallery may lose interest in the promotion of less expensive work. This situation is called the "Sky-High Ceiling Syndrome."
There's lots of gallery talk these days about "price points." This generally implies a range of prices in a given gallery to suit all wallets. Many clients come into galleries with an idea of how much they want to spend, and it's the gallery's job to show them something in their chosen range. The variation in gallery capability in this matter is astonishing. Just as some artists have no business selling their stuff, some galleries show little or no natural talent as to how art placement works. This situation is called the "Haven't Got a Clue Syndrome."
From an artist's point of view, it's probably best when an artist's work is in the middle range of a gallery's prices — neither falling through the floor nor pushing at the ceiling. Beginning artists are better off at the lower end, while mature ones can be nearer the top. It's all to do with provenance and confidence. Ignorance of this understanding can be detrimental to galleries as well as artists. Perception of quality aside, proper pricing in a gallery and consistency across your stable of galleries is vital to your continuing to thrive.
Best regards,
Robert
PS: "The price of anything is the amount of life you exchange for it." (Henry David Thoreau)
Esoterica: What has this got to do with the joy of making art? For those of us who also choose to make our living out of our joy — everything. Without a significant cash flow, an artist simply cannot travel, grow, learn and maintain the day-to-day peace of mind to continue. It's a good idea for those of us at the creative end to re-examine gallery relationships from time to time and favour those who meet our current needs. Loyalty works both ways in all seasons, of course, but an understanding of basic economics and the wisdom to make small commercial decisions have a lot to do with keeping us happy.
This letter was originally published as "Price floors and ceilings" on October 26, 2007.
Have you considered joining our Premium Artist Listings? Share your work with thousands of readers. 100% of your listing fee contributes to the production of The Painter's Keys. Thanks for your friendship. 
"I was very embarrassed when my canvases began to fetch high prices. I saw myself condemned to a future of nothing but Masterpieces." (Henri Matisse)
Featured Workshop
August 12, 2019 to August 16, 2019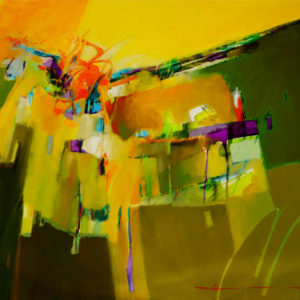 Neutrals enhance your paintings, edges provide sensuality color adds excitement and value holds the paintings together. Successfully combing these elements guarantees a painting that is dynamic.
Held at Gwen Fox's private Art Sanctuary in Taos, New Mexico.  Her 100-year-old adobe home is the perfect environment to inspire and renew your creativity.
There will be private critiques that empower, glorious breakthroughs while basking in a safe environment in which to grow as an artist.
Limited to 10 artists. This workshop will fill fast.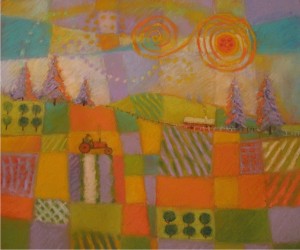 Sunrise Over the Farm #2
original pastel 15 x 15 inches
Featured Artist
Mary's interest in pastel painting began during her years at Whitworth College in Spokane, WA where she majored in art and elementary education. Though she has worked in watercolor and oil as well as calligraphy, her interest has consistently turned primarily to pastel because of the medium's potential for glowing, vibrant color and the harmony achieved in bringing together lights and shadows.