Dear Artist,
Bruno Cote is one of the more successful painters living in Baie-Saint-Paul — in all of Canada for that matter. The first thing you notice on entering his studio is the cleanliness and lack of clutter. Further, his studio has only two small windows, and on those the blinds are drawn. Bruno, 67, told me he learned the hard way that he doesn't need distractions.
Working on thin panels of Masonite or hardboard, he archives large numbers of paintings vertically in a relatively small space. Panels for field sketches have wide edges for holding at arm's length. He has a separate drying room for oils. "I found out oil is at its most dangerous when it is giving off fumes while drying, not while painting," he tells me. Two months ago he started working in acrylic, "for the first time in my life — I like it, it works fine," he says. Bruno is a big, jolly fellow who laughs a lot and speaks with a strong Quebecois accent.
The studio is on two levels, one an afterthought of the other. The lower area contains the workstation and easel. A wide table sits in front of the easel, all but preventing close work that might interfere with his exuberant, wet-in-wet style. The table contains a two-dozen-sized muffin pan loaded with pure out-of-the-tube acrylics. Around the edge of this pan Bruno has a homemade rubber gasket on which a heavy piece of transparent plastic can be placed. A few squirts from a spritzer and "it's good for a week," he says.
In the middle of the easel and rising up behind it is a brightly painted board with the cryptic letters EMTD at the top. It stands for "Enthusiasm Makes the Difference," the title of a book by Norman Vincent Peale that Bruno read when he was young. "It changed my life," says Bruno. EMTD is more than Bruno's motto, it's his primal force and method of living. I ask him how he gets enthusiastic when he isn't feeling it. "It builds up," he says. "If you don't work for a while, then you need to and you do it. I come in here and go for it. I work myself up. I work very, very fast and get a lot done for every blast. If you're not enthusiastic, it's no good."
Best regards,
Robert
PS: "All I need is the idea I can get in the sketch; then I can make it bigger." (Bruno Cote)
Esoterica: Like a lot of fine artists, Bruno comes from a sign-painter background. He has the worker's edge, and his mind isn't cluttered with rationalizations or pretense. A direct problem-solver, he has systematically mastered the mysteries of colour. Monochromatic and analogous schemes vie with the complementary, while bravura brushwork dictates energetic skies and noisy, active watercourses. Bruno has never taken a formal lesson, nor has he taught. "I can't teach it," he says, "because I go by instinct."
Bruno Cote Paintings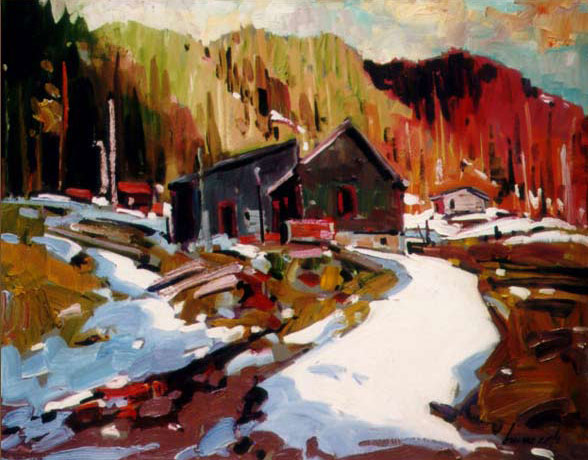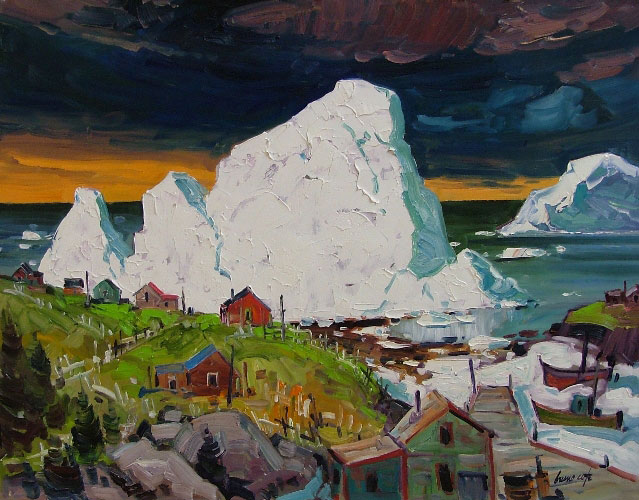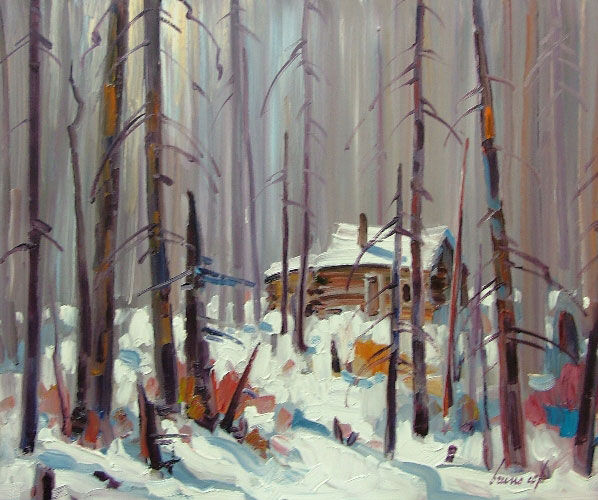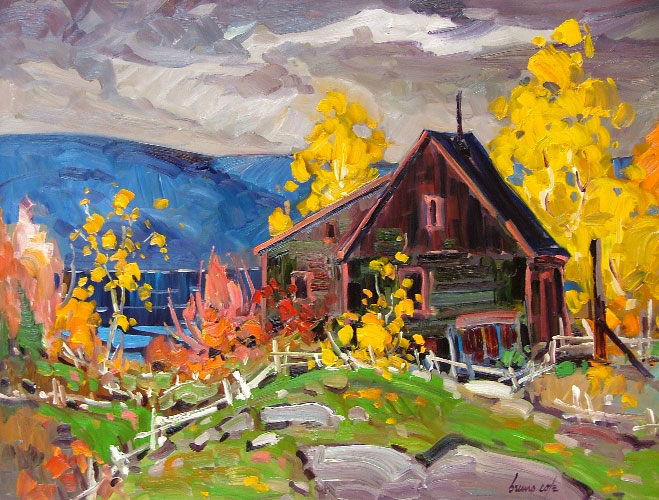 Let's be enthusiastic
by John Ferrie, Vancouver, BC, Canada

When I was a boy in Elementary School, I had a Principal named Mr. Diltz. He would host an assembly every Friday morning and at the end of the announcements, we would all chant "Let's be Enthusiastic"…It has been my mantra ever since.
Taking on the colossal task of being a recognized artist can be daunting. The contracts for fame and fortune can be something that moves at a glacial pace. Although being an artist is what defines me and it is something I do everyday, I still waiter at a restaurant. The chef at the restaurant always asks me why I am the only waiter to outsell the other waiters on a special or feature item as I outsell them ten to one. I say because I don't just list the item to a guest, I sell it and I sell it with enthusiasm!
I always say to artists when they are coming along, no matter what you are doing, whether you are showing your paintings at the Guggenheim, or making a no-foam low-fat Latte at Starbucks, do it with enthusiasm. It is only then that people will sit up and take notice of the "brand" you are trying to sell.

Engaging artists
by Dorenda Watson, Columbus, OH, USA

Recently I was involved in a sale and exhibition of wildlife art… each of the artists had their own station in which to sell their work. At the conclusion of the exhibition several artists were complaining about "lack of sales, poor advertising by the sponsor of the event, all lookers — no buyers," etc. However, several other artists had done just fine… was their art any better than the other artists? NO, NOT AT ALL!… the artists that did well engaged their clients in pleasant conversation, said "hello" as people strolled by, were active in their booth space by offering demos and working on small sketches. The folks that didn't do so well… they spent their time in the booth avoiding conversations (except while on their cell phones!) …talking to their friends but nobody else… avoiding eye contact with potential customers… essentially creating the very thing they feared… lack of sales (due to lack of enthusiasm!)
Even your worst piece of art is an occasion for enthusiastic celebration! Because it is a gift.

Freedom in clearing away the clutter
by Veronica Funk, Airdrie, AB, Canada

Funny that today you've spoken of studio space, as that has been a major focus of mine of late. I've recently moved into the smallest room in our house, without natural light for the same reason… no distractions. I've begun working smaller, also on hardboard, and switching back to acrylic from oils, as well. I also gave away much of my studio furniture and supplies, and threw work in a bonfire to clear up (a Robert Genn suggestion — extremely cathartic). I have spent the past two years clearing out clutter in my home and studio. I was feeling constrained, stressed, lost, and overwhelmed and now feel free, light, and working (excitedly) once again.

Methods for getting enthusiastic
by Phyllis Rutigliano, Englewood, NJ, USA

The quote of Igor Stravinsky, "I need to touch music as well as to think it, which is why I have always lived next to a piano" is not unlike the advice of Barbara Ueland, author of the famous little book, If You Want to Write (you can substitute paint for write as this book applies to painters also), where she advises just going to your studio to sit and hang out. Her suggestion often works for me because before long I find I'm thumbing through old work and getting new ideas. This helps to start the enthusiasm going. Another way to get excited about your own painting is to read a book about a relentless painter — history has dozens of them.

Don't think about it, just step up to the easel
by E. Melinda Morrison, Denver, CO, USA

Enthusiasm was the topic of a conversation I had yesterday with one of my artist friends. She is a very well-known painter recognized for the expressionism in her work and has a very successful career. She and I both mused how sometimes we will look at all our reference material or will be outside painting and not feel inspired by what we see. I told her what I have learned is that inspiration and enthusiasm grows. If I wait to be inspired, I would never get anything done. Sometimes it takes just stepping up to the easel and putting paint on a canvas for the inspiration and pure joy of painting to be known.

Root of the word enthusiasm
by Kristine Paton

Enthusiasm (Ancient Greek: enthousiasmos) originally meant inspiration or possession by a divine afflatus or by the presence of a god.
Enthusiasm (root – en-theos = in God) An enthusiast is a person inspired by God. Inspiration (Greek – Theopneustos = literally God-breathed). Further, when the early Christians saw someone convert to Christianity there was this overwhelming joy that followed the gift of salvation. But they had a problem; there was no word to describe this feeling, so they combined the two words (in God) creating the word (entheos) from which we get the English word Enthusiasm.

It's in the pink?
by Janet Lee Sellers, Monument, CO, USA

At the risk of seeming really naive, both you and Bruno Cote use a lot of mauve or pink in your work. Are the scenes you look at filled with pink, or is it part of your style? I remember that when I used to look at Chinese paintings of mountains I assumed they were stylized ideals of imagination. Then, a friend took photos of his Yunan visit, and behold! The mountains really were tall, slender, and individual tree-laden forms. The paintings were very true to their subject.
(RG note) Thanks, Janet. These days I feel I'm not using enough warms in my paintings. They seem to be getting cooler and duller. But that's my problem. Bruno's use of warms is based on the need for complementary colour strength. He is one of those artists for whom actuality is not as important as pictorial soundness and colour integrity. And yes, this is the root of a distinctive style.

Charlevoix inspiration
by Sylvio Gagnon, Montreal, QC, Canada

I am one of those painters who religiously travels to Charlevoix every year, spring and autumn, to paint the most beautiful scenery on the Northeastern American continent. Some people think that what I and other Charlevoix painters do is quite conservative but, for us, it is a compelling pilgrimage… like going back to the future to our French Canadian roots. Actually, we can see our spiritual genes flowing in the mighty St. Lawrence, to the sea and eventually across the ocean to Normandy and Brittany. Painting the spirit of the place is the essence of what we are after. How we achieve this is not so important. Je me souviens plays a big part in our drive and enthusiasm.

Bruno's habits ring true
by Shanti Marie, Lake Wylie, SC, USA

So many things about Bruno Cote's habits ring true. I paint small paintings as a discipline but have found the smaller paintings that work well are also many times the better designed paintings. I agree, when it works well small it will be a successful painting larger. I also have found the muffin tins work well for me. I use thick watercolor paint and place at least 37 ml or 1.25 oz into each of the mini muffin pans. The pans keep the larger amount of paint in each moist and you can place them inside gallon-size glad bags or cover them with saran, stretch and cling or even foil to keep them moist overnight. I have found the pans with an aluminum finish or Teflon finish work better than the older ones. The older pans will rust and leave bits of metal in your paint. I have also used plastic muffin tins and have found them to be too light in weight for my fast and loose style of painting. I use each pan for a specific color family and also have some pans filled with paints I use less often, like Opera.
Further, the comment about not being able to teach really hit home with me because I have found over the years it is getting harder and harder for me to teach as I am becoming more of an intuitive painter. It's far easier to teach when you just give out some rules and some instruction regarding specific techniques or tricks of the trade. It's much harder to teach something that comes from within.
(RG note) Thanks, Shanti. So many painters identified with Bruno's processes — we had a wealth of responses similar to this one. Shanti applies the idea of working with enthusiasm in her "painting a day" concept.

Don't forget exuberance
by Barbara Callow, Brentwood Bay, BC, Canada

I love Bruno's work but I think we can include exuberance as well as enthusiasm for the E's in the message (Enthusiasm make the difference). His paintings just seem so full of the love of his subject and the feeling of what he paints. We so often lose that initial exuberant feeling of what we start to paint as the painting progresses and as we work out the problems and the details. I love how he retains that freshness and emotionalism in his finished paintings.

A piece of enthusiasm
by Liz Reday, South Pasadena, CA, USA

Seeing the Bruno Cote paintings makes me want to take a break from oils and go back to painting acrylics on paper again, that "bravura brush stroke" is tantalizing and inviting. He's got that vital spark of the obsessed worker/artist, that fire, and I want it.
Let's face it, enthusiasm powers us up and sends us out in the world with our brushes and easels, painting what we see outside or in our heads — sometimes both. We have to be turned on about something to paint it day after day. We have to be in love with what we see to want to replicate it in our own idiosyncratic way, and it's that intense emotion that propels us — at least it does for me. And people pick up on that, just regular people, the kind that never collected art before but now want a piece of that enthusiasm to stick on their wall so they can feel that way too.

Dangerous while drying?
by Mark D. Gottsegen, Greensboro, NC, USA

"… He has a separate drying room for oils. 'I found out oil is at its most dangerous when it is giving off fumes while drying, not while painting,' he tells me." This is ridiculous. Linseed oil does not "give off fumes" and is not dangerous. By publishing this unedited statement you are spreading misinformation that will scare artists. Why?
(RG note) Thanks, Mark. Various oils, including linseed oil, are used in the painting process. It is in the combination with volatile thinners such as turpentine that the trouble occurs. During the "curing" of paintings, distillates enter the atmosphere and carry with them trace elements of toxic substances. Many of the reds and yellows are produced using cadmium. Flake white and Cremnitz white are made with basic lead carbonate. The cobalt colors, including cerulean blue, are made with cobalt. Some varieties of cobalt violet are made with cobalt arsenate. Manufacturers advise that care should be taken when using paints with these pigments in the working and in the drying process. Furthermore, both turpentine and odorless mineral spirits themselves can be harmful to the health if used inappropriately. Thinners made from D-limonene are also thought by some to have some potential for risk. Certainly aerosols and sprays are the most dangerous. Artists, if not scared, should at least be informed of the potential danger of prolonged exposure—even to miniscule amounts. Keep in mind that chemicals considered safe at one time were recognized as unsafe later (asbestos, formaldehyde, penta-chlorophenol, DDT, etc). In the case of toxicity while drying—and this also goes for media other than oil—the presence of odour may be a reliable indicator of airborne toxicity.

Internet at its best
by Marietta Leis, Sandia Park, NM, USA

You and your readers, bless the generosity, have been so responsive and helpful. What a resource for artists like myself who work and sometimes agonize over our work isolated in our ivory tower studios. I've felt so supported by your community of artists in their responses to my concerns. This helped my angst enormously and however this resolves or doesn't I've learned a lot for another time and mostly have felt connected. I'm taking the day off to decompress and celebrate. Tomorrow I'll look at all the responses again to decide what to do in my newly found calm and peace of mind. Internet at its best!
Archived Comments
Enjoy the past comments below for Enthusiasm makes the difference…
Red & Gold Variation
acrylic painting  
by Hilary Winfield, Portland, OR, USA
You may be interested to know that artists from every state in the USA, every province in Canada, and at least 115 countries worldwide have visited these pages since January 1, 2013.
That includes Barbara Coffeyn who wrote, "I hope you are not insinuating that people do not need formal art lessons. This person could use a few. I cannot believe that he is the most popular painter in that area. I find these paintings to be rather amateurish and gaudy."
And also Heidi Smith of Spruce Grove, AB, Canada who wrote, "I too have a motto stuck to my wall in my studio: "AIS" – Attitude is Everything. Next week I will be going for my final portfolio review for a certificate in fine arts at the University of Alberta."
And also Aaron Zacharias of Vancouver, BC, Canada who wrote, "For me, making art is almost as instinctive as breathing. I don't tend to get enthusiastic about breathing, since I am instinctively conditioned to do this all the time. Similarly I don't really think that much about painting except that I expect to do some each time I am at home and awake. I don't really associate my art with emotion, maybe because for me it comes from a deeper place of the soul than the emotions."
And also Paula Lantz of Alexandria, VA, USA who wrote, "Bruno should know that acrylics, being polymers, have a base of pure chemistry, benzene being one of those. And his painting space is small. He should have extremely good ventilation or he's no better off than using oils (lung-wise). He should not let acrylic paints stay on his skin too long, either. So: ventilate, ventilate, ventilate!"
And also Dwayne Davis of Williams Lake, BC, Canada who wrote, "I'm adding "EMTD" to my mantra. I had always believed "IITDA" was needed to make art. That was my old mantra. I believe now that enthusiasm plays a large role. Imagination + Interpretation + Thought + Debate = the enthusiasm to create Art. And then comes the action to do it. I+I+T+D=E. Enthusiasm is the beginning of the creative process."
No Featured Workshop
No Featured Workshop