Dear Artist,
I'm laptopping you from under a red sugar maple beside an old habitant cottage in Charlevoix County, Quebec. Artists of all stripes have come here for generations to paint and fall in love with the beauty and charm. The legacy continues today. The town where I'm staying, Baie-Saint-Paul, population 7000, has more than 30 art galleries and at least 100 professional painters. On some nearby roads you cannot go a kilometer without seeing a palette sign hung on a veranda and an invitation to a studio within. As many tourists and collectors are drawn to the area, some painters do very well. For Quebeckers, particularly, bringing a painting home from Charlevoix County reinforces national sentiment and cultural ascendancy.
Naturally, the visitors like to have something that reminds them of the region. Quaint farmsteads and steeple-centered villages grace rural landscapes that roll down to rounded headlands and the St. Lawrence River beyond. This motif is in never-ending supply. There are exceptions of course, with modern, experimental, figurative and decorative art represented as well. The bars and cafes ring with lively philosophy and repartee in the French tradition. It's not all about bread-and-butter.
Interesting socio-economic phenomena prevail. The sheer volume of competent painters doing the same thing encourages competitive pricing among artists who do not have gallery representation. The galleries themselves must remain competitive against the home-workers who can draw clientele with their personality and the ambience of their studios. Meeting and knowing artists has always been a feature of French culture. As in other milieus, the shy, the outrageous and the dead have gallery representation, while the living extroverts who enjoy visitors and aperitif with clients make the atelier system work. And, as usual, galleries are reluctant to take on painters who hang out their shingles just down the road.
While often stimulating and rewarding, this environment nevertheless leads to conservative tendencies and inward-looking creativity. Brave is the dealer who brings in outsiders, but it's happening in Charlevoix County. As people begin to travel farther and into unfamiliar realms, we get a glimpse into the future of our global village.
Best regards,
Robert
PS: "Education is the soul of a society as it passes from one generation to another." (G. K. Chesterton) "The trouble is, we've been taught what to see and how to render what we see." (Pablo Picasso)
Esoterica: Microcosms such as Baie-Saint-Paul can be like art schools that hire graduates for instructors. One only has to think of "The School of Pont-Aven." This town on the south coast of Brittany produced painters of related style and subject. Big cities without compelling scenery and localized motifs are more likely to look outward. It's no wonder "Japonisme" found fertile ground in Paris. Passing through a traditional gallery in Baie-Saint-Paul, I watched a dealer peering into his computer at a world of art, tugging at his tight collar. The sun is shining through the maple syrup.

Painter oblivious to the view
by Ron Gang, Kibbutz Urim, Israel

I happened to be in that area the previous summer on a trip with my family, the goal of which was to see the whales at Tadoussac (quite an experience). We came to a spectacular lookout over Baie St. Paul, and lo and behold, there was a painter with an easel set up with a small crowd of onlookers. When I got close, I saw that he was oblivious to the incredible vista stretched before him, and was doing what my sister told me was typical Quebecois folk art, a piece of which he sold while we were standing there. I must say that I was rather miffed – coming from 7 time zones away, if I had had the opportunity to set up an easel there for a day or more, I would have pitted myself against the challenge of this incredible view, which is worthy of the best landscape painters this earth has known. Yet here this guy was just using this place as a place to produce and market what some of us may call kitsch. I guess all is fair when trying to make an honest living.

More in Baie-Saint-Paul
by Phil Irish, Elora, ON, Canada

There is another event held in Baie-Saint-Paul each August. The Art Centre invites 10 artists each summer to create projects that are definitely outside the conservatism of the area. Artists come from Quebec, and across Canada. There are always some international artists as well — I've met artists from France, Argentina, and Japan. They work in all media, from painting to sculpture to video. The studios are open to the public each afternoon, allowing a broad cross-section of people to see contemporary art being created. For the public there is a generous sense of welcome and interaction… for the artists there is a good atmosphere of exchange and experimentation. The differences between the Symposium and the commercial galleries lining the street are very informative for visitors, too. I've had the good fortune to be selected twice for the event, and it played a significant role in the direction of my work each time.
(RG note) Thanks, Phil. The event I'm attending is called "10-10-10." Ten painters from ten Canadian provinces for ten days. Our efforts will go on tour in public galleries around Canada.

Further connectivity
by Marti Schmidt, Santa Rosa Beach, FL, USA

This week has been an unusually hard one for me. My new partner, who is learning to live with an Artist, and I are at odds. As I was reading Conservative tendencies I noticed in the related clickbacks Mystery of motivation and WOW, there it was, something I needed to read, and my partner too! As we had just had a long, deep conversation about expectations of art sales and continued work in my studio. It was hard for me to explain my exhaustion, after 6 months of commission work completed and my resting prior to my sabbatical to France in 2 weeks to study and work. He did not seem to think time down was necessary. This information not only explained but somehow validated my needs as this is obviously a path that a lot of us go down.
(RG note) Thanks, Marti. We put in related topics for those interested in more depth or other opinion. Readers can often find solutions to problems and gain new insights by searching these clickbacks.

Santa Fe sales go ahead anyway
by H Margret, Santa Fe, NM, USA

Bravo for Baie-Saint-Paul. They have a wonderful town not wrapped around Wal-Marts and endless TV shows. Bravo for the artists who, if they don't get into a gallery, hang out their own sign and keep going. As for conservatism, here in Santa Fe, we are inundated at times by New Yorkers or art professionals from other places who consider Santa Fe provincial. Ah, but Site Santa Fe, an "international" organization features installation shows by Anglo males (!) which are up for 3 months. The premise of these shows is that painting and sculpture meant for purchase is "old fashioned." Yet Santa Fe still sells more art than nearly any city in the world, with a population of 75,000 and over 200 galleries and 10 museums. Provincial? I think not. Any time people are using their time and resources to make things, it's a gain on that consumer culture mentality… any label is dangerous… it can put off that precious group of people we want to attract: people who like art.

Too many artists in Sedona
by Rose Moon, Sedona, Arizona, USA

I live in Sedona Arizona, another place people flock to for the awesome landscapes and art. Galleries here are very conservative and are mainly interested in a southwestern decorative motif. There are probably a hundred or more artists per gallery living here and not all of them produce southwestern art. Galleries are inclined to show non-local artists who paint within the limited confines of what the galleries feel will sell, yet the galleries seem to be hanging on by a thread. Artists have to do a lot of creative marketing to survive. There are a number of local art organizations who sponsor exhibitions, and there is an annual Open Studios event. There are restaurants that hang art and even City Hall. Living in an artist's community has given me great opportunities to meet, hang out with and study from some really accomplished people, but there are not enough walls on the planet to hang the amount of work produced in Northern Arizona, so I have taking up painting the walls in my house, my furniture and whatever I can, just to keep doing it. For income, I teach.

Two kinds of art
by Ilse Fourie, South Africa

I get the feeling that the only way an artist can be taken seriously (in my country at any rate) is by producing "intellectual creative installation art" which, to the viewer more often than not, looks like garbage displayed with a title. I practice modern art myself, and strive to go beyond the accepted boundaries and look further than what the eye can see. (I have had three solo exhibitions with a 90% sellout rate on the opening night) However, to perform an act or present an installation or painting merely for the shock value to "make people think" I have a problem with. I can think of many things I can do that will shock and make people think and talk about it, but do we have the right to call it art? Is an artist's role not to give the viewer a new reality, bring across a message and, yes, to make the viewer think? But if the language we do it with is only understandable to a few "intellectual" artists, are we not missing the boat here? Has the idea of art and execution and visually pleasing art become totally unimportant? I realise that this is not a new argument, but I thought that the art "intellectuals" and art critics would have moved on by now. Is this a global tendency or a localized one?
(RG note) Thanks, Ilse. It's a worldwide wave with a few back-eddies. Just as collectors need to perceive their own idea of quality in the art they collect, many public galleries have legitimately dropped out of fine art exhibition and have rather tested the limits of mind and taste. Human curiosity invites the exploration of new frontiers that often seems to take the form of public entertainment.

Internet as exploratory tool
by Diane Overmyer, Goshen, IN, USA

Some days I am wearing two different hats. One as an art gallery owner, and one as a producing artist. While at times the two clash, one practice I have remains steady. That is my ongoing search for art from around the world via the Internet. This is especially important to me since both my home and gallery are in rather conservative small towns. Some weeks my time may only amount to a quick run through the visuals attached to your Twice-Weekly Letter clickbacks, other weeks find me spending hours of informal research and exploration. I have several artists in my gallery that I have found via the Internet. I feel the Internet is bringing the world quite literally into sleepy and formerly conservative areas of the world. And I know that I have benefited greatly both as an artist and as a gallery owner by using the Internet as tool to view what is happening in other parts of the globe.

What drives me?
by Julie-Anne , Newcastle, Australia

I am currently doing some Fine Arts academic research at Newcastle University and I ask myself what is it that really drives me to do this? I have wanted and waited to 'be' an artist all my life. I have now, at great 'cost,' reinvented myself, defied all odds to succeed, faced down many critics and skeptics and diverted from a safe and predictable career path and 'normal' existence to 'become' what I have always NEEDED to be. Do other artists feel like this? What drives them? Why do we really do what we do? I mean, a sensible person would take up soccer, or computer technology, or finance wouldn't they? I have the seed of a personal theory but I would be most interested in other artists' observations. What is at the core of this need to create?
(RG note) Thanks, Julie. While creativity may be an innate human need in evidence from Neanderthal times, specific individual wellsprings vary. Vanity, exhibitionism, sanctuary, escape, anger, love, economics and the realization that one is incompetent at everything else are a few of them.

Off the beaten track
by Chris Tessnear, Alexis, NC, USA

I love reading about thriving artists' communities but what about those of us in areas where art is a luxury and not a necessity? How do we attract potential buyers to our art and obsession of enjoying art? I create because it's who I am and it's good therapy; so I will continue but it gets hard when there is little appreciation or support.
(RG note) Thanks, Chris. Your support need not be local. A Premium Art Listing on the Painter's Keys site could be the key to wider interest. The following note came in today from subscriber Judy Bagshaw together with her renewal check for $100. "The most fun was meeting in Hawaii some Americans who looked up my work on the Internet and then bought some paintings. Also at the Silk Purse Gallery my show went very well. I'm sure the website helped out as I had more than a thousand visitors within two weeks."

Art in a barn
by Holly Friesen, Mont-Tremblant, QC, Canada

I am a painter living and working in Mont-Tremblant, QC where we have recently formed a group of 8 painters and 2 sculptors, Les Artistes de Mont-Tremblant, in order to make our presence more noticeable within the community. Since the few local galleries are not interested in representing the local artists who don't paint in the already established "conservative tendencies" of the province, we have started our own gallery/studio. We were fortunate enough to have one of the local hotels allow us to use an old barn that is on their land. Being resourceful artists, we cleaned and repaired the barn and have created a magical venue for visitors to come and explore our art and our process. We are all dedicated and passionate about our work. We return to our own studios for the winter months but from June to Thanksgiving we use the barn as a place to connect with each other and the public. We do demos, work on communal projects, have potluck parties and introduce people to the world of art and artists in a gorgeous 150 year old barn with an enchanting forest in the back that visitors can wander through. Since Mont-Tremblant is an international resort town, we have visitors from all over the world who are transformed and charmed by this intoxicating venue. The word we hear most often declared by our visitors and guests is "inspiring," and isn't this what Art is meant to do?

Paintings won't dry
by Marietta Leis, Sandia Park, NM, USA

I'm soliciting help. I'm on an exhibit deadline and in the poltergeist hell of 13 paintings NOT drying. These are the linchpin of the show. I don't know if anyone has ever run into this problem. In 25 years it has only happened to me once before and was resolved when I put liquin over the non-drying oil. I'm working on wood formats. I used about 4-5 coats of gesso sanded. Then undercoats of acrylic — all I've done before. Then still trying NOT to use toxics I used a layer of water oils with a compatible linseed medium. That was my first non-drying episode. So I scraped and sanded and bullied all of that off down to the gesso and acrylics and painted 2 coats of oil with a medium of linseed, damar and turp (my usual) — that was ok. Then the final coat I used the medium and added some liquin for a sheen. That was NOT ok. After a week they are gummy, attracting all kinds of dust. With liquin they should have now been dried to a lovely finish. I now have to decide whether to shelve these and start over with a hefty investment of new formats. It will put me under exceptional stress. Use old work in the show that will be somewhat a disappointment to the gallerist and my vision? Try scraping again??? Any suggestions for your distressed loyal reader? I would appreciate anything you may offer.
(RG note) Thanks, Patricia. You are probably using too much slow-drying medium and that may even produce more significant problems down the road. You may have to exhibit wet. It's been done before. But, before you do, take your canvases outdoors over several days and give them a light spray with retouch varnish. This product contains mild dryers that might speed things up a bit. As usual, other readers may have wiser solutions.
There is 1 comment for Paintings won't dry by Marietta Leis

Shedding the weight of comparison
by Kittie Beletic, Dallas, TX, USA

The idea of conservatism in painting, in any form of art, doesn't work well in my world. I don't mean that I don't like traditional art. I love and admire it! I have studied it and, still, it isn't my way of expressing. No one really cares about that except me… I write it to say I used to be intimidated by traditional painting, composers, authors. It is only recently that I have shed the heavy self-imposed burden of trying to measure up to some sort of standard not set by me. When I let go of it, I found my works began to have new vision, greater freedom, were more meaningful to me and, most important, brought true discernment into my process. The first thing I discovered was how much I know! I felt affirmed and strong… strong enough to retain confidence when the next thing I discovered was how much there is to learn! Having shed the weight of comparison and the fear of not being found worthy, I stepped into a new awareness. Curiously, patterns began to form. The business of art seemed to have the same affect on me as the idea of being judged/juried. This affect, of course, says more about me than it does the business of art or a jury panel… and I share this hoping to give permission to someone who might have been bound by the same limiting thoughts. When I removed the structure of measurement of any kind, the joy returned and with it, my reason for making art! Life is an art party! Hooray!
There is 1 comment for Shedding the weight of comparison by Kittie Beletic

Assisted by a downpour
by Christine Roberts, Victoria, BC, Canada

Your letter reminded me of a similarly vivid fall scene in the Lake District of England. It was a day of mixed weather where the moist atmosphere and lightly overcast sky made the autumn leaves much more vivid. I settled down to paint in watercolour a cherry tree that had a wonderful mix of green, pink, scarlet and dark red leaves, against a misty, vague background. Having just got the tree on paper, the heavens opened into a short but torrential downpour, which drenched my painting before I had time to cover it. I let it dry and found a rather pretty but insipid version of the tree, so I painted it over. Finishing the second time the rains came again, this time I let it wash over the painting, with the result that the colours bled into the background, but retained two layers of stain. Drying it out I over-painted much more delicately and loved the result, in which the colours had many more degrees of intensity and melded gently into the background, very ethereal. Since then I have allowed rain spots, snow, sand or freezing temperatures to add a little extra texture to my outdoor sketches and paintings, I love the effects.
Archived Comments
Enjoy the past comments below for Conservative tendencies…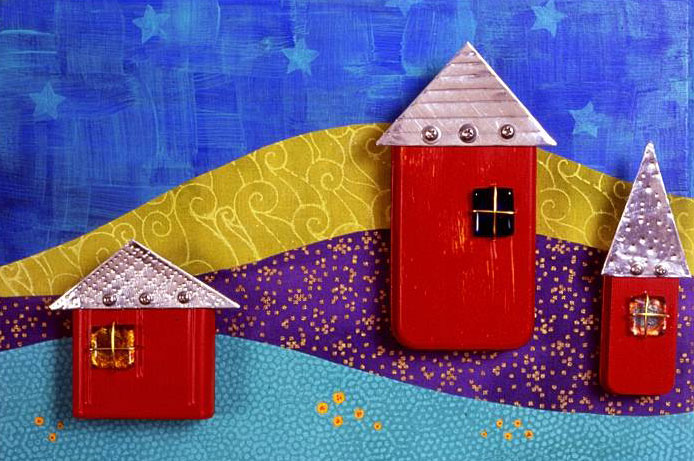 Three Houses At Dusk
mixed media painting
by Brenda Marks, Silverton, OR, USA
You may be interested to know that artists from every state in the USA, every province in Canada, and at least 115 countries worldwide have visited these pages since January 1, 2013.
That includes Dena Crain of Kenya who wrote, "Your words made me wish I was in Quebec to see the beautiful autumn colors. Kenya does not experience the change of scenery in quite the same way as does North America, and coming originally from Ohio, I do miss seeing that most beautiful time of year."
And also Sue Wheeler of Lasqueti Island, BC, Canada who wrote, "There is a dock in Gloucester, Massachusetts with a picturesque old building on it, that is called "Motif Number One" because it's so often been the subject of paintings."
And also Anoop Goyal of Sweden who wrote, "I recently had the good opportunity and fortune to read your book The Painters Keys. I'm writing this to let you know that it's one of the most absorbing, interesting and informative books I have read regarding the topic of painting. I missed to mention 'inspiring.' "
And also Claire Béranger, France who wrote, "I seize the opportunity of so many good references to the French to – at last – say thank you for the enlightenment your letters bring me. They serve two functions: They offer both fresh angles of insight and help me keep my English in good shape."
No Featured Workshop
No Featured Workshop