Dear Artist,
At the beginning of 2020, I began work on some paintings for a show scheduled to open that Spring. Everything was humming along at an intense but pleasant pace when the world locked down and the show was postponed until further notice. I put my brush in its water bucket and, along with everyone else, took a breath.
Over the next six months, amongst the global uncertainty, heartache, heartbreak and collective, aspirational redesigning of the world, work expanded to the new time allotted. In doing so, its context shifted away from its small role jostling in a hurried and cacophonic aesthetic universe bloated with fanfare and myopic and esoteric obsessions. Suddenly, work was just work again — play, discovery, struggle, breakthrough — appearing slowly in the quiet of my studio, within its own time and after a little while, allowed to signal its new meaning and purpose. I suspended my agendas for its perfection and destination and let it leak its problems, mysteries and eventual autonomy into the daily, interminable loop of simplicity and heightened tenderness that had enveloped my life with Peter.
When I first moved to New York, my Dad told me that while there were many extraordinary features to my quest there, New York was definitely full of all the wrong sounds. Now, all the right sounds were growing louder in our California garden. And at dusk, the desert sky silently exploded with the winking pinpricks of a now center-stage and unchallenged universe. Like the seismologists who reported a quieting of earthquake activity due to less global jackhammering, for artists, this year's golden period created a vacuum where another kind of battering once shook. In this void, a re-assessment of the meaning of work and creativity has twinkled and perfumed the universal human longings we've always grasped at in our strokes.
Sincerely,
Sara
PS: "There is a pleasure in the pathless woods,
There is a rapture on the lonely shore,
There is society, where none intrudes,
By the deep sea, and music in its roar:
I love not man the less, but Nature more,
From these our interviews, in which I steal
From all I may be, or have been before,
To mingle with the Universe, and feel
What I can ne'er express, yet cannot all conceal." (Lord Byron)
Esoterica: With art's new purpose, the next step is to reconcile one's outsides, in as much as we can control them, with the raised consciousness that has emerged on the inside. While growing pains are part of the deal, rarely have we been granted the collective tenderizing and pause to perform this re-org, except this time. "It seems to me we can never give up longing and wishing while we are still alive," wrote George Eliot. "There are certain things we feel to be beautiful and good, and we must hunger for them."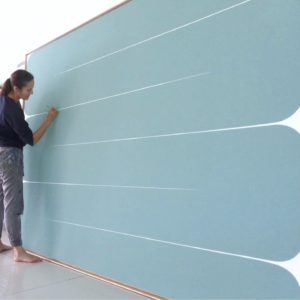 This coming Thursday, Everything Will Be Okay will open at Morgan Lehman Gallery in New York City. Like perhaps every other show opening this Fall the world over, there will be no opening and no gathering — only appointments to visit alone or with a friend, to be with a mere fragment of the abounding love that blossomed in studios this year.
Have you considered a Premium Artist Listing?  With each letter, an artist is featured at the bottom of this page. The Premium Artist Listings are a means of connecting artist subscribers through their work. Proceeds from each listing contribute to the production of The Painter's Keys. 
"Absence is to love what wind is to fire; it extinguishes the small, it inflames the great." (Roger de Bussy-Rabutin)
No Featured Workshop
Featured Artist
My statement is pretty short. I love all kinds of paintings and I think Robert Genn is Canada's finest painter. A great feature of his work are his designs — so beautifully conceived.