Dear Artist, A subscriber who wishes to remain anonymous writes, "I have often been dissatisfied with the juror of shows. I am bringing the idea of doing one show a year that would be peer reviewed to my local artist's association. My thought is that all will know that we value every member artist's opinion and seek it from them. I think it could strengthen relationships among members. If you have any time to give this some thought I would appreciate your input."
Henry Wadsworth Longfellow
) "Maintaining self-esteem ought to be your private passion. Protect that fuzzy thing that keeps an artist flying by day and sleeping at night." (
Robert Genn
) Esoterica: In our natural desire for feedback, what do we really seek, and why? A pure crit's aim is improvement. When we sell, it's called, "green feedback" — just another kind of feedback, but it counts. Artists who use grants, or put themselves before museum curators play within a closed loop. And a gentle lover might merely say, "This one's your best yet, Baby." As for juried shows, Dad once told me, "Jurors, themselves victims of fashion and the times, often pass shaky judgments." In Paul Arden's perfect little book on advertising,
It's Not How Good You Are, It's How Good You Want To Be
, he clarifies early on that a prize-giver is nothing more than a fashion-follower. A peer group of fellow travellers may be easier to stomach, and perhaps the praise is a little sweeter, but a courageous jury of one in a studio of one, bolstered only by the clapping of a nearby tail, is best. This is the most productive feedback loop of all. [fbcomments url="http://clicks.robertgenn.com/feedback.php"]
Featured Workshop: Barry Coombs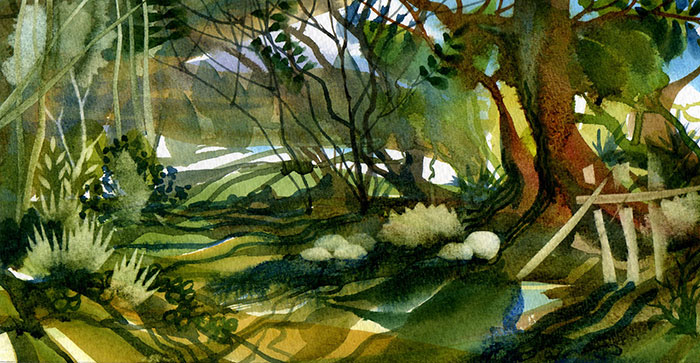 Branching Out
watercolour on paper, 9.75 x 5 inches by John Salmon, London, UK
You may be interested to know that artists from every state in the USA, every province in Canada, and at least 115 countries worldwide have visited these pages since January 1, 2013.
There isn't an artist alive or dead who hasn't tasted disappointment at the hands of someone else's negative evaluation. A special kind of risk is involved in making things, and this is what separates artists from other people. It's fair consolation — I swear this on a formidable stack of my own rejections. For many, artists' groups can be a source of mentoring and camaraderie, even when the groups themselves come with their own rejection. Groups strive to find systems for fairly judging work for the purpose of raising quality and attracting fresh members, prestige and revenue, often enlisting jurors of advanced professional standing to help out. For artists is the promise of glory on acceptance or, at worst, the need to understand that lessons can be learned from someone ahead of us. The problem is that we're not often told why we've been rejected, and so these lessons go unlearned. Peer Review is the evaluation of work by people of similar competence. The goal is the same: raise standards, performance and credibility. "The mistake, of course, is to have thought that peer review was any more than just a crude means of discovering the acceptability — not the validity — of a new finding," writes Editor-in-Chief Richard Horton of the British medical journal "The Lancet." Peer review — a cornerstone of the scientific method — struggles with bias, plagiarism, specialty, fragmentation, politics, ego, bungled methodology and style. Just your average night at the local arts council. Sincerely, Sara PS: "Not in the shouts and plaudits of the throng, but in ourselves, are triumph and defeat." (