Dear Artist,
Not so long ago, I moved to New York to paint the paintings I had always longed to paint, with the dream of showing them in a place where they needed no explanation. I found a small loft behind Canal Street, between the fish market and the counterfeit handbags, and began filling my new-old studio with the largest paintings I could muster. There was no purpose or goal to it other than to see if it could be done.
With a loft full of work, I looked around for places to show and submitted a small watercolour to a works-on-paper exhibition at an artist-run space on Greene Street. It was for charity. About a year later, an art dealer emailed to tell me she had bought the painting, and that she might have clients for more. I took a livery cab to Park Avenue and when the elevator opened, I saw my tiny watercolour nestled salon-style between a Richard Serra oil and a Warhol silkscreen. "I have these big ones," I suggested, "maybe you might like to try them, too?" She delicately deferred, but began slowly building a small following for my watercolours.
One day, out of the blue, the dealer called in a bit of a jam. Could I bring my largest paintings uptown, as soon as possible? I un-stretched the largest of the canvases and slid them into the back of a cab. By nightfall, I'd re-stretched and installed them in her Classic 6. A few weeks later, they were laid out in a glossy magazine pictorial, out of the studio and into the world.
Sincerely,
Sara
PS: "If you build it, they will come." (Phil Alden Robinson, Field of Dreams)
Esoterica: A decade later, I was looking for a new workspace in the up-and-coming rat's nest north of Madison Square Park called NoMad. The broker thought it could be convincing if our party looked at the neighbour's configuration. Behind a frosted-glass storefront burst a labyrinth of dust and oil-soaked cubicles, makeshift and leaning fire-hazard-style with massive canvases thick with a lifetime of paint. It was as if the artist had worked the same 30 canvases since he moved in, two decades earlier. As we moved from room to room, he switched a breaker to spotlight each set of mammoth works, imposing like monoliths in a one-person sanctuary. I thought of the songwriter Gillian Welch, who wrote about what we artists all understand as the compulsion to create without an end in sight — all of us filling up our rooms — in an act of, at times, unrequited love and always unyielding hope.
"Everything is free now
That's what they say
Everything I ever done
Gonna give it away
Someone hit the big score
They figured it out
That we're gonna do it anyway
Even if it doesn't pay" (Gillian Welch, Everything is Free)
The Letters: Vol. 1 and 2, narrated by Dave Genn, are available for download on Amazon, here. Proceeds of sales contribute to the production of The Painter's Keys.
"Opportunity is missed by most people because it is dressed in overalls and looks like work." (Thomas Edison)
Don't quit before the miracle happens." (Fannie Flagg)
Featured Workshop
June 2, 2019 to October 5, 2019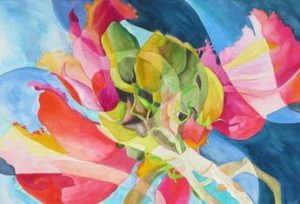 Ghost Ranch, NM, Darla Bostick, (June and October) workshops Relax, enjoy, create! Floor to ceiling studio windows. Ghost Ranch Lodging/meals provided. See why Georgia O'Keeffe loved Ghost Ranch. Each workshop/retreat is different. The June workshop jumps into something new every day—textiles and dye, printing, paperworking and more! The October workshop is for painters—collecting photography for reference, watercolor, ink, acrylic and more–using watercolor paper, clayboard, etc! Daily demos, slide presentations, door prizes and optional happy hour. The website has all the information. Darla's been teaching at Ghost Ranch since 2008… isn't it time for you to see why?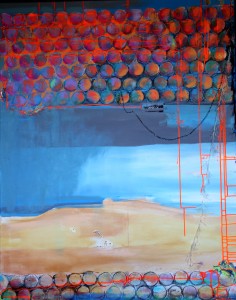 Hurricane
Featured Artist
I'm a contemporary painter who loves to travel the world over finding pictures to paint, and capture on photo…check out my website and travel with me on my blog "The Traveling Artist Blog."  http://www.meljosieart.com