Dear Artist, Yesterday, Ryan Foster of Tampa, Florida, wrote, "Between my Bachelor's degree and my Master's I've spent the last 7 years in school. Now that I'm done I feel pressure to get a job (to pay rent), but all I want to do is paint. How do I convince my newly married wife that it's possible to make it as an artist? What were your first couple of years out of school like? How did you get the ball rolling?" Thanks, Ryan. Great questions — many answers. First, things were just as tough then as they are now. Second, in my case I was not particularly good at a lot of things, but, like you, trying to get good at painting was almost an obsession. Third, I wanted to be independent and self-employed at all costs. Getting a job would have sucked up my energy and signaled defeat. I just knew that I could do better than the crummy paintings that I was doing at the time. While disheartened, I was not the type to give up. Unattached, I was on my own. After an excellent formal education, I still didn't know what I was doing. I felt I was on the outside looking in. Everybody was doing better than me. In a small rented studio I gave myself six months of concentrated, anti-social energy. I painted like a banshee — over six hundred paintings — anything that crossed my mind. My work seemed to form up and I gradually winnowed my preferences. With a naturally upbeat, non-angst nature and a fondness for peace and tranquility, my work began to show it. This was not calculated — just lucky. Finally desperate, I took my work around to several galleries — got rejected, then barely accepted by one. At the time, my work was just marginally "marketable." From the very beginning I fought the idea of being a "local artist." I tried very hard to get my work into respectable galleries in other cities, other countries — even at the expense of local markets. Never one to sign contracts, I ran my life like a mutual fund — diversified dealers, varying results. I was strategic. I planned ahead, penciled in projects. At no time did I ask for grants, nor did I enter contests or competitions. Looking back, my stance of 'simple worker' helped maintain my fragile self-esteem. My life was one of calculated studenthood. Still is. Inevitably, I fell further in love with painting. I so much valued and enjoyed the daily challenge of looking and seeing, contemplating and painting. Still do. Best regards, Robert PS: "A wish has been defined as a 'goal with no energy behind it.' Hope is not a strategy." (
Brian Tracy
) Esoterica: When I was about thirty-two I came to understand that my mutual fund concept was the right one. Walking to the mailbox one morning I found three separate checks from three separate galleries in three separate cities. I came back down to the house and told my new wife, Carol, that I didn't think money was going to be a problem from now on. And it hasn't.
Follow your heart
by Caroline Simmill, Morayshire, Scotland I returned to Scotland to become an artist; I saw for the first time who I was and what I wanted to do with my life. I had the sole companion of my sheep dog at the time and enough money to last me two years. I focused on painting everyday starting early and working late into the night. I felt so sure I could make it as I had a plan of action to paint local beauty spots and where I wanted to sell them. My work was less than average so I had to work very hard to improve my skills. I did manage my goal. It was very hard work and I was isolated at times only knowing a few people, but I felt in my heart it was the way to go. I am still as committed and still selling paintings in galleries here in the highlands sixteen years later. I believe if you have a vision and are determined to work towards it then it will happen, but it is not easy, it is hard work. You need to follow your heart and to use your brain to work hard every day. But I still believe it is worth it. It becomes a way of life.
There is 1 comment for
Follow your heart
by Caroline Simmill
Perseverance is key
by Paul deMarrais, TN, USA There is no formal way to enter the system of the art marketplace. The only way this fellow will convince his wife he can make it as an artist is to go about doing it. It will be a struggle. He'll likely have to 'get a job' and paint on the side. If truly obsessed, he will continue to paint and improve to the point where his work is marketable. He might develop the teaching end of it, if that is a natural talent. Hopefully he will have some business acumen and self-confidence to handle the inevitable bumps and bruises to the ego that all artists face. Perseverance is key. If he's truly serious, the drive to make it as an artist will push him up the mountain. If not he'll wander about in the valley and become discouraged. The odds are against one making a living as a painter.
Quality ensures success
by Diane Overmyer, Goshen, IN, USA I wish I had read your strategies when I first got out of school. One of the most interesting things you wrote is that you have never entered art competitions. I've been told that is the way to get noticed by galleries, but when I really think about it, it really has only been the quality of my art that has gotten me into galleries. Great advice! I suddenly feel very free with the thought of no longer worrying about what competition is coming up when, and no longer having to deal with all of the time and effort of entering them. There are one or two major competitions that I will still enter, but I really do think that I would be much happier simply putting all of that time and effort into my art! My one bit of advice for Ryan is to have patience. It might happen in the near future or it might be years to be able to really earn enough money to support the family in the way he wishes to, but if he continues to follow his inner voice, success will come!
There is 1 comment for
Quality ensures success
by Diane Overmyer
What a blessing!
by Yonnah Bezalel-Levy, USA I am 66 now and feel much younger indeed because of the choice to pursue an art career from the age of 13. After attending three undergraduate schools majoring in art the whole time, I ended up teaching after my junior year. I decided to teach art after that as well, so I went on after birthing two children to get my MAT from the U of W. I really just wanted to do art only, but the kids grabbed me when I was only twenty and I ended up teaching and going to school and having babies in my twenties… all creative activity. That was before and during the hippie revolution. When my children reached school age I found my niche in the wildlife circuit in the NW and did paintings and bronze sculptures of birds, especially raptors. At age 36 after a very difficult divorce I ended up in Israel and once again started from scratch in a new side of the world with an entirely different culture and language and religion. I was asked to write a five-year goal plan and I did just that, outlining the steps I would take to be an international artist, not just a local one. It was only a few weeks later that the opportunity to travel to Israel via NY, and Paris came up and boy did I grab it. That was thirty years ago and my second husband and I met in Jerusalem and are now celebrating our anniversary. We have been living in the States the last thirteen years and are planning to go back and forth more often because I just retired from teaching art to do it full out. I am hardly known internationally but have sold to people around the world and I am not such a known entity in my Pacific NW origins either, but my husband and I have been blessed to be able to do our lives in the arts and share our love for them and still survive. What a blessing that is.
Start by teaching what you know
by Sally V. Smith, Houston, MS, USA In regard to the artist who graduated and then wanted to know what to do, I would suggest that offering private, group art lessons might help to pay the bills while allowing plenty of time to paint on one's own. A group of 5-10 is okay — 5 being the best size but, if you have room, up to 10 is doable. The biggest problem might be finding the space and the way to advertize. You can use the local newspaper, give talks to local groups, or you can start painting in your area and have some business cards or flyers ready to pass out.
Who supported you?
by Mark Hofreiter, Orlando, FL, USA So, from, say, in your twenties to 31, how did you pay the electric bill, the mortgage or rent, the water bill, the food bill and on and on? How were the tens of thousands of dollars it takes to live on, gotten while you, at the beginning, earned a few thousand at most in a given year? Even if you were a fine painter within 6 months, it takes time, years in some cases, to develop a following and in the meantime, who supported you? That is what I think this, I assume, young man and especially his bride wants to know. (RG note) Thanks, Mark. This is what you and hundreds of others wanted to know. I'd just like to clear it up that I wasn't a fine painter in six months — that implication of mine was inaccurate. I improved in six months — enough so that I became a borderline artist in a few better galleries. To live I flipped the odd antique car for a profit, occasionally got free meals, lived frugally and put in my 10,000 hours. Miraculously, I supported myself. For a better explanation see letter and response below.
A painter's progress
by Frances Poole, Desert Hot Springs, CA, USA First, I enjoy and look forward to your very intelligent, informed, entertaining and energetic bi-weekly letters. The information you give artists is always informative and mostly spot-on correct. But in this case, I can't agree with the way you responded to Ryan. I think you left out important remarks and facts. The six months you focused to get into the art market is remarkable, commendable and excellent advice but there is one big difference between you and Ryan. He is married and, as you pointed out, you were single. You didn't go any further with that. Perhaps you didn't want to get into the touchy subject of marriage and responsibilities. I, on the other hand, have no problem saying what needs to be said; the first mistake Ryan and his wife made was to get married before he had some financial success. Unless they had a contract and agreed he could pursue his art career, he should expect to carry his share of the financial burden. They need to have a talk about that. It looks like neither one of them thought things through before tying the knot. The advice may be too late for them, but may help others planning on going down the same path. Furthermore, I don't agree that things were as hard back then as they are now. First, after the big boom of the '80s, herds of artists rushed to get art degrees so there are far more artists now, therefore more competition in a tighter than ever art market. Second, many galleries are not taking on new artists in this economy. Third, the cost of living is much higher; rents, gas, food, art supplies and everything is more expensive. Nothing but the great depression can compare with our current economy. Artists used to get really cheap studios to live-work in. That simply is not true anymore unless someone is willing to take over abandoned buildings and that isn't always safe or wise. Fourth, in the '80s it was common to have sold-out shows; that doesn't happen much these days. Art sales are much slower and less frequent, even when one is lucky enough to get a show. Also, even if you get a gallery and the work doesn't have rapid sales, the work will be shipped back. It doesn't matter if the work is good or not. Lastly, you left out three vital bits of information: First, you had to live on something for six months. You rented a studio and painted 6 hundred paintings. What were rents back then? -cheap I bet. Did you live on savings? With your parents? A rich uncle? Second, you told us you were 32 when you realized you could make it financially, but how long did it take to start making sales after those six months you outlined? These are very important facts to share so that young artists can make educated decisions and to be realistic about what they need to do to survive. Third, what did you do after the six months? Get a job or continue to only focus on your art; and did you make enough sales to live on? There is a big gap between those six months and your financial success, or is there? (RG note) Thanks, Frances. You brought up a lot of interesting and valuable points that I'm sure our readers will find useful — and to be clear, it's true I glossed over some things that should have been included. To be sure, I had been painting all along since I was very young — even when I was going to University taking History and Psychology. I even had some one-man shows — the results of which were spotty. Off and on till about age 32 I took in a few industrial design, advertising and illustrating jobs. I inherited nothing, nor did I live on the avails of a rich uncle. I didn't figure out how to paint in six months, it was just a valuable part of my self-education. But I never had a standard type of job. If you were looking for one thing to put your finger on — I was prolific. Still am. Can't get it stopped.
What of your wife's dreams?
by Kathleen Sauerbrei, Crossfield, AB, Canada I think what is important here is how will you, Ryan Foster, support yourself here! Who has footed the bills these past seven years? Yes, while it is a good thing to be able to follow your dream, relying on your wife (I assume this is what has happened these past years) may not be fair to her. Seems she has enabled you to follow your dreams already. Who is paying the debt of these past years of education? Now it is your turn to say, "I will do this and you can follow your dreams now." You need to come up with a viable plan that benefits the both of you and make it work. Dreams are wonderful, but in order to follow them we must be able to stand on our own two feet to walk the path. How can you in all conscience say that your dreams will only come true if your wife agrees? This is your dream, not hers, and you must find a way to make it work without her involvement now! We all have dreams; do you know what hers are?
There are 2 comments for
What of your wife's dreams?
by Kathleen Sauerbrei
Doing well by doing good
by Mike Jorden, Osoyoos, BC, Canada I had the privilege of attending the Robert Genn presentation to the Triptych art show in the Okanagan valley of British Columbia this week. Hearing you in person talking about tips for painters was like reading your twice-weekly letters but in closer proximity. The most important message I got from your talk, however, was not another "painter's key" but your incredible personal generosity. I am told you did not accept a fee for your presentation, offered two additional prizes for the competition and once again freely shared your knowledge and experience gained in a lifetime of making art. For those of us who enter competitions, knowing that even though it is a game it can be extremely competitive, you reminded us not to take ourselves too seriously. That in the midst of the striving we are a brotherhood and sisterhood of artist-practitioners and in sharing our gifts with one another we enrich ourselves as well as our fellow competitors. Doing well by doing good.
Archived Comments
Enjoy the past comments below for Those first few years…
Featured Workshop: Jeremy Lipking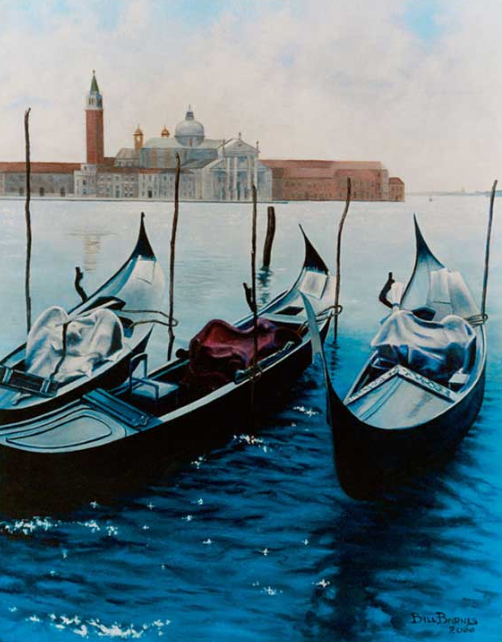 Blue Venice
oil painting by Bill Barnes, FL, USA
You may be interested to know that artists from every state in the USA, every province in Canada, and at least 115 countries worldwide have visited these pages since January 1, 2013. That includes Moh Sliemann of London, UK, who wrote, "I have taken an injection of your optimism." And also Marvin Humphrey of Napa Valley, CA, USA who wrote, "The top priority as a married man is to provide for his wife, and children when they come. The major cause of Vincent Van Gogh's demise was lack of love in his life."