Dear Artist,
In the good old days, students in art schools were provided with simple plaster forms. The sphere, pyramid and cube were the basics. Subjected to various types of light, simple drawing skills were tested and developed, the subtleties of light and shade, cast shadows, core areas and reflected light began to be understood. It was not a bad idea. Nowadays these objects often gather dust in forgotten cupboards. The avant-garde doesn't demand them, the naive don't think they need them.
In the beginning there was drawing. But drawing can be as awkward as stretching a coat-hanger around the edges of a form. While drawing can be beautiful and expressive in itself, the trouble with drawing is that it's time consuming and it doesn't tell you much. This is where an understanding of form comes in. It has to do with light, halftone and dark — patches of tone that when properly placed give a convincing idea of volume and shape. Here are a few ideas:
For many artists, form comes easier when it's not too well drawn — or not drawn at all. Form is "found." It's found by looking at the work in progress (often with half closed eyes) and patching together swatches of tone that go together to describe what you want to see. At my easel I often think of the old sculptor's advice: "Just chip away everything that doesn't look like a horse." Trying to draw out complex and repetitious forms such as piles of boulders tumbling down a Rocky Mountain slope can send you in for a lobotomy. Right now I'm using a broad, big-brush suggestion of the general area. For most of us, this is a better place to start. In a minute your eyes, working perhaps in collusion with your reference material, either at hand or canned, let you see what can be made out of this and that. Light, halftone, dark. Halftone, dark, light. Like magic, form materializes. There's nary a line in sight. And when it can't be realized, leave it, eat your bagels, come back later.
Best regards,
Robert
PS: "Lines as edges kill a sense of form." (Paul Brandford) "There are forms that can only be seen when you are near a painting, others only appear when you are far away." (Robert Henri) "Form, form, form." (Joe Blodgett)
Esoterica: Look for a moment at the forms in your current work. If, in your opinion, more form would be desirable, try to "form them up" from the greatest of all reference — your mind's eye. It's a matter of finding out what you already know. Great things can happen when you know your spheres, pyramids and cubes. Then you can truly say: "I can wing it."
This letter was originally published as "Form them up" on July 22, 2003.
Have you considered a Premium Artist Listing?  With each letter, an artist is featured at the bottom of this page. The Premium Artist Listings are a means of connecting artist subscribers through their work. Proceeds from each listing contribute to the production of The Painter's Keys. 
"I haven't the slightest idea what art is, but to be a painter is something of which you have to prove." (Wayne Thiebaud)
Featured Workshop
September 12, 2020 to September 17, 2020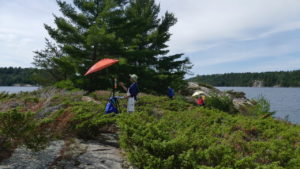 The Killarney are of Ontario is in what is called the 'near north'. The landscape is wild and rugged. Giant granite cliffs plunging deep into the glacial lakes. There are no roads leading to our painting locations. We travel by a large, sturdy pontoon boat. This is a self-catered retreat. You bring your own provisions and cook your own meals in our fully equip cabins at a northern camp. Our instructor, Keith Thirgood, has been teaching artists his own unique approach to painting for over 12 years. Learn how to find order in the chaos, control your colours and create paintings that work. Learn modern colour theory, values, shapes and lines, what makes for a good painting. This retreat is suitable for beginners wanting to learn to paint in a fun, outdoor location, as well as more experienced studio artists who want to try plein air, plus artists who are looking to loosen up and paint in a more post-impressionist style. To find out more and register, please visit www.wilsonstreetstudios.com
Featured Artist
Candace studied at the Ecole des Beaux Arts in Angers, France but it is her travels in the deserts of Africa and Oman, Antarctica and the Arctic, and sacred sights of Machu Picchu and Petra that serve as her true place of learning. A desire to combine these experiences with a deeper understanding of her own spirituality has provided the underlying focus and inspiration for her paintings.