Dear Artist,
One of the most engaging aspects of Greyhound, Tom Hanks' new film about the 1942 Battle of the Atlantic, is the toothsome machinery of Hanks' Fletcher-class destroyer and the near-seamless chain of command protocols of his crew. The film tells the story of a U.S. Navy Commander on his first wartime assignment — shepherding a multi-national escort group to defend a convoy of merchant ships coming under attack by German U-boats. An imperfect and inexperienced leader relies on his responsibility, his crew and the instincts of a single sonar operator while out of range of protective air cover for five days in an area in the Atlantic, called the "Black Pit." While there have been more artful and character-driven films on the subject, Greyhound is still a reminder of the power of problem-solving, how much making it up as we go along plays into the outcomes of our stories and how important executive function is to "winging it."
Executive function is a set of mental skills that includes working memory, flexible thinking and self-control. Sometimes called "the management system of the brain," these skills are used to learn, communicate, relate to others, work and manage life. Difficulty with these skills, like trouble focussing, following instructions or managing emotions, are often associated with cognitive challenges, ADHD, autism and addiction. In art, executive function is what switches on when we're learning to paint, composing, making assured creative decisions, planning work in sequence, managing studio dynamics and problem solving. Like when hurling depth charges into the open sea, it's best to take into account where you think the submarine will be, how much fuel you have and the exact moment to dodge the incoming torpedo. It may, at times, be impossible to plan, but kicking into gear these three main kinds of cognitive skills is likely a good first start:
Non-verbal and verbal working memory: The ability to keep something in mind and then use it.
Cognitive flexibility: The ability to think about something in more than one way.
Self-control: The ability to ignore distractions and resist temptation.
In addition to these are the super-skills of reflection and self-awareness, processing speed and being able to do all of this stuff while emotionally aroused — like being on a battleship, say. Called "hot executive function," this super power is worth practising at the easel, while thankful that the object is simply the limitless human expression called "art" — and not life or death in the freezing, midnight mid-Atlantic.
Sincerely,
Sara
PS: "I throw a spear into the darkness. That is intuition. Then I must send an army into the darkness to find the spear. That is intellect." (Ingmar Bergman)
Esoterica: Executive function can be developed and improved over a lifetime, though it's often first assessed when we're in grade school. Similarly, cognitive processes can be adversely affected by life events, special needs, illness, trauma and other factors. In the Stroop Test, used by psychologists to measure reaction time between congruent and incongruent stimuli — names of colours, printed in that colour, appear in a list and the subject is asked to read the list aloud. A second list then appears, where the colour names are printed in the wrong colour. The test measures the delay in reaction time — called the "Stroop Effect" — the time it takes to read aloud the incongruently-coloured, colour names. If you're still with me, you can take the test on the University of Washington's clunky website, here. Researchers are currently using the Stroop
Effect to measure regions of the brain involved in real-world interferences, like texting while driving.
The 2020 film Greyhound, released on July 10, is available to stream on apple tv.
Have you considered a Premium Artist Listing?  With each letter, an artist is featured at the bottom of this page. The Premium Artist Listings are a means of connecting artist subscribers through their work. Proceeds from each listing contribute to the production of The Painter's Keys.  
"We only have our nervous system to paint." (Francis Bacon)
Featured Workshop
July 31, 2020 to August 5, 2020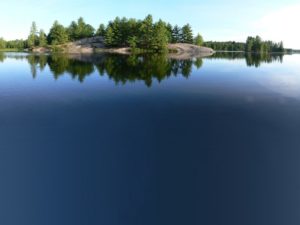 This retreat is an homage to early pioneers of plein air painting. We canoe-in and camp, paddling every day to our painting locations. This is a self-catered trip. We provide the canoes, life jackets and instruction. You bring your own provisions, tents, etc. The scenery in Kawartha Highlands is fantastic. Bald rock faces, sparkling lakes, majestic trees. Every direction you turn is another painting. Your instructor, Keith Thirgood, has been camping and canoeing all his life, and teaching artists his own unique approach to painting for over 12 years. Learn how to find order in the chaos, control your colours and create paintings that work. Learn modern colour theory, values, shapes and lines, what makes for a good painting.
If you need advice on the camping portion of the retreat, we have you supported. Even brand new canoeists have no trouble with this gentle adventure. This retreat is suitable for beginners wanting to learn to paint in a fun, outdoor location, as well as more experienced studio artists who want to try plein air, plus artists who are looking to loosen up and paint in a more post-impressionist style. To find out more and register, please visit 
www.wilsonstreetstudios.com
Featured Artist
Christine Hanlon, whose work has been compared to that of Edward Hopper, creates 'urban landscapes which quietly exude atmosphere.'