Dear Artist,
Tania Bourne wrote to ask if it's possible to hold down a day job and build her career in art at the same time. The question keeps turning up. Here's my take on it:
There seems to be some argument for the idea that the more you do — the better you do. There's also the idea that if you want something done soon and well — you ask a busy person. That said, the practice of art requires a sort of tranquil contemplation as well as energetic execution. How do you pull off tranquility and energy after a rough day in the office or the frazzle of traffic?
Some people have done it. Perhaps they were cut out for it. I'd say that in most cases they taught themselves some tricks: Start by taking better charge of yourself by giving power to a new, stricter self-manager. For the span of the project, reassess priorities and sacrifice other time-consuming activities. Don't look to holiday time; rather allocate a daily, uniform art time — before or after the day job. It was said that Mary Roberts Rinehart, the novelist, a nurse by day, became successful by setting the alarm clock to 3 AM. You may see yourself walking around like a zombie — but that's only your failure-mechanism excusing you from the adventure. Send your mission statement into the nubs of your soul. When you arrive at your art-station, begin immediately. An unbelievably useful and simple tactic is to start squeezing paint before you know what's going on. It seems some artists do this automatically — as if they are in a dream. Fill the whole work-period, no matter how brief, with work. Learn to move some of your creative contemplation to your commute, or your bed. Give the brilliant and reliable "Goddess of Sleep Repair" something to work on. Ideas and solutions will materialize and you will have more than enough reasons to continue your progress.
Best regards,
Robert
PS "If you believe in what you are doing, then let nothing hold you up in your work. Much of the best work of the world has been done against seeming impossibilities. The thing is to get the work done." (Dale Carnegie)
Esoterica: Another useful tool is "GTS — Get to signature." Signing permits movement on to the next project. Putting "paid" to a work frees the mind, gives a sense of accomplishment, and triggers growth hormones. Growth means eventual success. "The dictionary is the only place where success comes before work." (Mark Twain)
This letter was originally published as "Part-time artist" on July 3, 2001.
Have you considered a Premium Artist Listing?  With each letter, an artist is featured at the bottom of this page. The Premium Artist Listings are a means of connecting artist subscribers through their work. Proceeds from each listing contribute to the production of The Painter's Keys. 
"Work is love made visible." (Kahlil Gibran) 
Featured Workshop
August 19, 2020 to August 21, 2020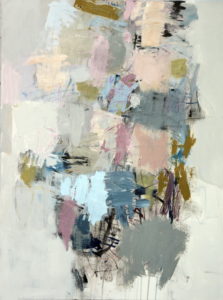 Have some experience painting, but want to explore the elements of non-objective painting in more depth, increase your confidence and creative intelligence? Boldly Abstract 2 is for you.  As in Boldly Abstract 1 we will cover aspects of color, composition and mark making however through a series of more challenging exercises meant for those with more painting experience. Learn how to fix an unsatisfying painting.  We will share our extensive knowledge of the art business with you, covering such topics as the mechanics of running your own art business, applying to galleries and the ins and outs participation in art fairs.   
August 19, 20 and 21
9 am to 4:30 pm
$950  Bring a friend and save $50 each.  Take both workshops and save $100
https://artbycat.com/page/1-Workshops-Prints.html
Featured Artist
My statement is pretty short. I love all kinds of paintings and I think Robert Genn is Canada's finest painter. A great feature of his work are his designs — so beautifully conceived.