Dear Artist,
I recently read about a new online platform where every artist shares in the proceeds of sales. The site itself collects a 10% commission to cover hosting. The selling artist receives 60%, the other 30% is shared amongst everyone else. Like a traditional gallery, you can only participate if you're invited. Like a traditional artist collective, the intention is to offer a more equitable and sustainable way to survive.
Now that we've all been tenderized by a global pandemic, it might be a good time to re-evaluate existing systems. You don't even need to join a group you may have no way of jockeying an invitation to in the first place. Instead, gather your own group of friends, share the cost of hosting a website, collate contacts and commit to some grassroots marketing. After all, an artist collective is nothing more than a group that works together under its own management, towards shared aims. If you like, you can purchase materials in bulk, buy advertising, rent exhibition space, set themes, work collectively, share an aesthetic and even gather behind a cause or belief. Eschewing an explicit hierarchy in favour of shared ownership, risk, benefits, status and profits can reset a model that often infantilizes artists into one that requires agency, empathy and personal and collective responsibility — something most of us, regardless of whether or not we're thriving in the current system, are doing anyway.
As the backbone of the ancient sculpture workshops around the quarries of Carrara and the basis for the new plan to free painters from the medieval craftsman guild system in pre-revolutionary France, the art collective model still holds water on 2020 pandemic Earth. And now, free of the constraints of "In Real Life" exhibitions, new collectives can be truly global.
Sincerely,
Sara
PS: "Come, come, whoever you are.
Wanderer, worshipper, lover of leaving – it doesn't matter,
Ours is not a caravan of despair." (Rumi)
Esoterica: Can effective collaboration be learned, or is looking out for each other already the collective instinct of humanity? Artists are often characterized as loners, individualists, competitive, reeking of ego-force, creative autocrats, or just les enfants terribles, yet we are the translators, architects, shapers and guardians of our culture — our group. If you're considering a collective, be clear about your goals and the spirit of the endeavour. In late 2019, the four artists shortlisted for the Turner Prize — Lawrence Abu Hamdan, Helen Commack, Oscar Murillo and Tai Shani — turned themselves into a four-person collective in order to win as a group, "in the name of commonality, multiplicity and solidarity – in art as in society." As a result, the artists split the £40,000 prize and exposed the absurdity of the value system in art and the existence of such a competition in the first place. "We believe that, grouped together, such practices become incompatible with the competition format, whose tendency is to divide and individualise," said Commack in a speech on behalf of the artists. "Placing in contention the issues in our work would undermine our individual artistic efforts to show a world entangled. The issues we deal with are as inseparable as climate chaos is from capitalism."
Have you considered a Premium Artist Listing?  With each letter, an artist is featured at the bottom of this page. The Premium Artist Listings are a means of connecting artist subscribers through their work. Proceeds from each listing contribute to the production of The Painter's Keys.  
"We were the product of austerity. We graduated into a recession. Coming together was about trying to refigure power relationships. Recognising that, at a certain moment, the traditional rules don't apply any more, so there's nothing to lose in trying something different." (Architect Jane Hall, of the artist collective Assemble)
Featured Workshop
August 14, 2020 to August 16, 2020
A 3 day Non-Objective Painting Workshop with Cat Tesla and Julie Schumer
in Santa Fe, New Mexico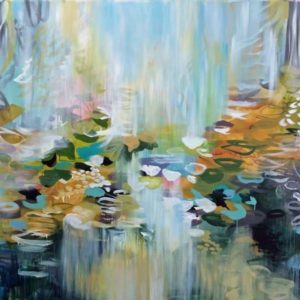 Explore and develop your personal voice in the inspirational environment of Santa Fe.   We will explore composition, color, value and how to work on multiples at the same time.  Find your own signature with different mark making tools and learn how your marks enliven your paintings.   Learn how to harmonize any palette, move from analysis paralysis to painting success and to trust your artistic choices. This intensive 3 day workshop is perfect for the beginning artist who has some experience using acrylic paint.
August 14, 15, and 16
9 am to 4:30 pm
$950  Bring a friend and save $50 each
https://artbycat.com/page/1-Workshops-Prints.html
Featured Artist
Gardens are my enduring inspiration, and getting to the heart of the flower, my passion.