Dear Artist,
Yesterday, Charlotte Hussey wrote, "I'm not a painter, but a poet. I'm writing more and more about nature. I've just returned from the woods near the Vermont border where I was working on a sequence of poems for a tree alphabet. Do you have any tips for working in nature? With trees in particular? I'm doing drawings of the trees I've identified, just to feel them better and to get away from always having to rely on words. I think drawing them makes me take their shapes into my body more and helps me feel them more deeply."
Thanks, Charlotte. The painter Peter Ewart used to say, "To be alone with nature is to be one with nature." I find it valuable, in solitude, to anthropomorphize natural objects, including trees. This means to attribute human characteristics to them. Trees of different species, for example, droop in sadness, empathize with one another, pray to the sky, take joy in the wind. Some trees reach out, others are smug or private, still others are exuberant or voluptuous. Understanding trees is a vocation in itself and your twin approaches of both sketching and writing is a good way to find their potential.
A painter or a poet would do well to look at what Vincent Van Gogh had to say about trees: "They are constantly occupying my thoughts," he wrote in 1889. Van Gogh's cypresses, for example, twist, curl, and sinuously flicker like candles in the Mistral — the northerly wind of southern France. Like an upside-down explanation point, they punctuate. "As beautiful in line as an Egyptian obelisk," wrote Vincent, "A splash of black in the sunny landscape." Anyone who has ever painted in Provence knows the value of the cypress as a compositional ploy. Vincent's olive trees, on the other hand, are angular and anguished, as if hurled to the ground like so many jacks.
More than anything trees are metaphors. Firmly rooted, genuinely patient and content, willing to undergo insult and humiliation, they also open themselves to all manner of creatures and make a home for many. These oldest of living beings have nobility in every leaf. They bring warmth to the northern cabin, and shade to the southern traveler. Daily, they do the breathing for our increasingly fragile planet. If they were to disappear, we would soon be dead. To honour trees is to grasp life.
Best regards,
Robert
PS: "I think that I shall never see
A poem lovely as a tree."
(Joyce Kilmer)
Esoterica: How to Draw Trees by Frederick J. Garner is just one of the many excellent references available. Also, field sketching with an identifying guide-book gives the joy of private discovery. The idea is to claim the anatomy and spirituality for yourself. Our eyes, when united with our hearts, make one terrific organ. It seems to me that Vincent had no guide but the trees themselves (and a profound admiration for Velasquez). That was enough.
This letter was originally published as "Trees" on July 15, 2005.
Have you considered a Premium Artist Listing?  With each letter, an artist is featured at the bottom of this page. The Premium Artist Listings are a means of connecting artist subscribers through their work. Proceeds from each listing contribute to the production of The Painter's Keys. 
"Look at the earth crowded with growth, new and old bursting from their strong roots hidden in the silent, live ground, each seed according to its own kind… each one knowing what to do, each one demanding its own rights on the earth… So, artist, you too from the deeps of your soul… let your roots creep forth, gaining strength." (Emily Carr)
Featured Workshop
September 14, 2020 to September 17, 2020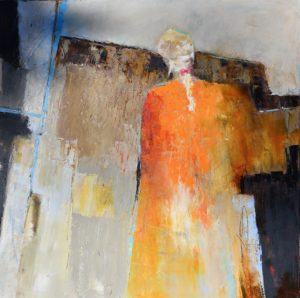 Painting Deep From the Heart
You know your paintings are good but you want them to be great. You want to be able to connect to a deeper source within you and then put that onto your canvas or paper.
To become aware of your depth, calm and genius that lives within your heart.
You will discover ways to go within your heart and soul in order to tap onto that special energy that is yours and yours alone.
This workshop will be a live virtual event. I will be there with you during the entire four days. I can't wait as I am excited. Please email me if you have any questions….gwen@gwenfox.com
September 14 – 17, 2020, Location…Online
Register here: https://gwenfox.com/retreat/painting-deep-from-the-heart/
Featured Artist
I am a painter. I am delighted to be a painter.