Dear Artist,
Recently, a group of art conservators were discussing the removal of monuments. "As a person invested in culture," said one, "I have really conflicted feelings." "Every public monument is an instrument of power," said someone else. "Let's put them in a museum with blurbs about their re-examined context," said another. "Like the Berlin Wall, watching them tumble is terribly exciting," said another. "But," said someone else, "the sculptural rendering of that horse's flank is magnificent!"
As artists, we are perhaps a little more open to the ephemeral nuances of permanence. How long should art be meant to last? Especially when built in the service of a particular agenda. The totem poles of Canada's West Coast First Nations, for example, were carved from red and yellow cedar to commemorate ancestors, cultural beliefs, to recount legends or signify clan lineages or notable events. They were always intended to eventually return, through environmental forces, to their earthly source. And the architecturally hybridized Mosque–Cathedral of Córdoba in Andalusia, built by the Moors in 784 and re-purposed by the Catholic church in 1236, is, among many other houses of worship in Spain, an accidental monument to the shifting needs of power bodies in a centuries-old flux.
Here, in my studio, I'm beginning to think I may just be another casualty of the industrial complex: my art hinges on building material objects to be coveted and sold as commodities. I coat them with UV protector preservatives, archive them in my computer database and aspire for them to gather dust in a museum — my own kind of house of worship — my own narrow monument to power. Maybe, the sign of our civilization evolving towards its highest self can be found in more humble cultural expressions: land art, gatherings, acts of brotherhood and sisterhood, remembrance, performance — art that is not artifact at all.
Sincerely,
Sara
PS: "No permanence is ours; we are a wave
That flows to fit whatever form it finds" (Hermann Hesse, The Glass Bead Game)
Esoterica: When I was 22, my Dad and I drove from Vancouver to Kingston for my graduation from Queen's. When we got to Letellier, Manitoba, he pulled over, saying, "This is where Grandma and Grandpa were interned during the Second World War. Let's call them to say 'hello.'" I stepped out of the motorhome under the shadow of a grain elevator that had the word "LETELLIER" written across the top. I looked around for a marker, a plaque or some kind of acknowledgement to the 22,000 Japanese Canadians, including my mother, then two years old,  and her three month-old baby brother, who were relocated from the coast of British Columbia to sugar beet farms and other work camps across Canada. Their homes, businesses, fishing boats, vehicles and personal belongings were confiscated and sold to pay for this upheaval. A deportation campaign began in 1946, and it wasn't until 1949 that the remaining Japanese Canadians were granted freedom of movement within Canada again. I surveyed the town of Letellier on my bike. I saw no monument. I called my grandparents. Without a hint of bitterness, my grandmother, Kimie Shimozawa, then living with my grandfather, Kohei, in Delta, B.C., told me tenderly of her memories of their time spent there. In 1988, Prime Minister Brian Mulroney delivered an apology and paid reparations to Japanese Canadians, one month after President Ronald Reagan made similar gestures in the United States.
Have you considered a Premium Artist Listing?  With each letter, an artist is featured at the bottom of this page. The Premium Artist Listings are a means of connecting artist subscribers through their work. Proceeds from each listing contribute to the production of The Painter's Keys.  
"No man ever steps in the same river twice, for it's not the same river and he's not the same man." (Heraclitus)
Featured Workshop
August 31, 2020 to September 3, 2020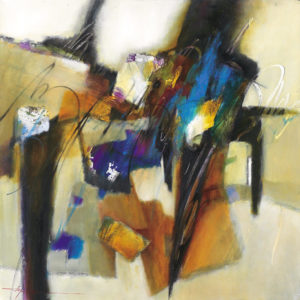 Powerful Design, Sensual Edges put Together with Exciting Color
Design is the foundation of any painting and you want your paintings to have powerful designs filled with exciting color. In this course we will discover designs two hidden meanings around where you put your center of interest plus how to use neutrals to make your paintings glow and finally add sensual edges that are the soul of the painting.
This workshop will be a live virtual event. I will be there with you during the entire four days. I can't wait as I am excited. Please email me if you have any questions….gwen@gwenfox.com
August 31 – September 3, 2020, Location…Online
Register here: https://gwenfox.com/retreat/powerful-design-sensual-edges-put-together-with-exciting-color/
Featured Artist
Shawn's paintings evoke the feelings of the West Coast, its shores and islands, ponds and lakes.