Dear Artist,
A woman wrote recently and told me she was unable to paint because a neighbour was "using some sort of Weed Eater or Leaf Blower." Pressed for time, I wrote her a quick note quoting Confucius — "An inconvenience is an unrecognized opportunity." I suggested she get a headset to close out the annoyance and tune in to Chopin. Then I started thinking about my inbox with all the excuses people give for not painting. With a little digging, I was able to find a few choice ones: "I ran out of yellow ochre." "I saw ants in the studio." "I was too hot." "I was too cold." "Somebody broke into our house and stole the TV." "Our Jack Russell, 'Jack Russell' had to go to the vet." "This day next week my sister-in-law is coming." "I can't think of anything to paint." "My brother is moving out." "I'm overtired from sleeping on the floor." "My art teacher died." "I had to help Dad with his walk-in bath." "I couldn't find my sketches from last year." "My brushes are in too poor shape." "My Pontiac worries me; it needs replacing." The excuse, "I was fooling around with The Painter's Keys search engine and it used up all my time," was already taken.
While all the excuses listed above were interesting, "This day next week my sister-in-law is coming," seemed overly loaded with possibilities. Have you any idea how golden a pre-sister-in-law week can be? The anticipated sister-in-law may be Jabba the Hutt (quote: "Spasteelia a bunkadunka") with drool and a voice that shatters glass, but the eternity before her arrival may just turn out to be the most fantastic week of your life.
To a butterfly, a week is a lifetime. Annoying as all these impedimenta are, they shouldn't bother folks with internal drive. Internal drive is the forge of productivity. In all self-starting activities where end results are dependent on you and you alone, procrastination is the default mode. You can pretty well always find a reason not to work. But like that headset mentioned above, there's practically always a solution if you want something badly enough.
Best regards,
Robert
PS: "There is no waste of time in life like that of making explanations." (Benjamin Disraeli)
Esoterica: The natural fears that go with original creativity can be neutralized by simple ruses: Get started on your work before you have a chance to think why you shouldn't. Think of those who have real interference — like militia knocking on the door. If necessity is the mother of invention, the only thing stopping an invention may be self-sabotage. Self-sabotage is a negative habit that persistently stymies the joy of testing our will. "The most pernicious aspect of procrastination," says author Steven Pressfield, "is that it can become a habit. We don't just put off our lives today; we put them off till our deathbed." Henry David Thoreau put it in stronger words: "Despair and postponement are cowardice and defeat."
This letter was originally published as "Sixteen reasons why I won't paint today" on July 15, 2011.
Have you considered a Premium Artist Listing?  With each letter, an artist is featured at the bottom of this page. The Premium Artist Listings are a means of connecting artist subscribers through their work. Proceeds from each listing contribute to the production of The Painter's Keys. 
"The artist is nothing without the gift, but the gift is nothing without work." (Emile Zola)
Featured Workshop
August 17, 2020 to August 20, 2020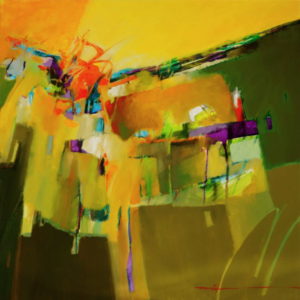 Abstracts From the Ground Up 
So you want to create abstracts but you haven't a clue where to start.
Abstracts From the Ground Up takes you from the very beginning…how to find your designs, so you are NEVER without a design, then how to develop this design into a finished painting that is totally yours.
This workshop will be a live virtual event. I will be there with you during the entire four days. I can't wait as I am excited. Please email me if you have any questions….gwen@gwenfox.com
August 17 – 20, 2020, Location….Online
Register here: https://gwenfox.com/retreat/abstracts-from-the-ground-up/
Featured Artist
A professional painter in both watercolor and oil for over 35 years, I have been creating plein air workshops in Europe for artists to join me since 1996. Plein air is one of the most exciting methods of painting, and I teach a very easy to learn way of capturing the light quickly, that any artist can apply to their own work during our adventures to Europe. Travel for artists is a great way to immerse yourself in painting and make great advances in your techniques by watching other professionals work, and by sharing your own ideas with other artists we all grow! Authentic locations, such as a 12th Century Castle in Ireland, a French Maison in the countryside of France, or an Italian Villa in an historic hilltop village in Italy are carefully chosen. We want our artists and non-painting guests to feel relaxed and at home, with en-suite bedrooms, excellent chef prepared cuisine, and convenient transfers to painting and exploring locations so you can be where you want to be to create. Join me on our next exciting journey!