Dear Artist, A woman wrote recently and told me she was unable to paint because a neighbour was "using some sort of Weed Eater or Leaf Blower." Pressed for time, I wrote her a quick note quoting Confucius — "An inconvenience is an unrecognized opportunity." I suggested she get a headset to close out the annoyance and tune in to Chopin. Then I started thinking about my inbox with all the excuses people give for not painting. With a little digging, I was able to find a few choice ones: "I ran out of yellow ochre." "I saw ants in the studio." "I was too hot." "I was too cold." "Somebody broke into our house and stole the TV." "Our Jack Russell, 'Jack Russell' had to go to the vet." "This day next week my sister-in-law is coming." "I can't think of anything to paint." "My brother is moving out." "I'm overtired from sleeping on the floor." "My art teacher died." "I had to help Dad with his walk-in bath." "I couldn't find my sketches from last year." "My brushes are in too poor shape." "My Pontiac worries me; it needs replacing." The excuse, "I was fooling around with the Painter's Keys search engine and it used up all my time," was already taken. While all the excuses listed above were interesting, "This day next week my sister-in-law is coming," seemed overly loaded with possibilities. Have you any idea how golden a pre-sister-in-law week can be? The anticipated sister-in-law may be Jabba the Hutt (quote: "Spasteelia a bunkadunka") with drool and a voice that shatters glass, but the eternity before her arrival may just turn out to be the most fantastic week of your life. To a butterfly, a week is a lifetime. Annoying as all these impedimenta are, they shouldn't bother folks with internal drive. Internal drive is the forge of productivity. In all self-starting activities where end results are dependent on you and you alone, procrastination is the default mode. You can pretty well always find a reason not to work. But like that headset mentioned above, there's practically always a solution if you want something badly enough. Best regards, Robert PS: "There is no waste of time in life like that of making explanations." (
Benjamin Disraeli
) Esoterica: The natural fears that go with original creativity can be neutralized by simple ruses: Get started on your work before you have a chance to think why you shouldn't. Think of those who have real interference — like militia knocking on the door. If necessity is the mother of invention, the only thing stopping an invention may be self-sabotage. Self-sabotage is a negative habit that persistently stymies the joy of testing our will. "The most pernicious aspect of procrastination," says author
Steven Pressfield
, "is that it can become a habit. We don't just put off our lives today; we put them off till our deathbed."
Henry David Thoreau
put it in stronger words: "Despair and postponement are cowardice and defeat."
Art more important than the falling sky
by Kat Corrigan, Minneapolis, MN, USA As a working artist I find myself acting as a cheerleader of sorts at times for friends and clients — and often it is more to simply listen to why we can't work than any issues with the work itself. I gave a talk last night at an exhibit of some of my recent work and it was all about me and my life and my own little problems that have stymied me in my work. The fact is that my art has actually saved my life often! But I had to be the one giving it priority — it has to be more important than that Leaf Blower, or in my case last night at my talk, in the continual beeping of someone's i-phone set on some alarm that they didn't realize and didn't recognize. It wasn't until I was finished speaking and we were mingling that I got close enough to her to hear the noise coming directly from her purse. It was pretty funny.
Highly distracting studio
by Janet Spreiter, Lahaina, HI, USA Ants in the studio? That's it? My studio features a living tree, ants, dogs, cockroaches and termites in profusion, geckos, centipedes, very large cane spiders, plus rats fighting in the ceiling and sometimes in the open. I like to think of it as an indoor petting zoo. The hotel across the street has a crew of employees they arm with blowers, hedge trimmers, jackhammers, drills, tile cutters, you name it, and they are busy 9-5, weekends included. Of course, this same hotel is bristling with copious noisy tourists and rental car alarms day and night, not to mention a fair supply of drunks and derelicts passing between the free meals at Salvation Army and the beach access across the street (sleep on the beach and enjoy refreshing beverages with pals on the sand). Conveniently for all, there is a bar named Spanky's that closes at 2am beside the hotel. My studio walls are cunningly propped up so they don't collapse from termite damage. The ceiling has patches and holes where my husband has fallen through when sweeping the roof. Fortunately, the tarp covering the roof has saved his neck more than once. The roof leaks into large buckets – or misses altogether – when it rains, which is thankfully not very often. When it does rain, it is torrential and the floor goes underwater. Real painters can ignore just about every kind of distraction devised by mankind.
There are 5 comments for
Highly distracting studio
by Janet Spreiter
Polishing the silver
by Leonard Skerker, Ann Arbor, MI, USA Have you heard the expression "polishing the silver"? A Prof. (not of art) told me of the classic story of the PhD candidate writing his thesis who was getting nowhere (typical) so his wife said she would take the kids away for the summer so he wouldn't be disturbed. When she returned the house was immaculate and he boasted how perfectly he had polished the silver (thesis unfinished, of course). Also, referring to painting, drawing, etc., as Work may be a clue to the delaying. Maybe a shift (small? huge?) to calling it fun, pleasure, a delight, would remove the barrier. Or maybe the opposite… maybe seeing it that way is an unacceptable self-indulgence, so if it were a mandatory job it would stimulate immediate attention. Puzzling, what?
There is 1 comment for
Polishing the silver
by Leonard Skerker
Not needing a break
by Terry Mason, Sarasota, FL, USA Yesterday, I was out painting with friends. They were all talking about "needing a break from painting." I wasn't saying anything. One asked, "Terry, do you ever need a break from painting?" I said that actually I started to get twitchy and a little difficult if I had not had a brush in my hand in 48 hours. I was told I was obsessed. All in all, I would rather be obsessed. Saves time trying to figure out anything about breaks. How long should they be? What should I do instead of paint? What if I don't want to paint for a long time? (Oh my, the guilt!) Fortunately, I don't have to worry about these things. I've been diagnosed with painting obsession. An excuse for never taking a break. There is always a painting in my head. So I am painting even if I am not in front of the easel. This sometimes makes me a poor conversationalist. This sometimes makes me boring… but not inside my head where I am perfectly happy indeed. Last year I struggled with how much time I actually had to spend on social media. I handled this by saying I wasn't quite ready so I could paint instead. I don't think this excuse will last forever. Too bad.
There are 3 comments for
Not needing a break
by Terry Mason
The Daily Painter
by Lisa Daria Kennedy, Hull, MA, USA I'm a young adult cancer survivor so I have a persistence to make sure every day matters. I'm also a daily painter and have not missed a day of painting in 780 consecutive days (including Christmas). Daily painting has become a reminder that every day can bring with it reason. My optimism and perception have become part of the process of creating each day without reservation or excuse. You can't have the good without the bad. The finished painting represents a consistently positive and stabilizing presence of my view of my immediate surroundings. After two years of painting every day I've no intention of stopping. I paint because I live and breathe and others who had young adult cancer would not go on to. You couldn't have stated it any better, "to a butterfly, a week is a lifetime."
There are 11 comments for
The Daily Painter
by Lisa Daria Kennedy
Painter compulsive after losing job
by Kate Pethoud, Modesto, CA, USA Since I became involuntarily unemployed almost three years ago, I paint. I paint and I play with clay, and when I'm not playing with the clay, I'm painting it… and then I switch off and play with water colors and soft, smooshy pastels whose colors would not let me pass them by when I was in the art store. They bellowed to me until I came back around the corner from the masking fluid and stared at me until I counted all the singles and change I had in my purse to see how many of them would accompany me home that day. It was precisely four, burnt orange, sage, turquoise, and Navajo reddish brown. They remind me of New Mexico. I will put off dishes, I will put off cooking, I will put off laundry, I will put off eating… and if I have things to do during the day, which I often do, I will stay up until I'm falling asleep because I'm rather addicted to color and watching it move across paper. I've fallen asleep with a brush in my hand and a strange line across the paper… but I never understand those who can't make the time. I don't feel the need to talk so much when I paint. I don't need to fill up the space with words when colors can convey so much better.
There are 2 comments for
Painter compulsive after losing job
by Kate Pethoud
Men have the better deal
by Ortrud K. Tyler, Oak Island, NC, USA Male painters seem to be able to drop everything anytime and go and paint whenever they want to, either because they live by themselves or have a wife who, among other things, keeps the real world from their studio door. They don't seem to have a problem choosing their avocation over whatever else may have a right to claim their time and energy. If they are professional, many times their wife keeps the books, guards the phone and just makes it possible for him to do what he does. Rarely have women painters that opportunity, if they are married. Most juggle family life, other life and painter's life, not because we want to but — we are good at multi-tasking. I noticed over the years, that many successful women artists who truly make it their career, to include teaching, traveling, holding workshops regularly are divorced or never married. They may live in relationships, but the understanding is clear. My art comes first – live with it. It would be interesting to find out if the statistics bear this out.
There are 15 comments for
Men have the better deal
by Ortrud K. Tyler
Art group stimulates action
by Barbara Youtz, New Harbor, ME, USA When I moved to a new area and didn't know more than two people, I joined art groups. The benefits were wonderful. These groups allowed me the opportunity to be with other artists as well as to paint. In the first year I had about 50 new friends and was painting 2 or 3 days a week as well as painting in my studio each afternoon during the week. Because of the outdoor sessions, I learned my way around my new abode and it got me into places I would have never seen on my own. On some painting days I would awake and think it's too cold or I don't have the energy today but because it was already planned I would go and have a marvelous day and some decent paintings. At the end of my first year in the new area with my painting groups I remember remarking to someone… "This has been one of the happiest years of my life." It does sound a bit over the top, but I really felt that way.
Residency motivates painter
by Barbara Pace, Washington, DC, USA I have a solo show coming up in October and have been stressing about it for at least six months. It often takes me many weeks to finish a canvas and time is running out. I decided the best way to keep temptations at bay and immerse myself in my art was to apply for a residency at a historic studio nearby that is open to the public. The application was successful, and I paint from 10-5:00 every day this month with only minimal interruptions from the people passing through the studio. I can have a half dozen oil paintings going at once, allowing some to dry when I don't want to work wet into wet. The studio serves as a large exhibit space as well, so I am enjoying the inspiration of working amid three dozen of my paintings hanging on handsome old stone walls — a joy to liberate them from brown paper wrappings in my basement. The time obligations of a residency provide a ready excuse to decline requests and reschedule other obligations. I get up eager to head to the studio, not sighing wistfully and letting other things get in the way.
Get out of your own way
by Lynne Bryant, Hartville, WY, USA Artists can be worse than non-artists when it comes to excuse making and self-sabotage. I know my skills in this regard are absolutely outstanding. In January, motivated to make more art this year than last, I had a couple of paintings that didn't go as smoothly or quickly as I would have liked. The solution? Switch day jobs and go from a set schedule to one that is all over the map, from 45-50 hours a week to 70+. Then, sit back and start making excuses to myself. Worst of all, I began to wear my brush, tears as well as smears of paint on my sleeve by embarking on a journey of exasperation and self-pity because I don't have enough time to sit and paint for more than 90 minutes at a time. The answer was to get out of my own way. First I had to look at the solution for this self-defeating workaholic behavior and believe that it would change. I knew I had resumes out for easier work and better schedules, and I believed, really believed, that my situation would change. Earlier this week my belief in change, in possibilities, in being able to get out of my own way to paint more while maintaining a job, came to fruition in a way I could not have expected and I am essentially being given 15 more hours to paint rather than spending them working my job. To help rid yourself of excuses and start defining what you want as an artist, you don't start by defining what you think you want. You start by asking yourself what you are not willing to do and not willing to sacrifice for your art. I have gone on record previously as saying that I refuse to do without some of the necessities of life in order to paint. I refuse to be homeless or to starve for my art, but painting naked is doable. So, if the question is a $25 tube of paint or new jeans, I buy the paint. Know your boundaries and stop making excuses.
Archived Comments
Enjoy the past comments below for Sixteen reasons why I won't paint today…
Featured Workshop: Pacific Northwest Art School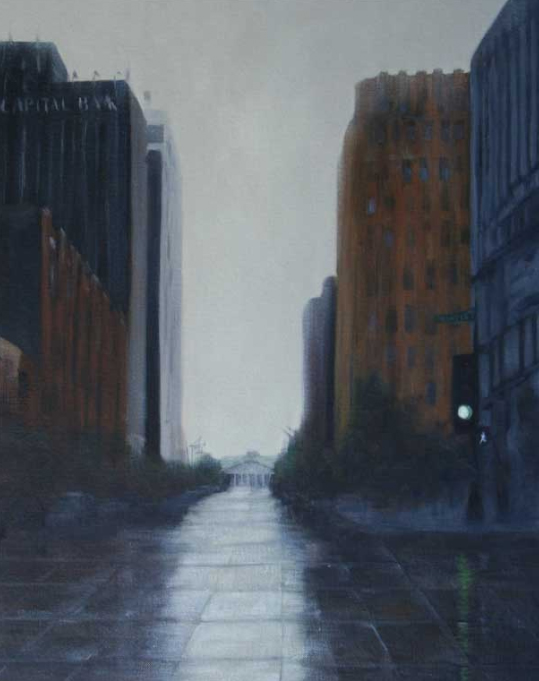 Fayetteville and Martin Street, Raleigh
oil painting, 20 x 16 inches by Lori White, NC, USA
You may be interested to know that artists from every state in the USA, every province in Canada, and at least 115 countries worldwide have visited these pages since January 1, 2013. That includes Barbara Timberman who wrote, "Creative blocks are optional!" And also Kate Lehman Landishaw who wrote, "Don't overlook Julia Cameron's book
How to Avoid Making Art
 (with Elizabeth Cameron's seem-to-be-trying-for-Thurberesque illustrations) — she's got the Pontiac covered: 'Obsess about how you will pay for your car repairs, until you are too scared to go anywhere. This will help limit your artistic horizons nicely.' Sometimes, sarcasm can out-sing self-destruction…" And also Steve Day of Blandon, PA, USA, who wrote, "Annie Dillard,
The Writing Life
: A fellow writer was asked by a student, 'Do you think I could be a writer?' 'Well,' the writer said, 'Do you like sentences?' She remembers a similar conversation with a painter friend. 'I asked him how he came to be a painter. He said he liked the smell of paint.' You don't begin with a grand conception, either the great American novel or a masterpiece that will hang in the Louvre. You begin with a feel for the nitty-gritty material of the medium, paint in one case, sentences in the other." And also Tom Semmes of Bethesda, Maryland, who wrote, "I took a meditation retreat. I had a dream on my last night there where I was walking through a large city, carrying my unframed canvases under my arms. I walked up and into stylish luxury apartments, the kind of digs where I imagine art buyers live. I felt exposed and embarrassed for my amateurish work and wished I wasn't there. I awoke with a sense of 'why bother.' "