Dear Artist, It turned out our fishing guide, Steve Woodley, was a veteran of the animation industry. These days, he helps folks catch salmon. Steve was there when cell animation was breathing its last, when 12 to 24 separate drawings had to be made for every second of screen time. In the long periods between fishing action we talked about the dying arts, the loss of skill-sets and the current prevalence of computers. We talked about getting ideas for cartoons and the fine art of drawing, frame by frame, jumping mice, hopping rabbits, and complicated maneuvers like three-fingered hands tying shoelaces. "How did those animation guys get so good?" I asked. "By putting in the hours," Steve said. "Some were natural geniuses, but they, too, had to keep doing the drawings and perfecting their art." We were fishing two lines. Things were slow. "Fishing is a lot like painting," I put in. "Yep," he said, "The more you stay at it the more likely you'll drag something up." We'd been on the water for four hours without a strike. I pointed out that in painting you always get something, good or bad, and you're never completely skunked. I was thinking I should be outta this dumb boat. I remembered the times I'd abandoned fishing and crawled out onto the rocks and tried to make something of my life. I remembered how I had some hard-earned techniques that were sort of like baiting and setting a hook or testing a line. Holding a fishing rod to advantage is like holding a brush. Choosing from a range of coloured lures from a fishing box is like choosing a palette. I remembered the early thrills of seeing shiny fresh paintings come up from some mysterious deep. The July sun was hot, the inlet languid, the tide ebbed and flowed. Other boats drifted by, their occupants laid back, silent, their eyes focused on the tips of their rods. We could have gone to sleep. Then the reel went off with a whirr. It was a well-hooked sulker. She took a lot of line and went down deep. It was half an hour before we saw her. She was a masterpiece. Best regards, Robert PS: "Time, time — that is our greatest master! Alas, like Ugolino, time devours its own children." (
Hector Berlioz
) Esoterica: To get real results you need to put in the hook hours. In his recent book
Outliers
, Malcolm Gladwell gives what he calls the 10,000 hour rule. It seems it takes that many hours to get good at anything — doctor, lawyer, animator, musical composer. "Success has to do with deliberate practice," says
Gladwell
, "Practice must be focused, determined, and in an environment where there's feedback." Steve and I agreed that we should never stop honouring those who take the time and trouble to get good at what they do.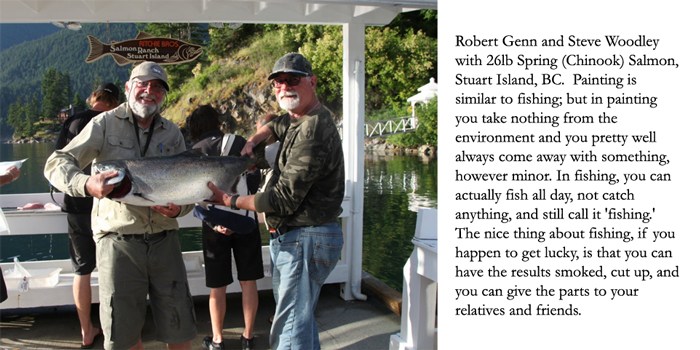 Reward of the painting process
by Rebecca Stebbins, Santa Barbara, CA, USA I am holed up in a remote valley in southern France to paint — no shortage of inspiration here in the Cevennes and plenty of 'hook hours.' And yet, yesterday I struggled for hours with a small oil of the shady creek here, with decidedly mixed results. In the end, though, the results were only positive, as whether the painting is a success or not, I had the pleasure and challenges of the process and the education of the experience. The act of painting is a master in itself. Thanks as always for sharing and articulating these experiences.
Miles on the brushes
by Jim Oberst, Hot Springs Village, AR, USA I started painting relatively late in life, about 7 years ago, after I retired from a technical career. I'm now 68. Awhile ago I became convinced that I needed to do a lot more painting to speed my improvement — I needed more "miles on the brushes." I considered the daily painting routine, but it seemed a bit too aggressive for me. So about a year and a half ago I committed to painting an extra, small watercolor every week. It has really helped. I still paint my larger paintings, but these small ones keep me going all the time. I post them on a
special website
and have sold quite a few to folks all over the world. We artists can do a lot of things to improve our art, and one of them is surely putting more "miles on the brushes."
There are 2 comments for
Miles on the brushes
by Jim Oberst
This one hurt
by Mary Diman, Madison, WI, USA You will no doubt be surprised at the number of negative responses you get to this post. Many people do not respect those who brag about killing for fun. I am one. Since I have been married, first to a fisher (trout), and then to a hunter (deer, turkey, ducks), I am familiar with the challenge, the thrill, and the well-marketed camaraderie that they relished. Both saw the quiet stalking of their prey in a sort of spiritual light. Neither needed the meat. But the anger that will be apparent in your incoming messages really reflects a sadness and a higher respect for your catch, than for its killers, under the circumstances. Think of the odds that your elegant salmon beat every day of its life: predators, starvation, and injury. Then it met you. Your photo shows two spoiled and bored guys who really should know better, given their proclaimed sensibilities, and a beautiful dead creature, that apparently fought hard to save herself. It is arrogant of you to call her a masterpiece. I don't see the connection between fishing and painting no matter how tedious they may sometimes be, nor how pretty the end result. One celebrates communication, the other is cruel. I usually enjoy your posts, but this one hurt.
There are 7 comments for
This one hurt
by Mary Diman
Wise idleness
by Janice Vogel, Senden-Bösensell, Germany I enjoyed your letter about fishing and seeing the photo of you with your catch. My Dad was an avid fisherman whose favourite line was, "I hope God isn't a salmon." Despite his efforts, he couldn't get me out on the boat very often for fishing because I always felt I couldn't "waste" a whole day just sitting around, trolling. I simply had too many other "important" things to do. How mistaken I was. While sitting at my father's bedside during the final days of his bout with cancer, I was reading the book
Defiant Spirits
 about the Canadian Group of Seven by Ross King. On page 55, King describes the Canadian painter and folk hero Tom Thompson out on a two month painting excursion into the remote Canadian hinterlands north of Lake Huron in 1911. King writes, "Thompson clearly fished for reasons beyond putting something on his dinner plate. Fishing was part of his communion with nature, an escape from civilization into …a more salubrious and elemental world. Fishing seems to have exemplified for Thomson what the novelist J. Macdonald Oxley had called "wise idleness," which he defined as "quietly absorbing something through the eye or ear that for the time at least drowns the petty business and worries of life." It is probably revealing that Thomson took with him on fishing expeditions a copy of Isaak Walton's
The Compleat Angler
, first published in 1653. Presumably he read the book not for Walton's advice on how to keep live bait or catch trout at night, but rather for the work's poetic celebrations of the contemplative life. The book is subtitled
The Contemplative Man's Recreation
, and for Walton the "art of angling" was a "pleasant labour which you enjoy when you give rest to your mind and divest yourself of your more serious business." For the careworn scholar of the seventeenth century, angling was "a cheerer of his spirits, a diversion of sadness, a calmer of unquiet thoughts, a moderator of passions, a procurer of contentedness." After reading that passage, I finally "got it"; understanding my dad's passion for his beloved past-time. I read the passage aloud to him, although he wasn't really conscious at the time. How I wish that book had been published a few years earlier. For the non-Canadian readers, ironically and tragically, a capable canoeist and renowned painter, Thomson died under suspicious circumstances while out in his canoe in his beloved Algonquin Park in 1917. He had just turned 40.
Browsing and taking time
by Laureen McLoughlin I do not write to you like all the artists do as my art is just a loved hobby. I appreciate the letters you send to me. I put them in a special envelope and go back in the evening and browse through one and take my time. I watch
the videos
 too; they are wonderful and I want to thank you. I especially love the video where you go out into the country with your dog and sit down and paint. I enjoy you very much in my quiet moments.
Pay to play with galleries
by Patricia Getha, Delaware, OH, USA I recently received an email from a New York gallery seeking to represent me for a modest (expensive)fee. Do you think this a trend that we can expect from more galleries who struggle in this economy? — galleries who already take between 30 to 50% of our sales?? If so I think we are in for a difficult time trying to reach our collector base (which I don't have). I can't help but feel that they certainly didn't spend much time on my site or they would have seen that I paint primarily miniatures and all are wild or domestic animals, not exactly what you expect to find in a New York gallery. How on earth is a miniaturist supposed to recoup the cost if galleries start charging a $2000 + annual fee for "representation" and then take a 30% commission on top of that? Do artists really buy into this?? I refuse to give my art away. I would have to price my work right out of the market to recover this high cost of doing business I have numerous charities who constantly ask for donations of original art as well with the promise of "promoting" me. While I am all for supporting certain causes, I find it distressing that more and more people want me to give my work to them to support some obscure cause that has nothing to do with me or my family. I just don't get it! I wonder if they would walk into the doctor's office and ask them to give their services away? I would love to hear your opinion on this. I have a friend who was actually considering an offer like this. I told her to think of all the things she could buy with that $1900 (like a new zoom lens for her camera) and then I got a similar offer the next day from a legitimate gallery. I called a photographer friend who knew of the gallery and she told me they have so much work in there that it is like shopping at the local emporium. I hit the "delete" button. (RG note) Thanks, Patricia. While an occasional sale from these sorts of galleries sometimes does occur, they are not real art dealers, and most serious collectors and casual art buyers know it. Often called "vanity dealers" they are not so much interested in the quality of your art but in the quality of your dough. Their modus operandi is to do regular and efficient blanket emailings to artists they feel are still breathing. These galleries are for "Artists with $1900.00 who need to tell people they are represented in New York."
There are 3 comments for
Pay to play with galleries
by Patricia Getha
Speedy action
by Doug Swinton, Calgary, AB, Canada I just read your latest letter "Hook hours" and noted the Malcolm Gladwell book
Outliers
 near the end. Clicked on it and within 2 minutes I had ordered it and had it sent to me. Do you think that in this world of instant soup, things are getting too instant? Are we losing our appreciation for things that take time? Happy my book is on its way. (RG note) Thanks, Doug. You can look at it as a new manifestation of the "instant gratification" generation or, as I try to do, see a new opportunity to have your curiosity satisfied and your learning capabilities enhanced faster than our ancestors could ever dream possible. That should make us better, smarter people, right? Not sure.
There is 1 comment for
Speedy action
by Doug Swinton
Passing the hook hours around
by Sharon Ely Forsmo, Phoenix, AZ, USA I wanted to ask permission to post this letter (The Magic of Hook Hours) on my Facebook page. I teach art at a community college and a lot of my students read my posts. (RG note) Thanks, Sharon. In almost all case we give permission for further use of the material, and Sharon's request was no exception. We appreciate you're asking us, as we frequently go on and look at the blogs of our colleagues. In Sharon's case we added the suggestion to change "I" to "me" in the last paragraph in the main body. I made an egregious grammatical error and several hundred readers caught it. My deepest apologies to all who were offended.
There are 3 comments for
Passing the hook hours around
by Sharon Ely Forsmo
Apprenticeship with time
by Mike Barr, Adelaide, South Australia The hook-hours analogy was a lovely read, and so true.  The proliferation of workshops and instructional DVDs can almost give the impression that these are the tools for becoming better artists. The answer of course is much simpler than that. Productive hours with the brush in which we learn about painting in an apprenticeship with time. The workshops, etc., will help us on the way for sure, but hours with a brush is the key. I have always said that if those running workshops, making DVDs or writing books on art thought for one minute that they would produce thousands of artists that paint just like them, then the supply of such things would have dried up long ago! You can't catch fish by watching other people catch 'em!
Archived Comments
Enjoy the past comments below for The magic of 'hook hours'…
 Featured Workshop: Jerry Markham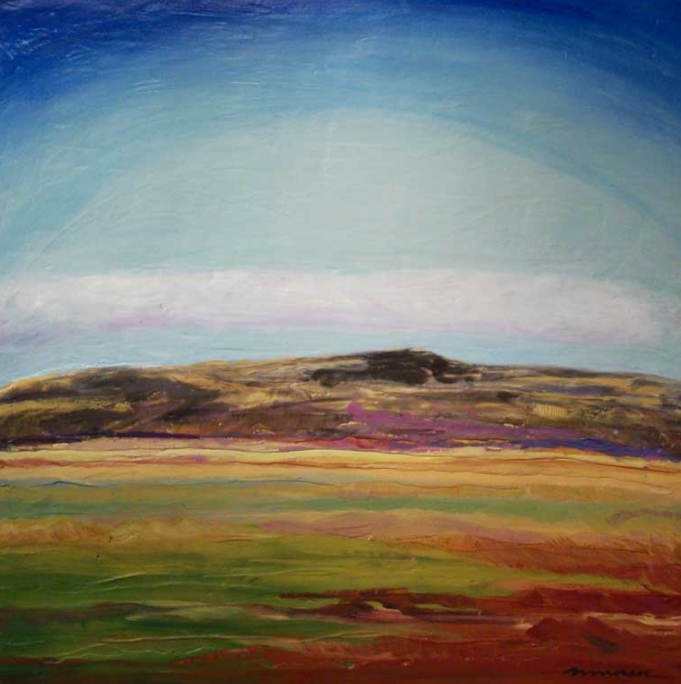 Lenticular Moment
acrylic painting, 30 x 30 inches Marjorie Moeser, NM, USA
You may be interested to know that artists from every state in the USA, every province in Canada, and at least 115 countries worldwide have visited these pages since January 1, 2013. That includes Roger Simpson who wrote, "Another thing — paintings are a darned sight cheaper to drag up than fish." And also Marvin Humphrey of Napa Valley, California, who wrote, "I like the 10,000 hour figure. And now, out to the studio to design some more lures."